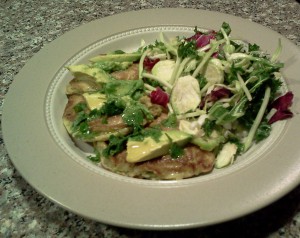 I'd had corn pancakes, zucchini pancakes, but never avocado pancakes. Not until these Avocado Pancakes with Lemon Cilantro Butter, which have added a whole new meaning to one of my most favorite foods in the whole world…
THE MIGHTY AVOCADO :)
If you love avocados like I do, as in eat them almost everyday love them, you're going to love this recipe. Sooner or later it's bound to end up on your list of quick, easy, and healthy breakfast, lunch, or dinners.
Really, these pancakes are the best versatile savory things ever. Plus they have BUTTER and what's not to love about butter???!
This recipe entered my life at the beginning of the year when I was doing a candida cleanse. If you've ever done a candida cleanse you know how hard it can be to find foods that are "candida friendly."
Since most foods are out of the picture for at least a month, I'm talking gluten, dairy, soy, sugar, yeast – and that's just skimming the surface – it's like winning the lottery when you find a recipe that fits the bill. And like winning a second lottery when it tastes so good it's a keeper even after you finish the cleanse.
I wish I could take credit for this recipe but I can't, it's adapted from The Candida Diet Let's just say I became very chummy with the recipes on this site for a couple of months until my symptoms cleared up, and because my body reacted so well to these types of foods I still incorporate some of the recipes, and most likely always will. Avocado pancakes…who knew???!
Avocado Pancakes with Lemon Cilantro Butter
(makes 6 pancakes to serve 2)
INGREDIENTS – PANCAKES
1/4 cup coconut flour
1/2 tsp baking soda
1/4 tsp sea salt
2 eggs
1/2 cup coconut milk
1/2 avocado mashed (save other half for garnish)
3 green onions, thinly sliced
butter, preferably grass fed and organic
INGREDIENTS – LEMON CILANTRO BUTTER
3 Tbsp butter, preferably grass fed and organic
1 Tbsp cilantro, minced
1 Tbsp lemon juice
DIRECTIONS
In a small bowl, sift coconut flour, baking soda, and salt, set aside
In a medium bowl, whisk eggs, coconut milk, mashed avocado, and green onions until thoroughly combined
Add dry ingredients to wet ingredients, stir until combined
Heat skillet over medium heat. Melt enough butter to coat the bottom of the pan. For each pancake spoon about 1/4 cup batter into pan, cook until bubbles start to appear and bottom is golden brown, about 2-3 minutes. Flip and cook until second side is golden brown. Continue with remaining batter, adding more butter to skillet as needed
For Lemon Cilantro Butter: melt the butter, stir in lemon juice and cilantro, keep warm until ready to serve
Serve pancakes topped with sliced avocado and drizzled Lemon Cilantro Butter
Note: The original recipe calls for parsley instead of cilantro, I just love the combination of avocado and cilantro, so use whichever makes your heart content :)
Serve these babies with a side of bacon for breakfast or a hearty salad for lunch or dinner. Enjoy!