I picked up the most beautiful bunch of deep green fresh organic kale at farmer's market and decided to come home and make some baked kale chips with it. When it comes to snacks, salty and crunchy is my thing. If potato chips weren't so darn bad for you I'd devour them by handfuls, back in the day I used to for sure.
Enter baked kale chips. Oh what a beautiful day that was, the day I discovered how to make these little gems, satisfied my cravings for salty crispy snacks for good! I absolutely adore them, and it's a huge plus that you can feel good about putting them into your body. Who doesn't love a healthy snack that tastes dee-lish?!
Now there are many recipes for these floating around in the blogosphere, many of which I have tried only I kept running into the same issue, my chips always ended up a little on the charred side having a slight burned flavor, if not fully burned. Most recipes call for 350° F. I do not like foods that taste burnt. I do not. So I went on a mission to experiment.
The mission: To find a way to get crispy kale chips that weren't burnt once and for all!!!
The discovery: Low and slow is the way to go baby!!!
Why Not Just Buy Pre-Made Kale Chips You Ask?
Well, of course you can, but have you ever bought a bag of pre-made kale chips from the store? Well I have and the seasonings they use are usually delicious, true, but I'm not gonna lie, I have a couple of beefs with them.
1. The $6 + price for a tiny little portion I can easily mow down in one sitting. 2. The chips are usually small and really dense, they are crunchy – I'll give them that, but I prefer mine larger, lighter, and crispy. 3. They aren't usually organic, which when we're talking kale is a pretty huge deal since it's one of the most heavily sprayed with pesticides.
Is There Really That Much Nutritional Value in a Chip?
Yes! Yes indeed there is. Kale is a cruciferous vegetable rich in things like phytosterols, and antioxidants which play a key role in reducing the risk of cancer, and heart disease. It contains indole-3-carbinol and DIM which metabolizes estrogen and also may reduce risk for certain types of cancers.
It's rich in viatmins K, A, contains more C than an orange, more iron than beef, and more calcium than a serving of milk, and is high in fiber. Which means strong bones, healthy immune system, and digestion. To boot it's low calorie, and has virtually zero fat so nibble away!
This recipe keeps things simple with just four ingredients. The 'cheesy' part is achieved by using nutritional yeast which is rich in B vitamins, and contains 9 grams of protein in just 3 tablespoons, is vegan, and gluten-free. If you've never had it before, trust me it is salty, cheesy goodness that goes great on popcorn, veggies, salads, and soups too.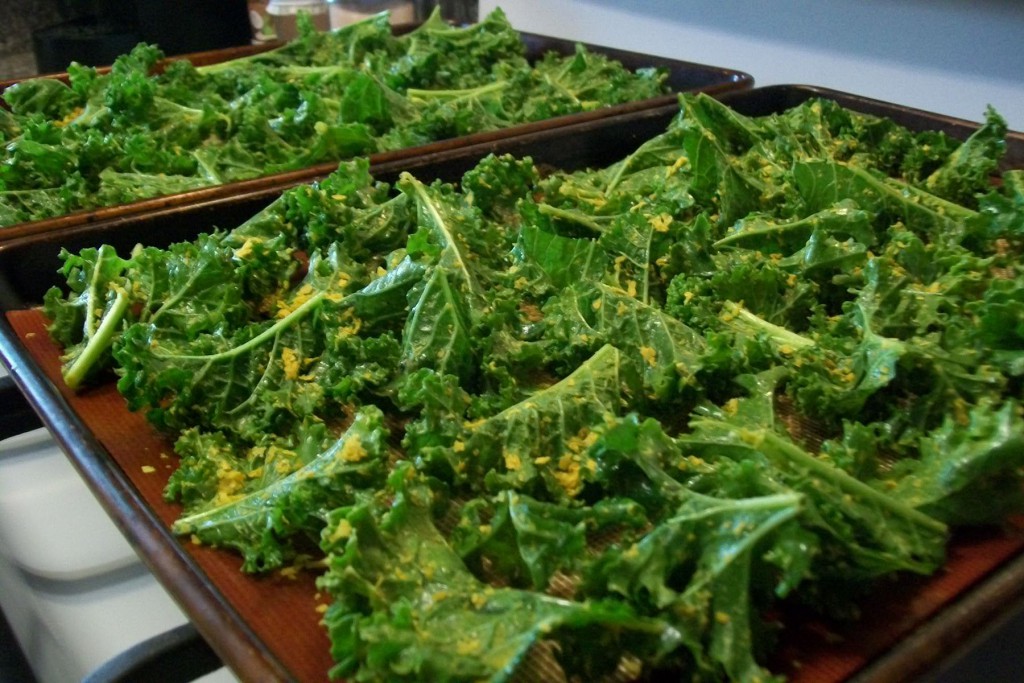 'Cheesy' Kale Chips
INGREDIENTS
1 bunch organic kale
1-2 Tbsp olive oil
1/3 cup nutritional yeast flakes
sea salt
DIRECTIONS
Preheat oven to 225° F
Line 2 baking sheets with parchment paper OR I use reusable silicone baking mats
Wash and dry kale well, remove leaves from stem, discard stem and tear leaves into bite size pieces
Add 1 Tsp olive oil, half the nutritional yeast, and a few drops of water to a large mixing bowl and combine, add half of the kale and toss using fingers to coat each piece well
Sprinkle with sea salt (keep in mind nutritional yeast is already a bit salty) and give one last quick toss
Add kale to baking sheet being careful not to overlap
Repeat with second batch on second baking sheet
Place both baking sheets in oven, 1 on middle rack, and 1 on rack below, on opposites sides and bake for 30 minutes
After 30 minutes remove and turn chips over, place back in oven (I like to rotate the sheets to bake evenly), and bake another 10-30 minutes depending on your oven, until crispy. (20 mins does the trick for me)
Let cool, at this point some of mine seem to make it into my mouth every time, for some odd reason :) Enjoy now or they keep in a sealed container, or plastic bag for up to a few days.
Notes: Peek on chips frequently after the 30 minutes so they don't overcook. Experiment with different seasonings. Some I enjoy are curry, garlic, cumin, cayenne, and just plain sea salt. Besides using a dehydrator, cooking them on low heat and slow is the best way to avoid burning, and get nice crispy chips every time. Enjoy :)