You're dying to bake that delicious banana bread, or those yummy muffins so you start pulling out all your ingredients…flour, check! Bananas, yes! Coconut oil, got it! Eggs…Nope! Aannndd…buzz kill! So what do you do when you absolutely must continue marching on with your baking baton but the last thing you want to do is run to the store and pick up eggs?!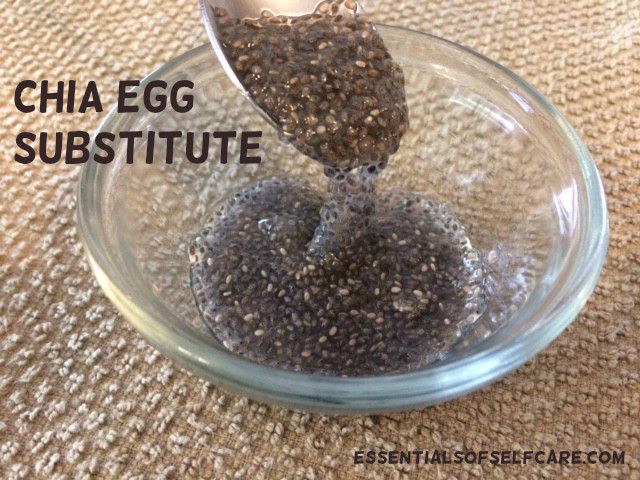 You bust out that chia seed and make an egg…that's what. That's of course if you keep chia seeds on hand, and if you don't I really suggest you do because they're so darn good and handy for so many things. They are a fairly constant staple in our house since we use them in recipes, smoothies, chia gel to keep in the fridge, and they're freaking awesome in an egg pinch and for egg-free diets too.
I eat eggs and sometimes I sub a chia egg just because I don't always want to eat eggs. So there.
Whipping up a chia egg is super hard…just kidding. It seriously couldn't be any easier. You can use chia or flax for this "egg" but keep in mind that chia seeds can be used whole or you can grind them in a coffee grinder, whereas flax seeds need to be ground or you can use already ground flax meal, but whole flax seeds won't give you the right consistency.
Also, chia seed is more neutral in flavor than flax, not that flax is bad by any means, it's just a little more "nutty" tasting.
How Do You Use Chia or Flax Eggs for Baking?
I find that chia or flax eggs work best for recipes that call for 1 to 2 eggs, anymore than that and you risk the center of whatever you're baking turning out too gooey and not rising how it would using real eggs. I've also noticed the same when using chia/flax egg in some gluten-free baked goods with a high ratio of wet ingredients or coconut flour, since these tend to hold more moisture. But they work just fine in recipes with enough dry ingredients, including gluten-free ones.
How to Make a Chia Egg Substitute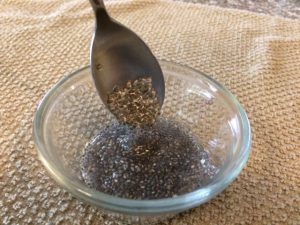 makes 1 egg
1 TBSP whole chia seed (if grinding, measure after)
3 TBSP water
Mix well and allow mixture to set for about 10 minutes or until consistency resembles the texture of an egg to use in your favorite baking recipes.
If you've ever used chia or flax eggs, we'd love to hear how you like to use them in the comments!