Sleep deprived? If the answer is yes, I'm happy to share with you a few of my favorite natural sleep aids that work. You might be wondering how I know they actually work. Well, since I used to suffer from insomnia myself and helping sleep deprived people on a daily basis was a part of my job, through a bit of trial and error, I was able to uncover what actually works.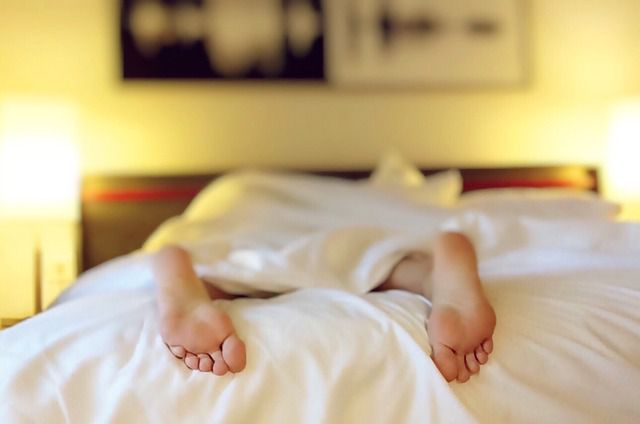 Of course when it comes to getting good rest, what we eat and our lifestyle are two huge factors that determine how we sleep. Without a doubt, one of the benefits of eating nutrient rich foods and a healthy stress management routine is great sleep. For more on good sleep, check out these helpful tips. But there are times when we may need some additional help and that's when natural sleep aids can be an effective option.
Among the list of negative side effects that can be caused by prescription, or even over-the-counter medications for sleep, are grogginess and dependency. To avoid this, many people are turning to natural sleep aids as a safer and non-habit forming alternative to get a good night's sleep.
What to Expect With Natural Sleep Aids
Keep in mind, natural sleep aids work differently than hard core drugs that are designed to knock you out cold. They're formulated to get to underlying issues such as a stress and hormonal imbalances at the root of sleeplessness, while gently relaxing the body and mind at the same time.
That said, the effects are more cummulative in nature and may need to build up in the system over a period of a couple of days to a week, on average. Depending on the level of insomnia, it can take longer. Our bodies are all unique and respond in different ways.
Keeping this in mind helps to forgo unrealistic expectations and treat the process with a bit of patience. If you don't get relief the very first night, don't get discouraged – in my personal experience, if you stick with it and allow the natural remedy to take course, you should experience some relief sooner than later.
In the end, getting quality sleep and feeling normal again (or possibly for the first time), minus the nasty side effects of drugs, makes the wait relative, short, and totally worth it.
Here are some of the most effective all natural sleep remedies that can help you get relief from insomnia.
---
I Sleep Soundly – Banyan Botanicals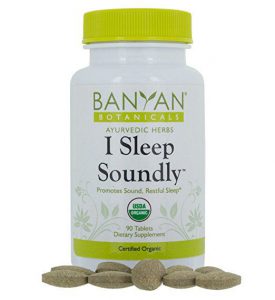 I Sleep Soundly is an all natural herbal formula combining herbs that have been used in ancient Ayurvedic medicine for centuries with Western herbs to promote sound, restful sleep.
This formulation contains herbal muscle relaxants to calm and relieve tension and prepare the body for restful sleep. It also contains herbs that support a relaxed and calm mind to help ease mental restlessness that can keep you tossing and turning and keep you awake at night.
Banyan Botanicals uses the highest quality USDA certified organic herbs that are sustainably sourced and fair trade. All products meet 3rd quality testing standards for product quality and safety.
---
Sound Sleep – Gaia Herbs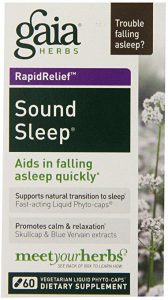 Sound Sleep has a long standing reputation as a fast acting herbal sleep aid. Vegetarian liquid phyto-caps make this formula highly absorbable. The combination of herbs is formulated to promote relaxation, a healthy nervous system, and a smooth and quick transition to sleep.
Herbs are harvested on a 250-acre certified organic farm and meet USDA organic standards.
Important note: This formula contains the herb kava, which the FDA claims has the potential of rare liver injury, and is not recommended for people who have or have had liver problems, drink alcohol, or take any medications.
It's also recommended to use for a maximum of one month, most likely due to the kava. I've personally experienced great success using kava in moderation with no negative effects, however I recommend doing your own research before taking it yourself. And ask your health practitioner if you have any doubts.
---
Driftoff – Zhou Nutrition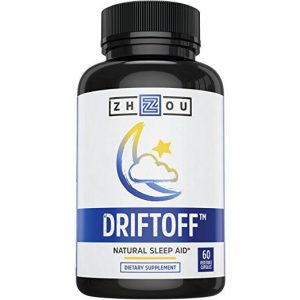 Driftoff is formulated to help you get a deep, restful night's sleep and wake feeling refreshed and energized. It combines herbs with Melatonin, GABA, and Tryptophan to help you fall asleep and stay asleep.
It comes in vegetarian capsules, is GMO and gluten-free, GMP (Good Manufacturing Processes) certified and third party tested for quality control.
---
Tranquil Sleep – Natural Factors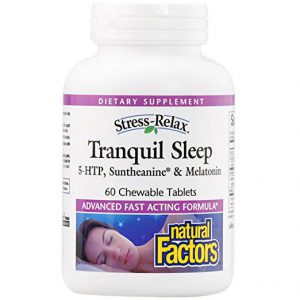 Tranquil Sleep is a non-herbal formula containing L-Theanine, 5-HTP, and Melatonin to promote relaxation and more restful sleep. It's available in chewable tropical fruit flavored tablets or enteric coated caplets for maximum absorption.
Natural Factors supplements are formulated by Dr. Michael Murray and have a reputation for being of high quality.
---
Final Thoughts
Sleep deprivation can wreck havoc on overall health and well being. Natural sleep aids that work can be safe, non-habit forming and effective when it comes to ensuring you're getting the right dose of Zzz's you need to function at optimal levels so you can get the most out of your days.
Have you used natural remedies for sleep? Do you have a favorite? Leave questions and comments in the section below!