If you're looking for a solid juicer you've most likely heard a lot of positive things about the Omega Brand. In this review I will share, my honest experience based on my personal use of the Omega Low Speed Masticating Juicer VRT330S and what makes it the best juicer for the price point.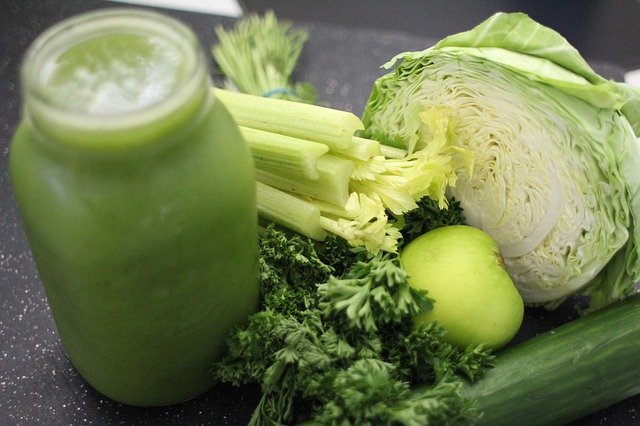 Let me start off by saying that since I have been, and still am an avid proponent of making smoothies for the last several years, I have not owned a juicer since probably around the 1990's, and fortunately they have changed a lot since then.
If you're like me when I first started shopping for my juicer, you've probably noticed two main types – centrifugal juicers and masticating juicers. After some due diligence on the differences between the two, for me the choice was clearly a masticating juicer, which is one of the reasons the Omega VRT330S appealed to me. Why? Well, let's start with the differences between the two.
Centrifugal vs. Masticating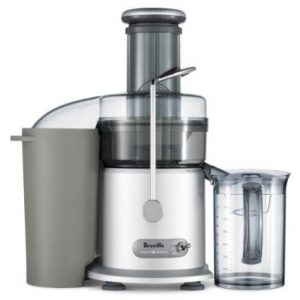 Centrifugal juicers use a fast spinning motion to extract juice. Once the vegetables and fruits are pushed through the top, they enter a mesh chamber with sharp teeth that shred the produce into pulp and spin it at high speeds to extract the juice. Although these types of juicers can be purchased on the lower price end, there is concern that the heat generated from the high speed can cause some damage to the juice by causing oxidation, which breaks down the enzymes and antioxidants in the final product.
Other concerns with centrifugal juicers include damage to the motor by constant over heating, causing motor failure faster than a masticating juicer, they don't juice leafy greens, wheatgrass and herbs very effectively, and the noise factor – they can be on the louder side.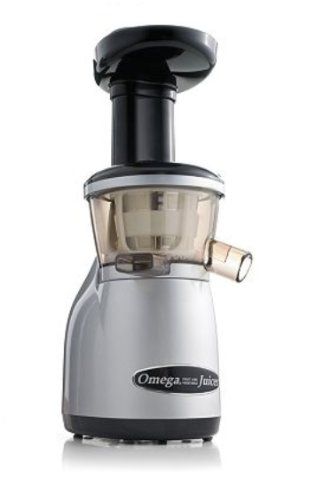 Masticating juicers use a slow crushing and "chewing" motion to extract juice. When the veggies and fruits are fed through the top, they enter a mesh chamber which very slowly crushes or "masticates" them and squeezes the juice out. Very little heat is generated allowing nutrients to stay intact, resulting in cold pressed juice that stays fresh longer.
The feed chute on masticating juicers is smaller, so you have cut up veggies and fruits to fit, the juice comes out a bit slower, but leafy greens, wheatgrass and herbs can be juiced nicely, and they run very smoothly and quietly.
For awhile, masticating juicers only came in a horizontal design which took up a lot of space with an average cost of $300-$500, but along came the vertical design, which is much more of a space saver and while the costs can still soar into the $500 range, you can get a quality vertical masticating juicer in the $100-$200 range. Now that we have all that sorted out, let's get into the specifics of the Omega low speed vertical juicer.
Omega Slow Vertical Masticating Juicer (VRT330S) – Specs
Two stage juicing system extracts the most juice from fruits, vegetables and leafy greens including wheatgrass. Also makes nut milk, like almond and cashew
Single auger turns at a low 80 RPMs to retain healthy enzymes and nutrients and also prevents oxidation

and degradation, so you can store juice for up to 72 hours
Gear reduction equivalent to a 2 HorsePower motor and Commercial Condenser Motor for years of efficient juice extraction
Auto-Cleaning System keeps screen clear and increases juicing efficiency
5 easily removable, easily cleanable and easy to re-assemble parts
Full 10 Year Limited Warranty
What's Included in the Box
Base (Brushless Motor)

Bowl with Pulp Ejection Spout and Juice Spout
Auto Cleaning System
Juice Screen
Hopper
Pusher
(1) Pulp Container (1) 32 Ounce Juice Container
Cleaning Brush
What to Expect
My Omega VRT330S juicer arrived within the time frame Amazon gave me and (I'm happy to say) without any damages to the packaging or product. The 10 year warranty is a huge plus. The first thing I noticed when I took it out of the box was how heavy it is, next thing was how space saving the vertical design is. Omega did a really great job packing such a hefty and durable motor into a smaller base for sure. As I continued to unpack each part I was pleased to see that all in all this is a really nice quality juicer for a great price.
Feeling happy with my purchase so far, it was time to get to juicing!!! 
Assembly and Disassembly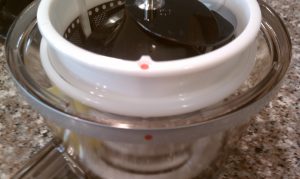 I don't get reviews stating that the parts are difficult to assemble and disassemble. Even if you're not the most mechanically inclined person (like me), if you refer to the instructions manual to practice assembling and disassembling the parts a few times, after a short learning curve (and I mean really short) you should be able to do it with ease.
Certain parts even contain things like arrows and red dots as guide points for correct placement. After a little practice session I got all the parts washed (which was a great way to find out just how much cleanup was going to be involved – more on that in a minute) and gave my first juicing session a whirl the next morning.
Operation – Efficiency, Yield and Noise Level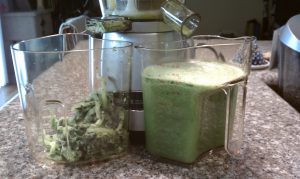 After washing and cutting up my produce I flipped the switch on (very straightforward – on, reverse feed, off) and started feeding it through the hopper chute. While you will hear some squeaking as the auger crushes and chews things up, this is perfectly normal and as Omega states in their manual is the sound of the juice being squeezed by the squeezing screw, the motor itself is pretty quiet, quiet enough to not wake someone sleeping in the other room. A huge plus for apartment, condo, and maybe even dorm living.
The manual mentions possible shaking while the juicer is operating stating that this is also perfectly normal and is a sign of the motor working properly, but I haven't really encountered that yet. I haven't experienced any clogging yet but the machine is equipped with reverse feed option to solve that problem. I haven't had any issues feeding relatively large portions of things like cucumbers, carrots, apples, kale leaves and stems through, however I have noticed that stringy vegetables like celery do best when cut into smaller chunks to avoid clogging.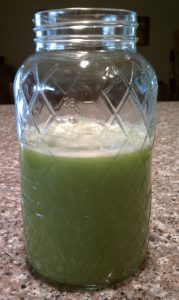 The Omega VRT330S juicer yields a super amount of juice, you can tell by how dry the pulp is. You do end up with a bit of foam and some very tiny pieces of pulp which I like, since it's added fiber. My foam just gets mixed right in with the juice once it's poured into a glass/mason jar to serve anyway. If 100 percent pulp free juice is what you're after, it can easily be achieved by pouring it through a sieve.
The amount of juice you get makes the cost of this juicer pay off real quickly, compared to other juicers that produce wetter pulp, and especially compared to the upwards of $10 the same size fresh pressed juice costs from the natural foods market, grocery store, or juice bar.
Update 7/16: I'm happy to say that we've been juicing daily with this machine, it continues to perform beautifully and gets us through cleanses that involve making copious amounts of juice. It's safe to say this investment has already paid off, and then some. Still super pleased with the Omega VRT330S.
Clean Up and Storage
I can tell you, if you're used to cleaning an older model juicer or a centrifugal juicer, the Omega VRT330S will feel like a breeze. Just six easy parts to clean plus your juice and pulp containers which many times I just rinse with water since we juice daily. A soft sponge with warm soapy water will do and the cleaning brush easily gets the pulp particles out of the juice screen. A handy tip is to line the inside of the pulp container with a plastic bag for even easier clean up.
A good tip I've learned is to pour some water down the chute when you're done juicing to move any remaining pulp through and out of the machine. This makes cleaning even more breezy.
One thing I noticed is that while the Amazon description states that the removable parts are dishwasher safe, the instructions manual states otherwise: Do not place the attachment parts in the dishwasher.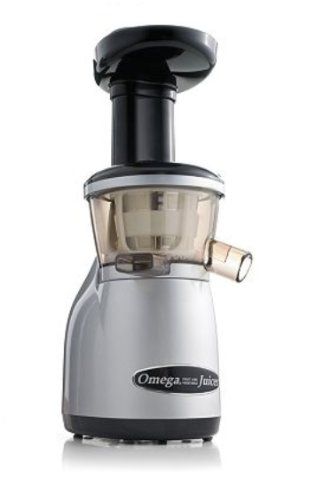 Omega Low Speed Masticating Juicer
It's 14.4 inch height with all parts attached makes this juicer small enough to leave out on the counter, or just store the rest of the parts put together, separately from the base. All in all, the vertical masticating juicers take up much less space than the horizontal design, and the Omega VRT330S is a definite winner in this category.
Conclusion
Before my purchase, I had narrowed it down to the Omega VRT330S and the Hurom HU-100, and while both are awesome juicers in a similar price range, I learned that Hurom USA outsources their warranty service and customer service to a third party. The previous 10 year warranty included the motor and all parts, but the current 10 year warranty only covers the motor, the parts have been reduced to a 1 year warranty.
For me, it wasn't even the cheaper price that steered me toward the Omega, but really if you want the protection of a full 10 year warranty backed by a U.S. based company selling juicers and other kitchen appliances for over 30 years, Omega is the way to go. They have a history of great customer service and support after the sale, plus the price is much sexier and that certainly doesn't hurt.
I'm super happy with my choice and look forward to many years of delicious fresh juice for a fraction of the cost of fresh pressed juices you get in stores or juice bars.
I hope you found this review helpful and I'm super excited for you to get juicing and experience vitality and healing with a vast variety of delicious fresh nutrient rich juices as you juice your way to a healthier you!
Do you have a favorite juicer, or any questions or comments? Please share them below!