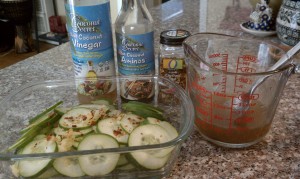 This zesty asian cucumber salad is a twist on a traditional salad that is super quick and simple to make. It's light, crunchy, and refreshing especially during spring and summer.
Instead of using the typical rice, red wine, or white vinegar, and soy sauce most cucumber salads are made with, this recipe uses coconut vinegar and aminos to kick up the health benefits a notch.
They are also both gluten-free, soy free, vegan, certified 100 percent organic, and non-GMO.
Most people are aware of the numerous nutrients contained in coconuts but when the tree is tapped the sap that comes from the coconut blossoms is super rich in amino acids, minerals, and vitamins.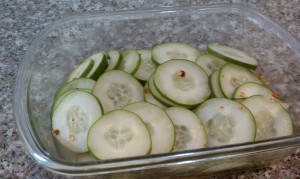 Both coconut aminos and coconut vinegar contain a high amount of seventeen naturally occurring amino acids for repairing and rebuilding muscle tissue, healthy brain and nervous system, strengthening the immune system, and sustaining healthy energy levels.
They are also a rich mineral source, very low glycemic, and have a nearly neutral pH.
Coconut vinegar has the added benefit of being high in live enzymes and the prebiotic FOS which promotes healthy gut flora and digestive system. Add to that the cleansing benefits of cucumbers and you have yourself one healthy little salad!
You'll notice I accidentally left out the sesame seeds this time, but I usually add them :)
Zesty Asian Cucumber Salad
INGREDIENTS
1 large cucumber
2 cloves garlic, minced
1/8 tsp crushed red pepper flakes
1/4 cup coconut vinegar
1 Tbsp coconut aminos
1/4 tsp sesame oil
1/4 cup water
sesame seeds
DIRECTIONS
Slice cucumber thin with a mandolin. Add all ingredients, except sesame seeds to a bowl and mix well. Place in refrigerator for at least an hour, the longer the better to really merry all the flavors. Serve topped with sesame seeds and enjoy!