This delicious protein rich meal with healthy fats and nutrient packed greens will get your morning off to a great start. It makes a tasty, satisfying lunch and dinner too. Wondering what to do with that leftover quinoa in your refrigerator? Use it to whip up this filling vegan friendly goodness, it's super easy to make!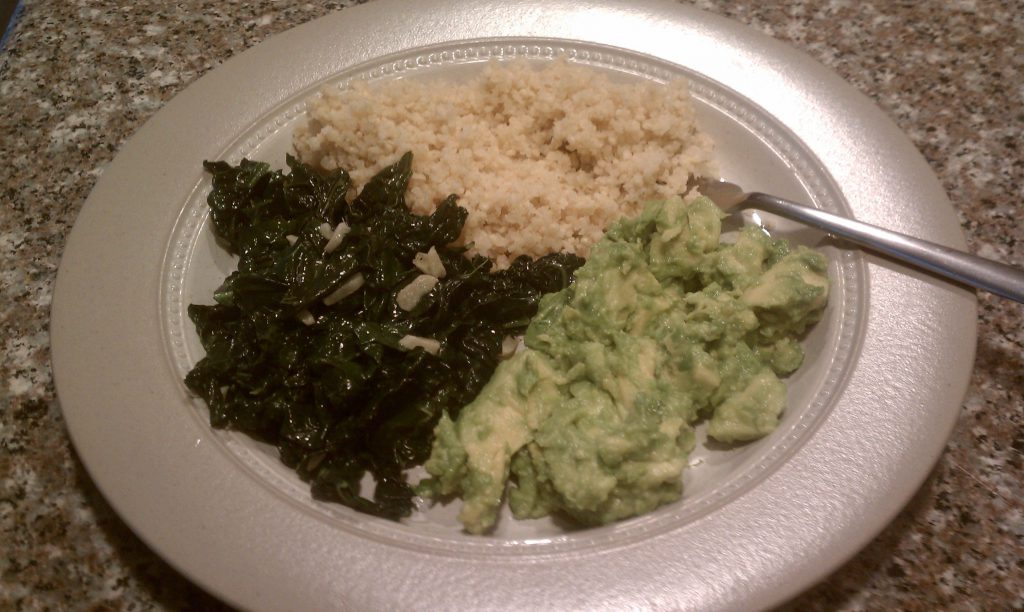 Avocado Mash With Quinoa and Sauteed Greens
recipe adapted from Food Matters
serves 2
INGREDIENTS
Avocado Mash:
1 ripe avocado, halved and pitted
handful of cilantro, chopped
juice of 1/2 lime
sea salt to taste
optional: diced red onion, cumin, garlic powder, cayenne
Greens:
butter, olive oil, or coconut oil
1 bunch kale, chard, spinach, or other leafy greens of choice, rinsed and chopped
2 garlic cloves, roughly chopped
sea salt to taste
Quinoa:
1 cup quinoa, rinsed in mesh strainer until water is clear
2 cups vegetable broth
DIRECTIONS
In medium saucepan, add quinoa and veggie broth, and bring to a boil
Reduce heat to a simmer, cover, and simmer 15-20 minutes or until all liquid is absorbed
When quinoa has about 5 minutes to go, add a small amount of butter OR oil to a saute pan over medium heat
Add garlic and saute for a minute, and add greens in batches until wilted and cooked down
Scoop avocado out into a bowl, mash and add cilantro, lime juice, sea salt and optional ingredients, mix and taste to see if you need to add more seasonings
Once quinoa is done, fluff gently with a fork
Scoop half the avocado mash, half the greens, and a serving of quinoa onto each plate
Serve and enjoy!
Note: If you're using leftover quinoa, you can quickly heat it in the same pan you use for the greens.