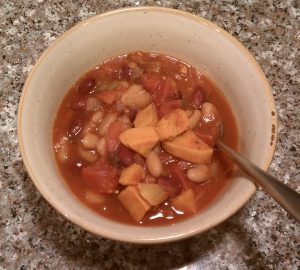 This easy vegetarian friendly chili combines the delicious flavors of sweet potatoes and smokey chipotle, and makes a great weeknight meal any time of the year, not just when the weather is cooler. And the leftovers can be enjoyed again for lunches or frozen for a quick meal later.
The best part is you can set it and forget it, go to work and come home to dinner already made, or spend your time doing something else while it's cooking, like catching up on your favorite shows or reading a good book. Yes please!
Slow Cooker Sweet Potato Chipotle Chili
INGREDIENTS
1 tsp olive oil
1 small onion, diced
2 cloves of garlic, minced
1 chipotle pepper in adobo sauce, diced (add more for more heat)
1 large sweet potato, diced
1 (15 ounce) can dark red kidney beans, rinsed and drained
1 (15 ounce) can white kidney (cannellini) beans, rinsed and drained
1 (15 ounce) can tomato sauce
1 (15 ounce) can diced tomatoes
1 (4 ounce) can diced green chiles
1 cup low-sodium vegetable broth
1 Tbsp chili powder
1 tsp ground cumin
1/2 tsp sea salt
1/4 tsp pepper
DIRECTIONS
Heat oil in a medium saute pan over medium heat. Add onion and garlic and cook until translucent
Transfer the onion and garlic to the slow cooker and add remaining ingredients, stir to combine
Cover and cook on low for 6-8 hours or on high for 3-4 hours
Taste, season with additional salt and pepper if needed
Serve and enjoy!
Note: I use 2 chipotle peppers for more heat. 1 gives it nice smokiness without much heat, so you can use more or less depending on how spicy you like it.
I hope you enjoy this quick and easy slow cooker meal, please leave any comments or suggestions below!