Not too long ago, I was asked by someone what the best aloe vera gel for burns was – a mishap during a fire performance had her on the hunt for something natural that would heal her skin fast and prevent scarring. She experienced such fantastic results with the aloe gel I recommended that I just had to share her testimonial!
Aloe vera gel is the most common go-to remedy for it's ability to soothe and speed the healing of sunburns and all sorts of burns. With aloe lining drug store and supermarket shelves it's one of those things you can just run out and grab any old kind of, BUT (and that's a huge BUT) the effects vary greatly depending on which kind you use. I know one thing for sure: The effects of every aloe I've ever used have paled in comparison to the absolute only one I use and recommend – Aloe Life Skin Gel.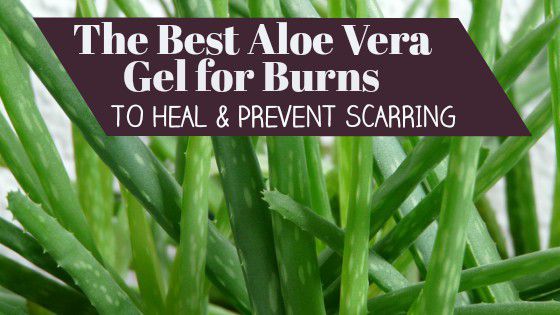 Aloe Vera Gel That Stands Out Above the Rest
What makes Aloe Life Skin Gel so special? In a nutshell – it's the closest thing to real aloe straight from the plant. Aloe vera is one of the most beneficial medicinal plants on the planet.
Unlike many diluted, watered down, overly filtered versions, Skin Gel uses 99% certified active aloe. Made from fresh organic whole leaf aloe vera juice concentrate, and most importantly contains the valuable yellow sap found in the true aloe vera plant. This sap contains anthraquinones that act as an analgesic for pain relief, antibacterial and antiviral.
If you've ever broken open the leaves of an aloe vera plant then you've seen and felt the slimy, gooey golden goodness on the inside, and if you've used it, you know how healing it is.
Which brings me to something very important when looking for a high quality aloe vera gel – real aloe vera gel is not green. The true color of real aloe gel varies in color from clear to slightly yellow/translucent gold. This variation depends upon the time of year the aloe vera is harvested; harvesting during rainy season yields clear gel and dry season harvesting yields slightly yellow/translucent gold gel.
The sap I mentioned acts as a natural band-aid for the aloe plant, if a leaf is attacked or broken, the sap quickly fills the gash and hardens, keeping the clearer gel from drying out and causing the plant to die. In this way, when it contains sap, aloe gel can act as a band-aid for the skin. How cool is nature?!
How Does Aloe Vera Gel Aid the Skin?
Aloe contains a rich amount of vitamins, minerals, amino acids, enzymes, polysaccharides, plant sterols and fatty acids – which explains why it can be used for so many things and why it's such a wonderful remedy for the skin. Aloe gel can aid in the healing of burns by relieving pain and inflammation and increasing blood supply to the injury, promoting tissue repair on a cellular level. Benefits of aloe include:
Anti-inflammatory
Antiseptic
Antibacterial
Antiviral
Antimicrobial
Anti-fungal
Besides a remedy for everyday burns, aloe vera gel has many other skin applications including:
Bites
Wounds (avoid open wounds without supervision of a medical practitioner)
Scars and stretch marks
Itching and rashes
Soothing burns after radiation treatment
Cuts and scrapes
Dry skin, eczema and psoriasis
Acne and blemishes
Athlete's foot
Aloe Life Skin Gel vs. Other Brands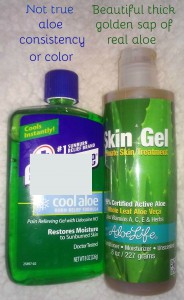 We've done a side by side comparison of Aloe Life and another major brand…the one on the left is runny, and a fake looking green. We know by nature, aloe vera gel is not green, and if you look at the ingredients in this particular brand you see that the green comes from FD&C Yellow 5 Aluminum Lake and FD&C Blue 1…and what do yellow and blue make? You've got it…green.
Interestingly enough, this brand is marketed as the "#1 Sunburn Relief Brand" and Doctor Tested but I'm guessing it might be due to the numbing properties of the active ingredient Lidocaine (a local anesthetic) which should obviously take care of the pain associated with the burn, but how about the percentage of aloe? It is the actual healing ingredient. Interestingly enough, aloe vera leaf juice and water (now we know for sure it's watered down) are the first two inactive ingredients along with the dyes, alcohol (to dry your skin out further) and a few other questionable ingredients.
For those looking to benefit from the solid healing ability of aloe vera, I suggest looking for a product that actually contains true aloe. What a concept! Fortunately the aloe with the sap contained in Aloe Life Skin Gel is the closest thing to applying the gel right from the leaf of the plant.
---
Aloe Life Skin Gel
---
Featured Highlights

99% certified active aloe made from fresh juiced aloe vera leaves
Contains naturally occurring valuable yellow sap that is normally filtered out
Vitamins A, C, E, chamomilla and allantoin (from comfrey) for more soothing and healing skin support
Unique process reserves important naturally occurring constituents that are commonly filtered out
Ultimate skin treatment for the entire body, including the scalp, gums and teeth
Gluten free
No dyes or fragrances
Pros
Aloe Life Skin Gel is fragrance free, has no offensive odor, and smells like aloe should. Thick, soothing, and easy to apply, less is best so it goes a long way.
Cons
A little spendy compared to most other aloe vera gels. But, you get what you pay for, so the superior results are worth it in my opinion. Depending on the severity of the burn, it can be a bit uncomfortable briefly, when first applied. When applied too thick, it has a tendency to flake or peel after it's dry – which is why less is best.
The Topical Proof
Time for that testimonial I mentioned at the beginning of the post. A huge thank you to Tabitha for sharing her before and after pictures and real life results!
"Fire Breathing, if done wrong, will burn you. Over three years of performing and it happened. The dreaded burning of the face. One of the main places us ladies really care about. Even more stressful for me at the time was having another fire performance scheduled in three weeks. Even better…the performance was for children. Scaring the children at sight was not my idea of a professional show. I almost accepted defeat and called to cancel but instead decided to contact Jess for advice.
Over the years, whenever I was sick I would contact her for the best holistic solution. She had never let me down with any of her recommendations and this time it was Skin Gel by Aloe Life. I was already using an aloe product from the drug store but had not noticed any difference in the 4 days I was using it, I kept putting it on regardless.
The Skin Gel from Aloe Life arrived very quickly in the mail, to my relief. I immediately tried it. It made my burns feel very dry and like they were cracking. It was uncomfortable unlike the store brand that just felt like a paste on my face. I wasn't sure what to think at first.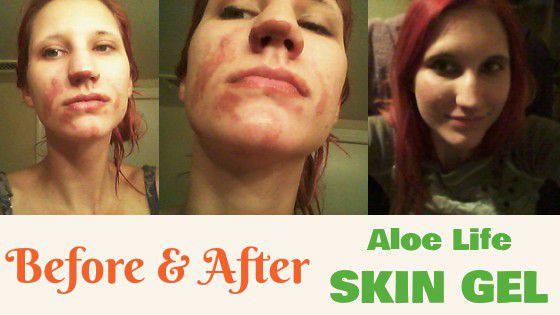 My boyfriend at the time made the first remark of "you're looking better" about an hour after applying it. The amazing thing was…he was right. Every application I used I actually noticed improvement. My healing time was way quicker than I expected. The red was so minimized by two weeks that I kept the gig day scheduled and went through with the performance. 
I am so impressed with this product. It is slightly uncomfortable but gives amazing results. You can feel it working as soon as you apply it. I am happy to say, I have no scars! Thank you Jess!"
I love real and awesome results! And to have absolutely no scarring on the face, especially where it's likely to happen, makes it even better! Like I said, Skin Gel rocks. It's an essential part of our natural remedy first aid kit in our house. It has relieved many kitchen burns, sunburns, acne, cuts, rashes and bug bites. I highly recommend it to everyone as their go-to aloe.
>>> Order Skin Gel for HERE <<<
If you found this review useful, please like, share and leave a comment below!