Awhile back I mentioned more nugget escapades were on the horizon, so here we are…nuggets, balls, bites…whatever works for ya. The time has come to bust out another nugget concoction…I give you carrot cake bites, hold the cake please!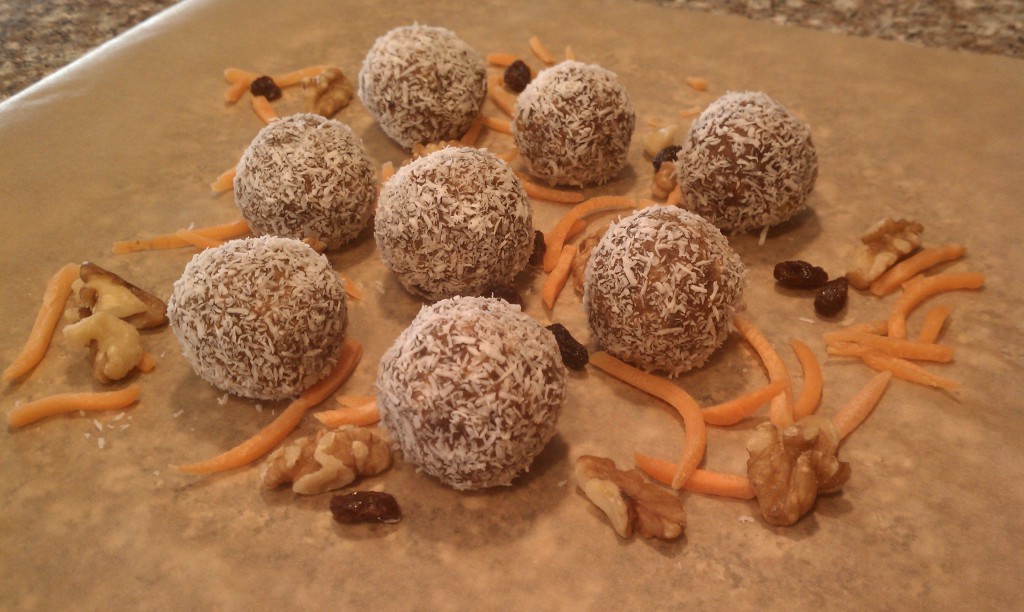 I have loved carrot cake ever since I can remember. When most kids wanted chocolate cake for their birthday I wanted carrot cake. Kinda weird I suppose, but hey – I never said I was normal! Maybe it was the cream cheese frosting…oh how I love, love cream cheese frosting. While these carrot cake bites are cake and frosting free, if you tolerate dairy well and crave you some cream cheese like me, hang around for additional notes after the recipe…I've got you covered!
These bites are sensationally sweet and super scrumptious AND vegan and gluten free to boot. I love the spices in carrot cake and another thing I love is getting all the good bits of crunchy walnuts, carrots and raisins when you bite into it. So I played around a bit with a few batches of this recipe to get just the right mixture with just the right texture. I didn't want to loose the textures of certain ingredients by obliterating it into one big smooth mess.
So when you bite into these you'll get all the flavors of carrot cake, sans the cake and you won't miss out on those little bits of walnuts, carrots and raisins. We'll talk about cream cheese again a little later – have I mentioned it enough yet?
These are so simple and with no baking involved, what could possibly go wrong, right?! Let's get to it!
Carrot Cake Bites, Hold the Cake Please!
Makes 8 Balls
INGREDIENTS
3/4 + 1/4 cup walnuts
6 medjool dates, pits removed
1 tsp maple syrup
1 tsp vanilla extract
1 tsp cinnamon
1/2 tsp nutmeg
1/4 tsp ginger
1/2 cup shredded carrots
1/4 cup raisins
finely shredded coconut
DIRECTIONS
In a food processor, using only 3/4 cup walnuts, add all ingredients through ginger and pulse on low until mixed well but not totally smooth. There should still be tiny pieces of walnuts visible. You don't want the consistency to be too sticky since you will be pulsing it again in a minute
Add carrots and raisins to mixture and pulse until they are finely chopped, but still have some texture
Finely chop remaining 1/4 cup walnuts and mix in with a spoon
If you want to add cream cheese see notes below before continuing with recipe
Place shredded coconut on a shallow dish, shape mixture into balls and roll in coconut
Place in refrigerator for at least 1/2 hour, or until desired firmness
Enjoy 2 bites for a yummy treat and store the rest in an airtight container in refrigerator
Notes: Okay, now I told you cream cheese lovers I got you covered…so to fulfill my love of cream cheese frosting (there it is again), this is what I do sometimes (since I limit my dairy intake), when I'm feeling a little frisky, I add some cream cheese to the center of these bites. I'll explain the little method in just a sec, but first…since you only eat 2 of these per serving I like to use brown sugar and cinnamon cream cheese…OMG, yum! The amount that goes in is so small, it's totally worth the splurge for me, and the flavors are the perfect compliment. I suppose you could use plain cream cheese but you may want to add a teeny bit if maple syrup to sweeten. If anyone tries it with plain cream cheese, please share, I'd love to hear how it turns out! Here's a thought too, you could use a vegan cream cheese substitute instead!
So, the method. At first I thought it may be a little tricky but not really. Here's what I did: I took half the amount of mixture for an entire ball and shaped it into a mini ball. I then made an indentation with my index finger in the center. After rinsing my free hand, I grabbed a small amount of cream cheese and added it to the indentation. After rinsing that same hand again, I grabbed enough mixture to make up the second half of my ball and flattened it into a mini patty shape. I then placed this over the cream cheese filled half and sealed the edges lightly to keep the cream cheese in and then gently rolled the whole thing into a ball.
Now I know that was wordy but trust me, it's super simple when you actually do it. And the cool thing is, when we bit into them, the cream cheese was in the middle of the carrot cake bite all nice and neat :) If you love cream cheese frosting you must try this!
If you enjoy this recipe please share or leave a comment below!