If scenarios of a starvation diet, fasting on juice or lemon water with cayenne, and bathroom horror stories have made you steer far away from the word cleanse in the past, read on because not only will we dispel the horror stories but we'll also explore some of the best whole body cleanses that are gentle and easily fit into your crazy, busy life.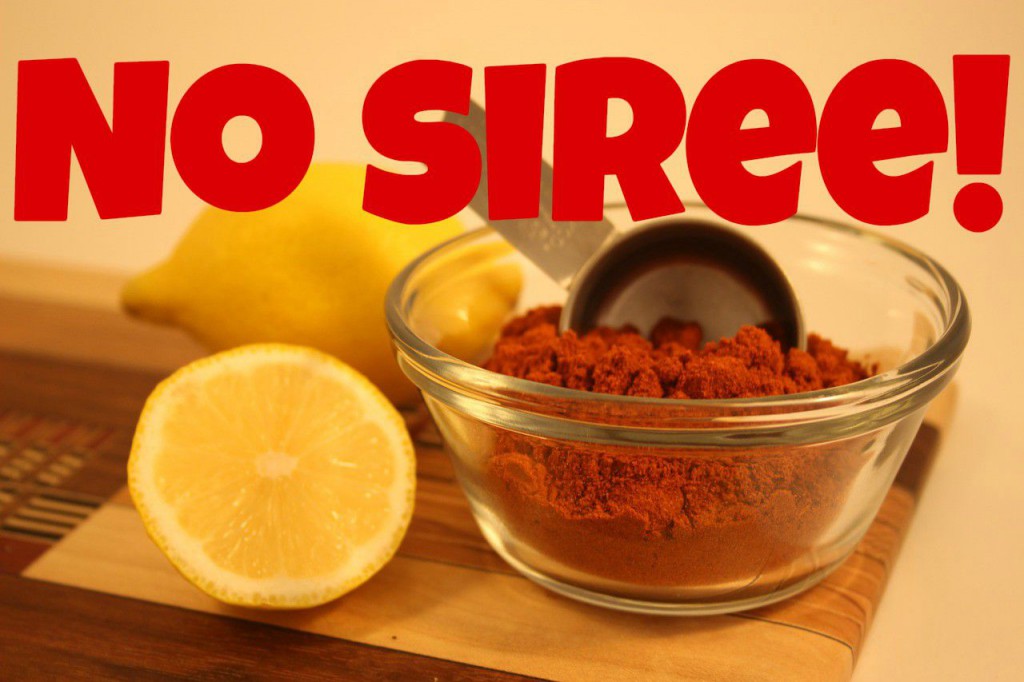 Maybe you've been wanting to do a cleanse but are experiencing hesitation or feel like it's impossible with your schedule.
Because, you're busy right? I totally get it. You don't want to be running to the restroom at work every two seconds. Get that too. I get that you have to be able to go to work, take care of your family and numerous responsibilities without feeling like crap and spending the entire day in the bathroom, dealing with, ahem…crap.
The biggest thing to remember here is that not all methods of cleansing are created equal.
While it's true, there are some crazy intense ways to cleanse your body, I have done quite a few – running the gamut from 3 day liver flushes to candida cleanses which may have been one of the most difficult things I've ever done, and many things in between  – I speak from experience when I say there are definitely some not so crazy, less intense, really gentle ways to cleanse that won't interfere with your life.
To help you sift through the tons of cleanses on the market I have selected top cleanses I've tried myself, made by reputable brands and formulated with high quality ingredients, free of added junk like binders, fillers and artificial dyes. I will cover them in detail here, shortly – but first…
What are the Advantages of a Cleanse?
Due to the extreme nature of certain cleansing methods like fasting, cleansing is a controversial topic. Cleansing is a very personal decision and should never be taken lightly, personally after experiencing the many health benefits of cleansing, I probably don't have to tell you I'm an advocate. I definitely don't suggest over-cleansing, our body needs a healthy balance of different bacteria and micro flora.
While it's true our body is made to naturally cleanse itself, never before has there been such an extreme toxic load burdening it – things such as pesticides in foods and the environment, chemicals in processed foods and beverages, and dangerous ingredients in skin care products. These are just a few reasons cleansing every 3 to 6 months can be beneficial.
A whole body cleanse can be a great way to reset your body, increase energy, clear up brain fog, clean out/support your digestive system and improve your skin.
For more information and a simple daily routine to assist cleansing, see my article here.
When it comes to a cleanse, whole body cleanse kits are an effective solution to take the guesswork, a lot of preparation and time out of the equation.
They don't require you to starve yourself by fasting and won't keep you in the bathroom all day long. They are formulated as a combination of herbs targeted to cleanse specific organ systems of the body, gently and effectively within a 2 week to month long period. Note though, that personally I along with most people I've talked to, experience better results with a 30 day cleanse.
What to Look Out For and Why
If you or someone you know has ever heard of or experienced the discomfort caused by horrible cramping on a cleanse, time to let you in a little secret…there are two herbs that can cause this and many cleanse products contain at least one, if not both.
Senna
Cascara Sagrada
Senna contains sennosides which irritate the lining of the bowel causing a laxative effect. Cascara sagrada works the same. Both stimulate muscle contractions in the intestines which is why they can cause stomach discomfort, cramping and diarrhea. The possibility of depletion of electrolytes, potassium and dehydration are of concern, especially when not enough water is being consumed while taking these herbs. They are not recommended to be taken long term or the bowels may become dependent on them, ceasing to work effectively on their own.
Our goal here is to make your cleansing experience as smooth and comfortable as possible, not make you hate it. So for that reason I vote against these two ingredients when choosing a cleanse. Bottom line, you don't need harsh stimulant laxatives to get your bowels moving, they may not be safe, especially long term.
The cleanse formulations I recommend here have been carefully selected and are free of both these ingredients making them far less harsh and much more gentle.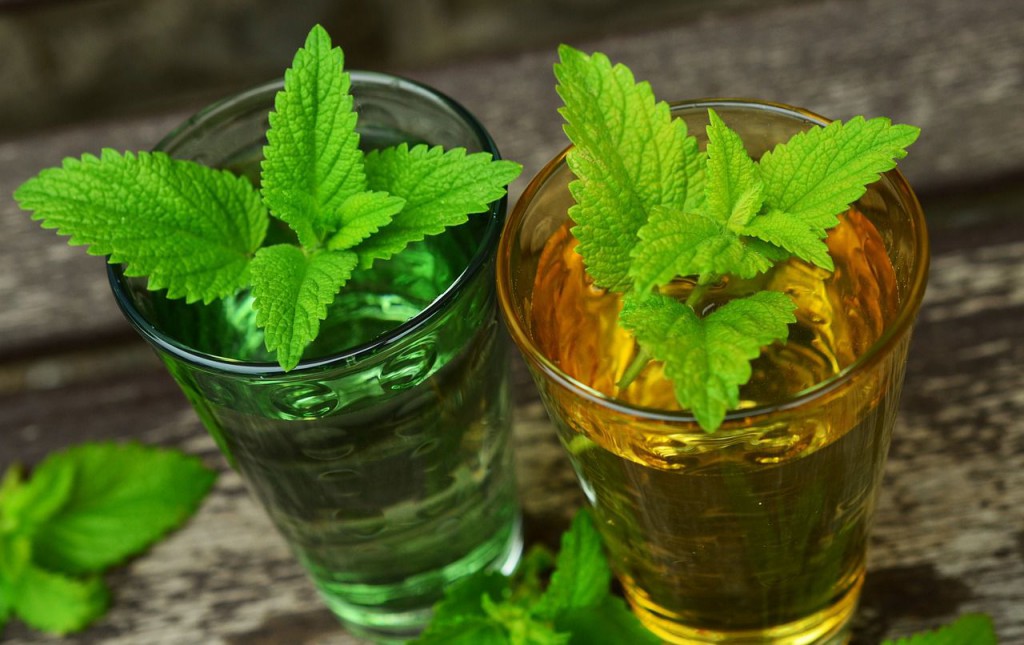 Tips to Help Make Your Cleanse a Whole Lot Smoother
So, now you know that a cleanse doesn't have to be an awful devastating process, but it wouldn't be fair for me not to tell you it's likely to produce some slightly uncomfortable moments. Just remember, the slight discomfort is relevant and very short lived – but don't forget you are cleaning out your body. Cleaning house isn't fun but a clean house feels awesome!
In the initial phase of cleansing it's not unlikely to experience one or some of the following; fatigue, cravings, changes in digestion including more bowel movements than usual (if you normally have 0-1 a day, you'll probably have 2-3 a day), headaches, skin blemishes and possibly some irritability.
Depending on the individual level of toxicity, some or all of these may be experienced to varying degrees. A small price to pay to feel your body reset to a healthy state later during the cleanse and long term – makes it all totally worth it. Here are a few things that can make a big difference…
Try to gradually reduce intake of processed foods, sugars, caffeine and alcohol 2 weeks before starting your cleanse, at the least, a couple days before – this makes for a smoother transition to eliminate them during your cleanse.
If possible, plan to be home on day 3 and 4 of your cleanse, or at least in close proximity to a bathroom – these are the days people usually experience the bulk of digestive changes. After that it usually levels out.
Drink LOTS of water and herbal teas to move toxins out, lessen symptoms and facilitate smooth evacuation.
Eat organic non-processed foods, raw fresh juices, and mineral rich broths. Bone broth recipe here.
If not included in the kit, add a quality fiber supplement to move things out and omega's to lubricate the bowel.
Consume live fermented foods or, if not included in the kit, take a high quality probiotic to replenish good bacteria – this helps with possible gas and bloating.
Dry skin brush and follow with a detoxifying bath in the evening to stimulate your lymph system.
Don't over exercise. Engage in more gentle types of physical activity such as yoga, stretching and walking – this allows your body time to heal and regenerate.
3 User Friendly Cleanses For Busy Lifestyles
---
#1 – Renew Life Cleanse Smart
---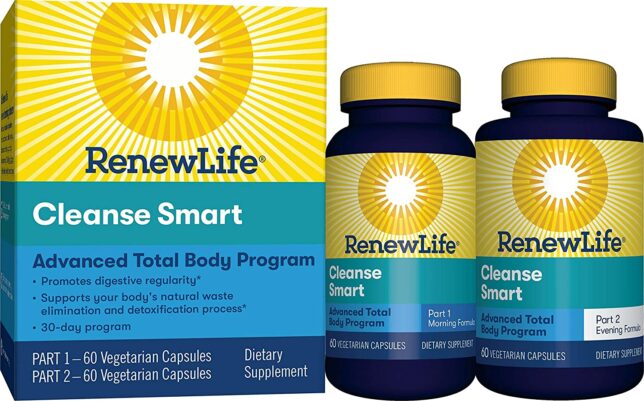 Renew Life Cleanse Smart
 is voted America's #1 internal Cleanse and offers solid value as an advanced and powerful, yet gentle whole body cleanse. This 2-part herbal program restores and promotes digestive regularity and supports detoxification by providing targeted support for the liver, kidneys, lungs, lymphatic system, bowel, blood, and skin – all pathways of elimination in the body.
---
Description
Complete 30 Day Cleansing System
CleanseSMART 1: Morning herbal formula to support detoxification. For the first 3 days, take 1 capsule in the morning on an empty stomach. After 3 days increase to 2 capsules in the morning.
CleanseSMART 2: Evening herbal formula to promote elimination. For the first 3 days, take 1 capsule in the evening on an empty stomach. After 3 days increase to 2 capsules in the evening.
User Guide: Explains how to maximize your results, how much water to drink and what to eat, plus recommendations for how to maintain healthy elimination post cleanse.
Quality cGMP (Good Manufacturing Practices)
Gluten Free and Vegetable Capsules
Product Specialists: Knowledgeable about natural health care and can coach you about the best ways to use Renew Life products. *Keep in mind, they are not doctors and cannot provide medical advice.
Pros
Couldn't be any easier or straightforward to use. Forget swallowing gobs of pills, in fact the first 3 days you're only taking 2 capsules the entire day, the max per day is 4 total all day, taken in the morning and evening so you won't even have to remember to take them with you while at work or out during the middle of the day. This cleanse is gentle enough that it won't interrupt your life and have you spending every second in the bathroom.
Cons
Although rare, and something I haven't experienced, rhubarb and cape aloe may cause minor cramping and diarrhea in sensitive people, in this case I would call a product specialist, a suggestion to reduce the amount of capsules or possibly add an additional fiber may solve the problem.
Summary
This cleanse is ideal for both new and experienced cleansers and those who need something that will get the job done without interrupting your daily schedule. For more experienced cleansers, don't let it fool you, it is designed to be gentle but very effective. If you are ready to commit to a 30 day cleanse and eat healthy foods to support it, this cleanse will not disappoint.
NOTE: Renew Life recommends taking FiberSmart 
and Norwegian Gold Critical Omega
 while on the cleanse to support easier elimination and after to maintain it, however if you're on a budget, it's not a deal breaker, I have done the cleanse without these and still had great success. Should you choose FiberSmart, it offers the added benefit of both FOS (a prebiotic) and probiotics.
---
#2 – Garden of Life Perfect Cleanse
---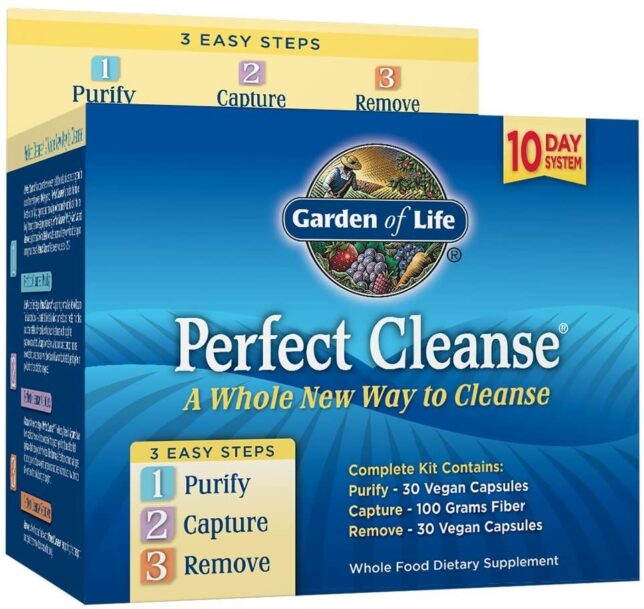 Garden of Life Perfect Cleanse uses a gentle, stimulant laxative free three step process to cleanse, capture, and remove toxins from the body and restore it to a healthy vibrant state. It's formulated to allow you to maintain your normal daily routine without disruption during your cleanse.
---
Description
Complete 10 Day Cleansing System
Purify 1: Evening herbal formula to support detoxification. Take 3 capsules before dinner with at least 8 ounces of water.
Capture 2: Evening fiber powder to promote elimination. Mix 1 scoop (10 grams) powder with at least 8 ounces of water or no sugar added juice 1/2 hour after dinner. 
Remove 3: Bedtime formula to support digestion/elimination. Take 3 caplets with at least 8 ounces of water at bedtime.
User Guide and CD: Information, instructions, and tips to make your cleanse more effective from an M.D. Board Certified in Gastroenterology.
Vegetarian, Gluten Free and Dairy Free
Pros
Easy to use and gentle enough not to interfere with day to day activities. The shorter 10 day period of cleansing is a nice introduction to a first time cleanse and appealing to those who don't want to commit to a full 30 day cleanse. The 3 formulas are all done in the evening so you won't have to think about taking anything in the morning, especially before work or getting kids off to school.
Cons
For some, it may be quite a few capsules to swallow, 6 total plus a powder (if you are not a fan of powders, you can mix it in no sugar added juice), keeping in mind it's only for 10 days makes it totally doable. There's a bit of an adjustment necessary to get the timing of taking each formula down at first, but really it's just 1/2 hour before dinner, 1/2 hour after, and at bedtime, which when you're home in the evening with access to timers is really not so much of a problem.
Summary
This cleanse is ideal for those who want to try cleansing without making a full 30 day commitment just yet, for anyone really, that is looking for a gentle and effective cleanse with very little time investment. It's also ideal for people who don't want to have to remember to take things in the busy rush of the morning.
---
#3 – Enzymatic Therapy Whole Body Cleanse
---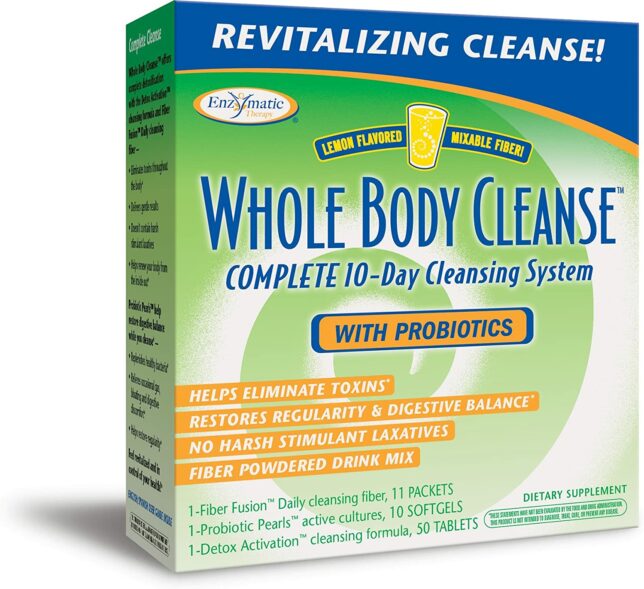 Enzymatic Therapy Whole Body Cleanse 
combines 3 formulas targeted to cleanse, detoxify, and rejuvenate for a safe, gentle, and effective cleanse without interrupting your busy life.
---
Description
Complete 10 Day Cleansing System
Detox Activation: Evening herbal formula to support detoxification. Day 1-8, take 5 tablets in the evening with at least 8 ounces of water. Day 9-10, take 3 tablets in the evening with at least 8 ounces of water.
Fiber Fusion: Lemon flavored drinkable fiber packets to promote elimination. Day 2-8, take 1 packet in at least 8 ounces water at night. Day 9-10, take 1 packet in at least 8 ounces of water in the morning and repeat at night.
Acidophilus Pearls: Probiotic formula to replenish healthy bacteria. 1 capsule daily with at least 8 ounces of water, with or without food.
User Guide: Information, instructions, and tips to make your cleanse more effective.
Pros
Gentle, easy to use, only 10 days long, with 2 formulas to take in the evening only, eliminating the need to take anything during a busy morning (the last 2 days you do drink a fiber packet each morning). The included fiber has a pleasant lemon taste and is a bonus along with the pearls, eliminating the need to purchase a separate fiber and probiotic. You're never swallowing more than 5 tablets at a time and you can take your probiotic whenever it's convenient.
Cons
If swallowing 5 tablets and drinkable fiber is an issue for you, this could be considered a con. Keep in mind, the drinkable fiber is lemon flavored and you can mix it in no sugar added juice if you like. On the flip side of the flexibility to take your probiotic when you decide, it could be easy to forget to take at all.
Summary
The lower price point of this cleanse plus the fact that it's all inclusive and only 10 days long, makes it ideal for first time cleansers and people on a budget. If you have any skepticism when it comes to trying a cleanse, this one really gives you no reason not to go for it!
Final Thoughts
When used correctly, a periodic cleanse can be a great addition to healthy dietary habits, plenty of water, staying active, and reducing stress. It can do a great job restoring digestive health and elimination, although it's definitely not a magic fix for chronic digestive issues or chronic constipation – if these are ongoing issues, it's likely that some changes in dietary and lifestyle habits need to pursued.
It's never a good idea to become reliant on cleanses to keep you regular all time. In addition, there is not enough information out there about how toilet posture assists in healthy elimination. I'm a big advocate of Squatty Potty for this reason. Read full review here. 
If you have questions, I'm more than happy to help. We would love to hear your experiences with cleansing…please share below!