The first time I heard of this thing called bone broth, I pictured something like a witch doctor standing over a cauldron stirring up a a steamy potion, or a creole practitioner performing a voodoo ritual. The thought of making a big pot of broth out of bones sounded like something from the land of mystics to me.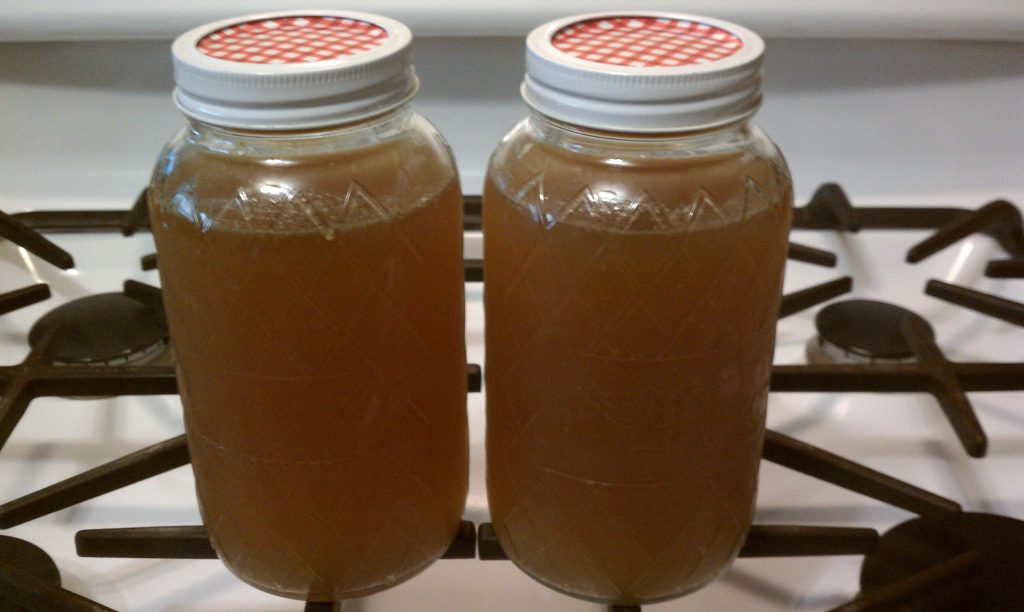 But I tend to be on the curious side and love to experiment with healthy things, so one day I decided to see for myself what this mysterious broth was all about. Well, not to squash the fantasy, but today I aim to demystify this concoction because as it turns out, crock pot bone broth is becoming very popular these days, and isn't all that mystical after all.
It is however, extremely healing and I still like to refer to it in the fun way of  a "healing potion" of sorts. The positive impact this broth can have on your health is definitely worth it…bones and all!
Bone broth is an inexpensive way to make use of leftover bones from a whole roasted chicken, turkey, duck, or goose. You can also get bones from your local butcher shop, farmers market, health food market, or maybe you hunt or know someone that does.
And just about any type of animal including beef, bison, venison, veal, lamb, or pork will do. Try to seek out local organic, and grass fed options when able.
Bone Broth is Rich in Nutrients and Combats Inflammation
Bone broth is extremely nourishing and healing for the body. It is a powerhouse of easily absorbed nutrients including minerals, and amino acids that promote a healthy gut and digestive system, muscle repair, and help to maintain a strong immune system.
Also rich in glucosamine and chondroitin (found as supplements to reduce joint pain, arthritis and inflammation), and collagen, bone broth strengthens connective tissues like tendons, ligaments, and even contributes to the elasticity of skin and keeps our hair and nails strong.
People with inflammatory conditions or autoimmune disorders like leaky gut greatly benefit from the gelatin in the broth. Here's how to get some nutrient rich bone broth going in the crock pot in a matter of minutes…
Wash and prep veggies, garlic and ginger, and set aside.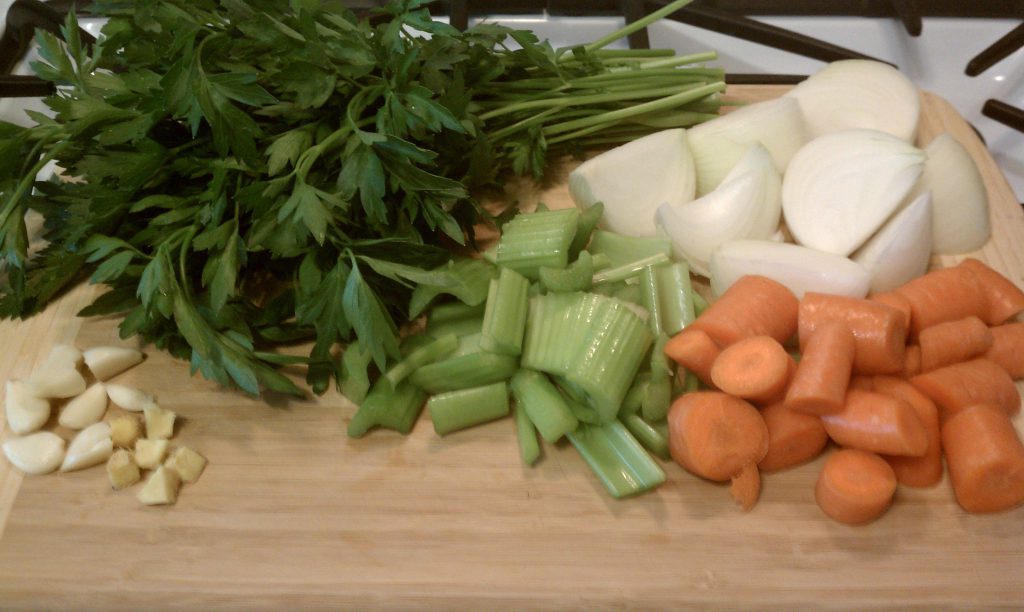 Place 1-2 lbs of meat or poultry bones in a large crock pot.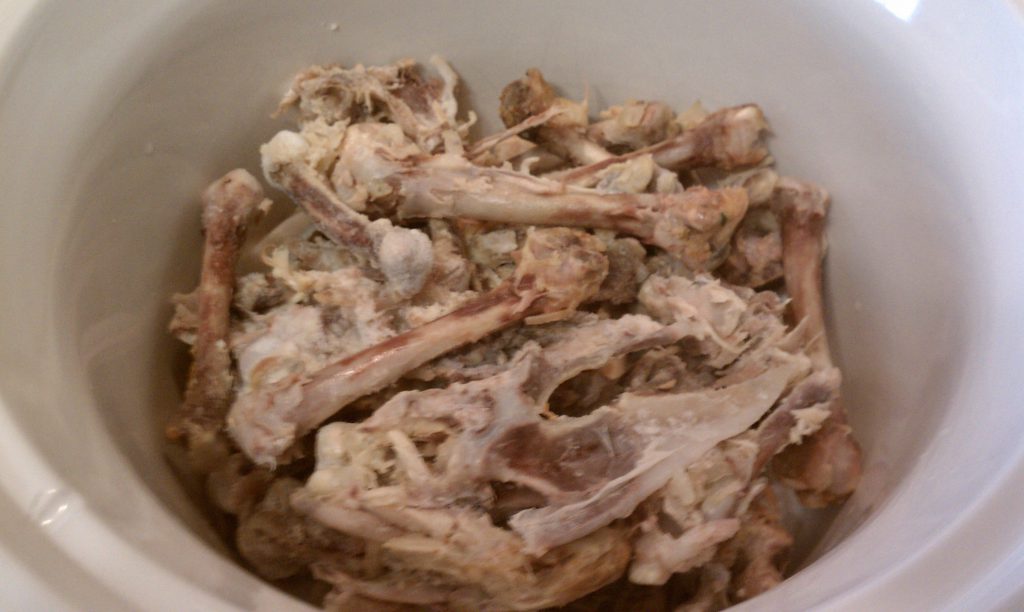 Place veggies, garlic, ginger and parsley in crock pot, and add sea salt and apple cider vinegar.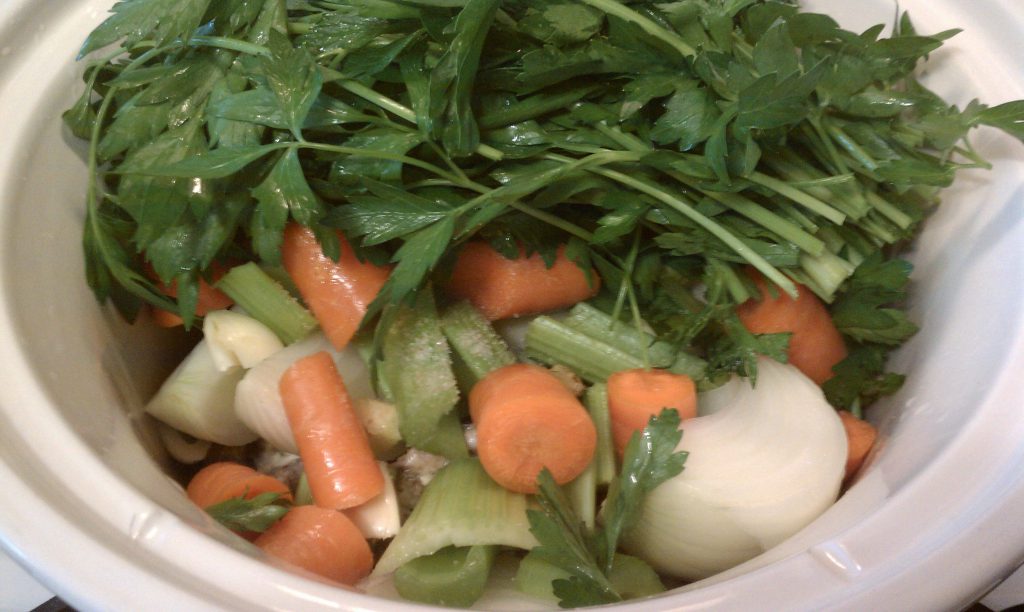 Add water and lid to crock pot and cook on low for 12-24 hours (I do 24 for better flavor).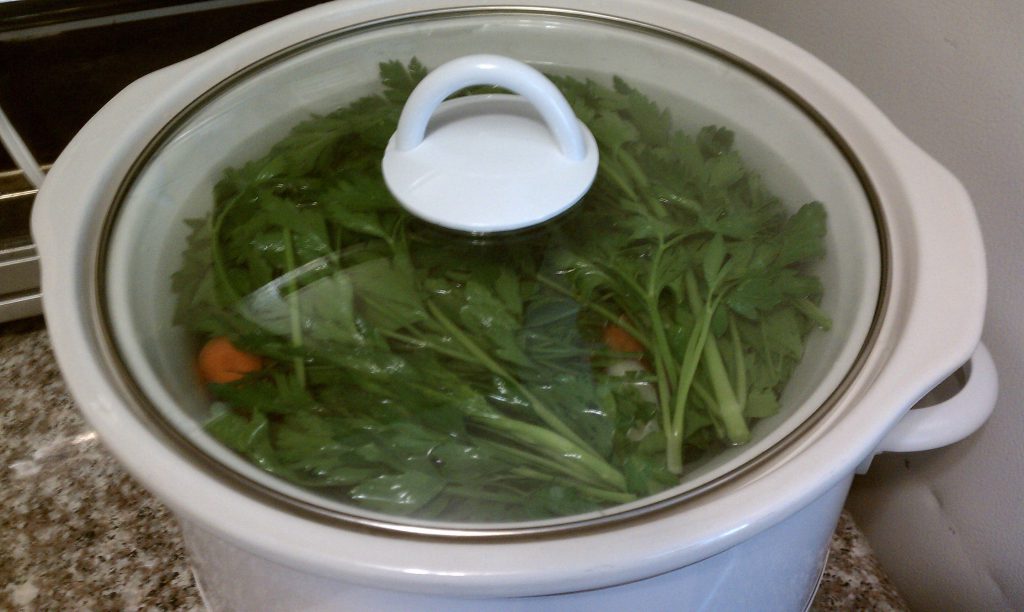 Strain broth with a fine sieve, discard waste, and let it cool enough to place in the refrigerator.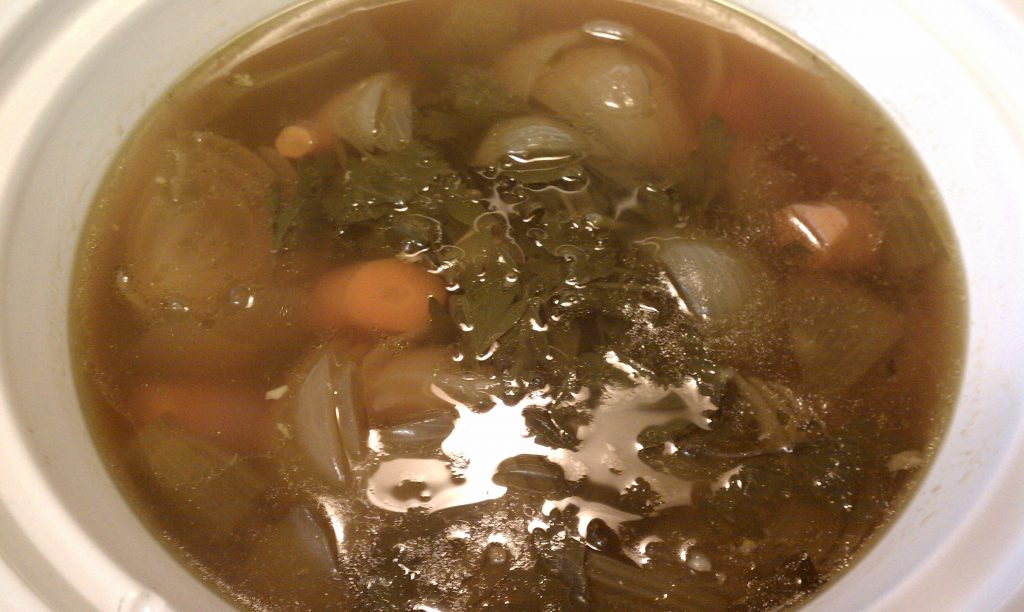 Once the fat has risen to the top (like this) after being in the fridge for awhile, skim it off with a spoon.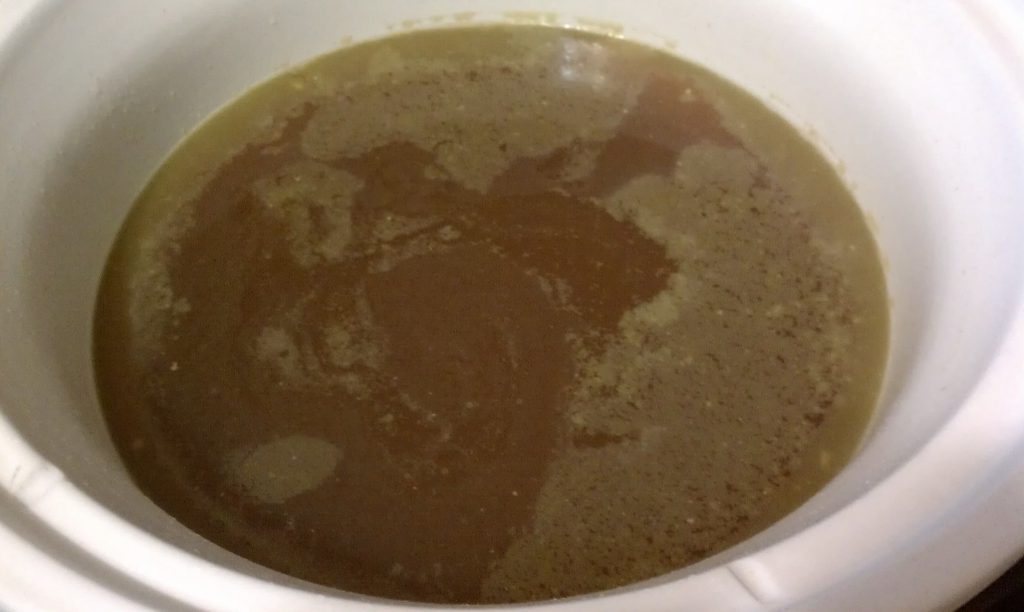 It should look similar to this now, depending on the type of bones used.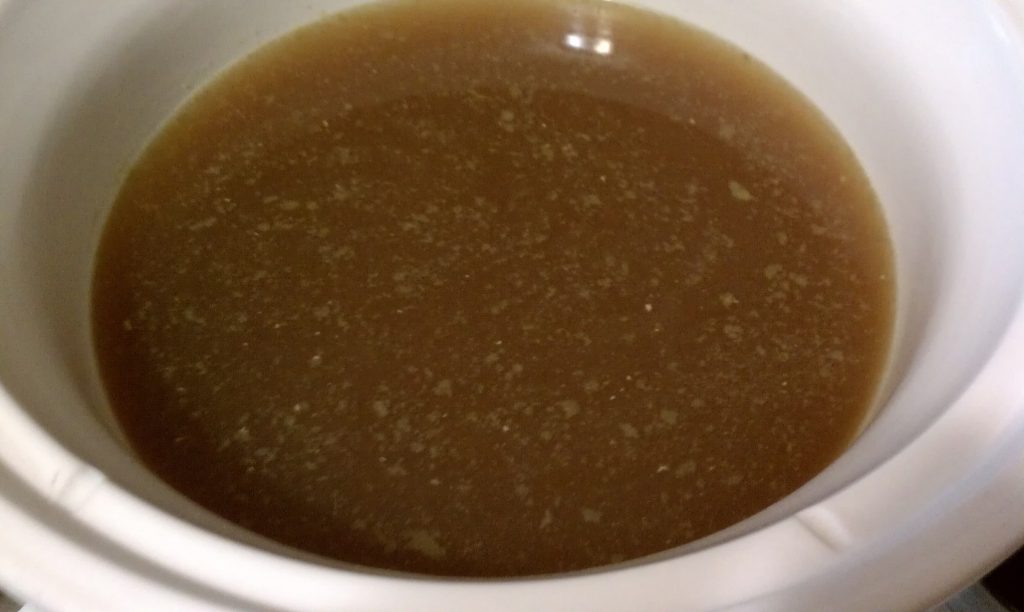 Store skimmed broth in containers in the fridge for 4-5 days, or freeze for up to a year.
Easy Crock Pot Bone Broth
INGREDIENTS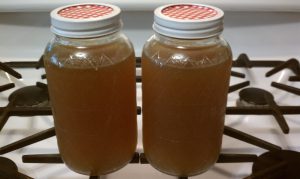 1-2 lbs meat or poultry bones
4 quarts filtered water
2 Tbsp apple cider vinegar
1 tsp sea salt or himalayan salt
5 garlic cloves, lightly smashed
2-3 inches ginger, chopped
1 large onion, coarsely chopped
2 carrots, scrubbed and coarsely chopped
3 celery stalks, coarsely chopped
one bunch of parsley
DIRECTIONS
Place all ingredients in a large slow cooker and set on low
Cook on low 12-24 hours. The longer it cooks the better it tastes
Strain the broth through a fine mesh strainer or coffee filter into a large bowl, and discard the waste
Skim off the layer of fat that rises to the top of the broth after several hours of cooling in the refrigerator
Note: If you're using beef bones, roasting them first in the oven at 400° for 30 minutes or until browned will give your broth better flavor.
Also, if you can't fit 4 quarts of water like this traditional recipe calls for, just fill your crock pot to the top with water (in my case my crock pot fits 3 quarts) which results in a slightly more concentrated broth.
Even Faster Option: Alternatively, if you're in a super duper hurry, you can just throw the bones, apple cider vinegar, sea salt and water in your crock pot minus all other ingredients and you're good to go, you're broth won't be quite as flavorful but you'll still get all the same nutrients from the bones.
Store your broth in the fridge for no longer than 4-5 days. It should keep in the freezer for up to a year.
I like to drink a mug of hot broth in the morning like a coffee or tea. You can also add herbs and veggies each time you drink it, or use the broth as a base for a soup recipe.
If you don't have a crock pot, no problem, this recipe can be made on a stovetop, using a large pot on low heat.
Go ahead, throw on your best ritual attire, light some candles, and start brewing up your own potion! Happy simmering! Don't forget to share your experiences below :)
Not up for cooking right now, but still want all the nutrient benefits of bone broth? No problem! A simple solution is to use hydrolyzed collagen powder instead, or try one of these convenient bone broth options.