If you've ever heard of Andrea Beaman, you know she's one of the best health coaches out there, a master chef, and also an expert on thyroid health. I learned a lot from her during my Institute for Integrative Nutrition days, the same school that sparked her passion.
Andrea is extremely informative and creates delicious nourishing recipes with her fun east coast vibe and laid back sense of humor. Which is why I'm happy to review her Happy Healthy Thyroid Book Bundle.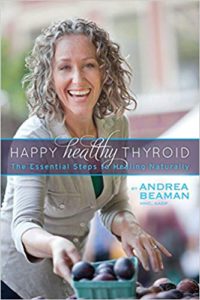 Product: Happy Healthy Thyroid Book Bundle
Format: Book + 2 DVDs
Price: $47.98
Where to Buy: AndreaBeaman.com
Also available at: Amazon.com (book only)
---
The book and DVDs can also be purchased individually so I'll break them down that way.
---
For a peek at Andrea's teaching style check out the Adrenal Health trailer from her DVD.
---
Happy Healthy Thyroid Book:
---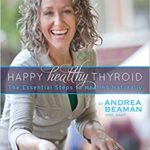 Andrea shows you the essential steps to healing naturally. Rave testimonials of people reversing their thyroid disorders, a woman even shares that she was able to get her TSH levels perfect within only 4 months of applying the lifestyle changes in the book. 
The below topics are covered + there are tons of nourishing real food recipes:
All about the thyroid and it's function
Stress and the adrenal connection to the thyroid
Environment and endocrine disruptors
Your internal system and thyroid health
Ways to recharge
Which healthful food habits are actually not so healthful
Which foods, herbs, and botanicals nourish the thyroid
A deeper truth about thyroid health
---
Nourishing Adrenal Health DVD:
---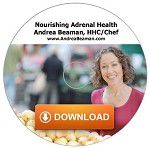 In this two part DVD (seminar plus cooking class), Andrea discusses how it's estimated that 80% of adult Americans suffer from adrenal fatigue at some point in their life as a result of  poor eating habits, stressful lifestyle factors, nutrient deficiencies, lack of sufficient rest, etc.
If adrenal glands aren't functioning at an optimal level it can cause thyroid disease. Once the adrenals are balanced the thyroid can naturally balance itself.
Andrea shares how she healed herself of this deficiency and shows you how to nourish your body back to an energetic state.
Run time is 1 hour 24 minutes. Includes a downloadable video and 6 page information guide in PDF.
To find out if you may be experiencing symptoms of adrenal fatigue click here.
---
Nourishing Thyroid Health DVD:
---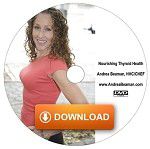 In this DVD, Andrea shares how she healed her thyroid disease. She discusses things like how environmental factors contribute to thyroid disease and how you can protect yourself with nutritional foods.
She also explains why healthy fats and iodine rich foods are crucial for thyroid health, which healthy foods can actually impair thyroid function, and the role your mind body connection plays, including a meditation for thyroid health, and much more.
Run time is 1 hour 26 minutes. Includes a downloadable DVD and 6 page information guide in PDF, thyroid health worksheets, and iodine rich stock recipe.
Andrea is The Real Deal
Andrea Beaman is a nationally renowned Holistic Health Coach and Natural Foods Chef. She has been recognized by Greatist.com as one of the top 100 Most Influential Health and Fitness Experts.
Having more than 15 years experience she hosts her own cooking show called Fed Up! She has been featured on shows like Top Chef, The View, FOX and CBS News.
Sadly she lost her mother to cancer. Seeing what she went through being treated with modern medicine she knew there had to be a way to heal the body without wreaking the immune system in the process.
Faced with her own thyroid disease, she decided against conventional medical radiation and prescriptions and instead healed her body with whole foods, and lifestyle changes.
What I love most about her is her ability to be informative without being intimidating. You're 100% sure she knows her stuff yet her honest and funny approach really make you feel at ease while keeping you fully engaged in your own process of achieving health.
Before I go any further I must say it was difficult to find any cons with this product. But one tiny mention to be fair is that the program comes in a downloadable PDF format with a link that expires in 7 days so if you forget to download it right away upon receipt you'll have to ask for another link.
Not a big deal in my opinion. Just download the materials right away and problem solved :)
Suffering from thyroid and adrenal conditions and coaching is more of your thing? 
To hear what people are saying about Andrea's program click below 
---
Final Thoughts
While this program is geared toward adrenal and thyroid health it doesn't mean it's only for people who have thyroid disease and adrenal fatigue. And it's good to keep in mind that adrenal health affects thyroid health, and vice versa, which is why it's super important to keep them both nourished and healthy.
In this day and age almost everyone is dealing with some level of adrenal imbalance, so even if it's minor now, getting a jump start on fixing your health can save you from bigger problems that may develop down the road.
If you're at all interested in feeling better, experiencing more energy, and investing in your long term health I encourage you to let this program guide you in right direction.
Let Andrea take the hard, time consuming guesswork out of learning how to prepare and eat healthy meals, and teach you how to make important lifestyle adjustments so you can reclaim your health and experience living life to the fullest!
P.S. Her recipes ROCK! Sooo delish and simple to prepare too : )
To your happy healthy thyroid!