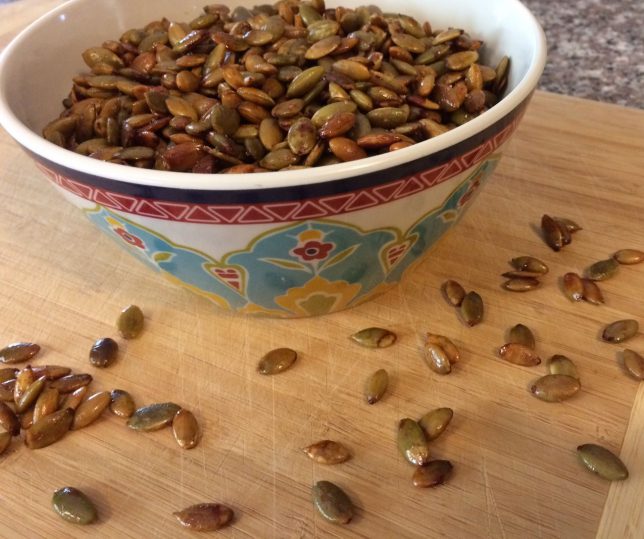 As much as I love munching on raw nuts and seeds, sometimes you just gotta add a little flair. Which is exactly what these Coconut Amino Roasted Pepitas are about. Seeds with flair.
The other day I grabbed some raw pepitas out of the fridge to snack on and thought, 'I love you pepitas but I'm in the mood to dress you up a little'. And then I looked over at the coconut aminos in my fridge and thought…heeeeyyyaaaa…
And then I thought about how much I love the salty soy-saucy goodness of tamari roasted nuts and seeds – which if you've never had, you gotta try – they're abso-freakin-delicious!
Inspired by tamari, but wanting to put a different spin on it, I decided to try roasting my pepitas in coconut oil and coconut aminos, and OMG you guys! Who knew that two simple ingredients and a little himalayan salt could be so flippin delish!?!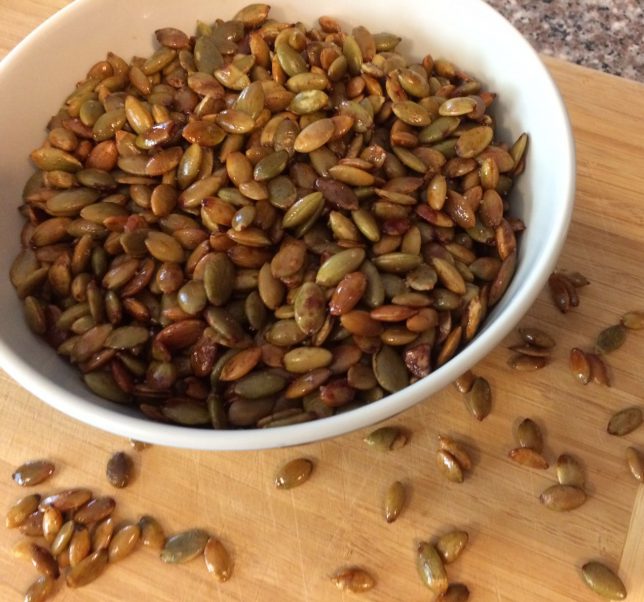 These seriously remind me of kettle corn, the first day they're made. I know it sounds weird but the slight sweetness of the coconut aminos mixed with the salt remind of the same sweet and salty flavor of kettle corn. And they make your kitchen smell yum-ay.
Annnd, you don't have to worry about the oil since it's a good dose of healthy fat from coconut oil.
Take them on picnics, hiking, to barbecues, game days, pack them in lunches…snack on them wherever. Toss them into salads, side dishes, or bake them into breads…or whatever else you can think of.
I think these babies are my new jam and I hope you love them just as much!
Coconut Amino Roasted Pepitas
INGREDIENTS
DIRECTIONS
Preheat oven to 350°
Add pepitas to a bowl, pour melted coconut oil over them and stir to coat
Add coconut aminos and stir to coat
Spread mixture onto a baking sheet and bake for 10-15 minutes, stirring halfway through
Remove from oven, sprinkle with salt, stir to coat, and let cool for 10 minutes or so
Taste, if needed add more salt
Store in an airtight container for a quick and tasty snack (should last a week or two on the counter top, but the fresher they are the better they taste!)
Note: These will be a little oily for the first day, so if you plan on packing them to take somewhere and don't want oily hands, you may want to wait until a day later, they usually are dry by then.