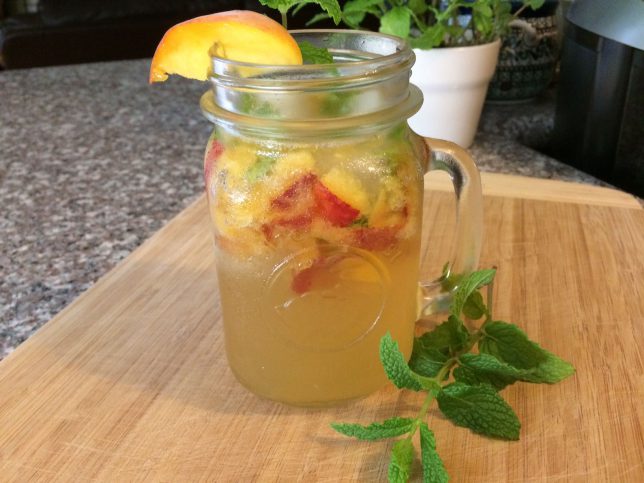 Summertime and the livin's easy. I've been feeling all crafty in the kitchen whipping up some adult beverages and compiling a list of some easy summer cocktails that are refreshing, tasty, and the best part…save you a bunch of added sugars. A huge bonus for bikini season!
I enjoy a good cocktail every now and again, but to tell you the truth, they're mostly not my thing. I'm more of a red wine and craft beer kinda girl. It's not that I don't enjoy the taste of a good cocktail, but I'm more likely to sip on a Moscow Mule over a Bahama Mama. Unless there are some really cool signature cocktails on the menu. And you'll rarely see me mixing up a cocktail at home.
When it comes to adult beverages I like to keep things pretty simple. And when it comes to cocktails, I'm more of a two to three ingredient kinda girl…anymore than that and things usually get dangerous.
Danger. Sugar overload danger. No good. Neeeewww.
It's no secret that the "secret" ingredients – concentrated juices, sodas, and syrups – are what make most cocktails such sweet sensations. I don't know about you, but I sure don't need all those extra empty calories – there's enough of those in the alcohol itself. Not only that, but the sugary overload can really upset your stomach too.
Still, there's a place in my life for a good adult beverage and summertime happens to be one of those times when I welcome a nice refreshing cocktail. A nice fruity beverage at a picnic or barbecue and on those sunny beach days just hits the spot.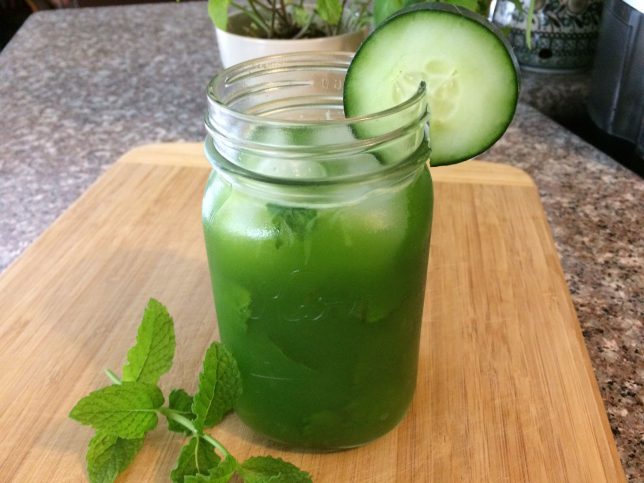 So I got to work concocting some summer cocktails that…get this…actually have real ingredients. Yep. Shocking right?! Not loaded with a bunch of extra sugars. Without sacrificing flavor. Even breaking my three ingredient rule.
I should tell you that these are all approved by the Mr. of the house, who needless to say, showed no resistance to being my guinea pig. None at all.
I had a lot of fun mixing up these recipes and ended up with some pretty cool summer cocktails using real fruit, fresh juice and herbs instead of processed sugars from syrups, fruit juice concentrates, and sodas.
That said, keep in mind that most of these taste mildly sweet. But also keep in mind that just because these cocktails have less sugar doesn't mean they are entirely calorie free.
And if calories aren't a concern, and you like your cocktails sweeter, then by all means feel free to increase the amount of the sweeteners in these recipes.
I hope you enjoy these cocktails as much as I do!
Note: Each recipe serves one.
Cherry Lime Spritzer

If you love sweet fruity cocktails, try this Cherry Lime Spritzer! The agave nectar makes it nice and sweet.
INGREDIENTS
6 frozen pitted cherries
3 lime wedges
1 Tbsp agave nectar
2 ounces whiskey
sparkling water
DIRECTIONS
Muddle cherries, lime wedges and agave nectar in the bottom of a skinny or highball glass
Fill glass with ice, add whiskey, top with sparkling water, and mix well
Peach Mint Julep

Peach Mint Julep is a twist on a quintessential southern classic…fun fact: some 120,000 Juleps are served during the Kentucky Derby. If you can serve this the traditional way, over crushed ice, it makes it even better!
INGREDIENTS
1/2 ripe peach
2 mint sprigs
1-2 Tbsp maple syrup (depending on how sweet you like it)
2 ounces bourbon
sparkling water
DIRECTIONS
Muddle peach, mint leaves and maple syrup in the bottom of a mason jar or highball glass
Fill glass with ice, add bourbon, top with sparkling water, and mix well
Strawberry Basil Breeze

Strawberries and basil…a match made in heaven. You'll wanna sip this Strawberry Basil Breeze martini all summer long.
INGREDIENTS
2 ripe strawberries
5 basil leaves
1 ounce triple sec
2 ounces Bacardi Limon
DIRECTIONS
Muddle strawberries, basil and triple sec in a cocktail shaker
Add ice and Bacardi Limon, add lid and shake until mixed and chilled
Remove entire lid including strainer and pour unstrained mixture into a martini glass
Cucumber Mint Cooler

For all my juicing buddies, I hope you enjoy this Cucumber Mint Cooler, a vodka spiked fresh green juice, as much as I do.
INGREDIENTS
2 organic cucumbers
1/2 organic green apple
5 mint sprigs
3 lime wedges
2 ounces vodka
4 ounces sparkling water
DIRECTIONS
Muddle mint sprigs, lime wedges and vodka in the bottom of a mason jar
Juice cucumbers and apple
Pour juice and sparkling water into mason jar, mix well, and add ice
Hibiscus Ginger Fizz

For all my ginger loving friends, Hibiscus Ginger Fizz is a colorful, slightly spicy, delicious twist on a traditional Gin Fizz.
INGREDIENTS
6 ounces hibiscus tea
6 ounces Fever-Tree Ginger Beer
2 ounces gin
1 lime wedge
DIRECTIONS
Brew hibiscus tea and set aside to cool
Add hibiscus tea, ginger beer, and gin to a stemless wine glass
Squeeze lime wedge into glass, mix well, and add ice
Mason Jar Summer Sangria

Sangria and summer go together like PB & J. I don't use exact measurements – just general guidelines, so feel free to play around until you get the mixture you like.
INGREDIENTS
fresh OR frozen fruit of choice (I used a frozen medley of peaches, pineapples, mangoes, strawberries, and grapes)
2 Tbsp raw sugar OR agave nectar
a few sprigs of mint and/or basil
white wine
sparkling water
DIRECTIONS
Fill 32 ounce mason jar halfway with fruit
Add sweetener, mint and basil sprigs
Fill mason jar 3/4 full with wine
Fill remaining 1/4 of the jar with sparkling water
Give a good stir, let it sit in fridge for a day or two before serving to let flavors mingle
Serve over ice with a few pieces of fruit in each glass
Cheers and sip away! And again, I hope you enjoy these colorful cocktails and find yourself sharing them with your friends and family at your next summer get together!!!
If you try any of these I'd love to hear about it! What's your all time favorite cocktail? Leave a comment below!