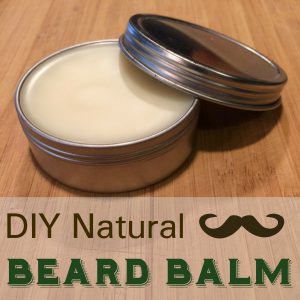 No more unruly whiskers. Tame your beard like a boss with DIY Beard Balm.
With lots of guys sporting fierce beards these days, grooming facial manes is important business. Whether you're going for a noble looking beard or a rugged beard, beard balm is like butter for your beard. In fact, call it butter or wax if ya like, it's all the same around here.
Now fellows, as a women who's fellow rocks a beard, I appreciate the difference a good quality beard balm and oil makes. It's the difference between a hot bearded mess and a sleek bearded success. But the benefits go beyond a dapper looking beard – beard balm helps to:
Condition and soften facial hair
Moisturize and prevent or soothe dry and itchy skin
Tame and style facial hair
Grooming a beard can be a costly affair (like $15-$25 costly), depending on the product. So, in my quest to find a beard balm and beard oil for my man, I decided it couldn't be that hard to make, so the DIY'er in me got to work, and within minutes I had a homemade beard balm that I proudly showed off to my hunky bearded man who gave me the thumbs up along with, of course, a big bearded smile of approval.
P.S. These pictures took way longer than the beard balm!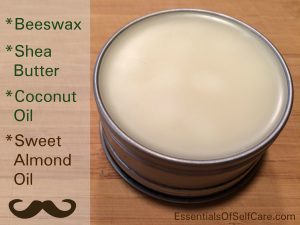 You can literally whip this stuff up in minutes!
All this talk about beards – let's not forget about the stache that accompanies them…beard balm…also perfect for your moustache.
This beard balm (plus bonus beard oil) recipe is a total hit with bearded beauties and their beauties…he gets to master the art of manliness with style and she gets to enjoy a soft kissable beard.
Beard balm made with all natural ingredients is just what a man needs to get his serious beard swag on.
DIY Beard Balm

fills one 2 ounce tin
INGREDIENTS
DIRECTIONS
Fill a small saucepan with a couple of inches of water and place over medium heat
Place beeswax and shea butter in a small glass bowl and into the pan, heating and stirring occasionally until completely melted
Remove bowl from the pan and stir in almond oil and essential oil
Pour mixture into tin or other container and let it cool before placing the lid on
Once your balm has cooled and hardened it's ready to use
Notes: Beeswax is available in bars or pellets – pellets are much easier to work with, and will save you time and cleanup. You can experiment with other butters like cocoa or mango butter and other carrier oils like jojoba, avocado, apricot, grapeseed, olive, argan, etc, although my results are based on the exact oils used above.
The basic ratio is the same for all butters and oils and consists of the following:
about 2/3 part solids (beeswax, butters, and oils like coconut that are solid at room temperature)
1/3 part carrier oils
If you want a different consistency – more beeswax = more hold and less beeswax = less hold.
How to Apply Beard Balm
So now you've got your beard balm and you're ready to apply it in 3 easy steps! It's best to apply it to a clean, dry beard. You can apply it right out of the shower but it will adhere better to a dry beard.
Scrape a thumbnail amount of balm out of the tin
Rub it into the palm of your hands until it's melted
If you have a long beard, start at your neck smoothing the balm on the underside of your beard using upward strokes, making sure to get down to the skin. Grab another thumbnail (or start here if you have a short beard) and start at your side burns, using downward strokes to massage it the entire length of your beard. Grab one more thumbnail and work it into your chin area and moustache, always starting at the root of the hair follicle and making your way to the end of your beard
Now that your beard is nice and balmy, you're ready to give it a comb. It's best to use a high quality comb or brush with natural boar bristles to help prevent breakage and split ends. Comb or brush your beard the same way you applied your balm to get a thorough application and ensure your manscape is nice and conditioned. Now you can use your hands to shape and get your perfect looking beard.
Watch as this dapper "beard baron" shows how to apply beard balm like a boss.
So that covers beard balm…what about beard oil? No worries, got ya covered.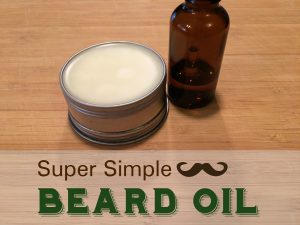 Bonus – 2 Ingredient Beard Oil
fills 1 ounce dropper bottle
INGREDIENTS
1 ounce sweet almond oil
10-20 drops essential oil(s) of choice, or leave out if you prefer unscented
DIRECTIONS
Add the carrier oil and essential oil(s) to the dropper bottle and shake to mix well
Apply 1-2 drops after a shower to a towel dried beard for best results
Notes: If your beard is long and thick, you may need more drops. You can make more or less oil depending on how often you use it – 1 ounce will last you quite a while. You can also use other carrier oils like the ones mentioned in the beard balm recipe above, and even mix a few together if you like.
How to Apply Beard Oil
Applying beard oil is done pretty much the same way as beard balm.
Once again, the "beard baron" shows how to apply beard oil like a boss.
So What's the Difference Between Beard Oil and Beard Balm?
If you're looking to keep your beard conditioned and healthy, the basic rule of thumb is to apply beard oil on a daily basis. Beard oil will help keep your beard soft and shiny.
If you're going for a more polished look and for events that require you to look your best, beard balm will help control your beard, give it a matte finish and keep it looking sleek and stylish.
Need a beard touch up on the fly? Apply beard balm to tame problem areas and you're good to go!
To step your beard up, avoid the dreaded beardruff and sport an ultra soft beard, use a high quality beard oil along with a beard balm.
If making your own beard balm or oil isn't your thing, check out this awesome and reasonably priced beard balm and beard oil instead.
Do you or your man sport a beard? Do you use beard balm or beard oil? Love to hear in the comments!