Skipping facial toner is pretty common when it comes to a skin care routine. Many people are missing out on the rockin' benefits a toner can provide for your skin. No worries though, this green tea and aloe facial toner steps up with ingredients that provide goodness to hydrate and nourish your skin. And you'll probably pinch yourself a little when you see how quick and easy it is to throw together!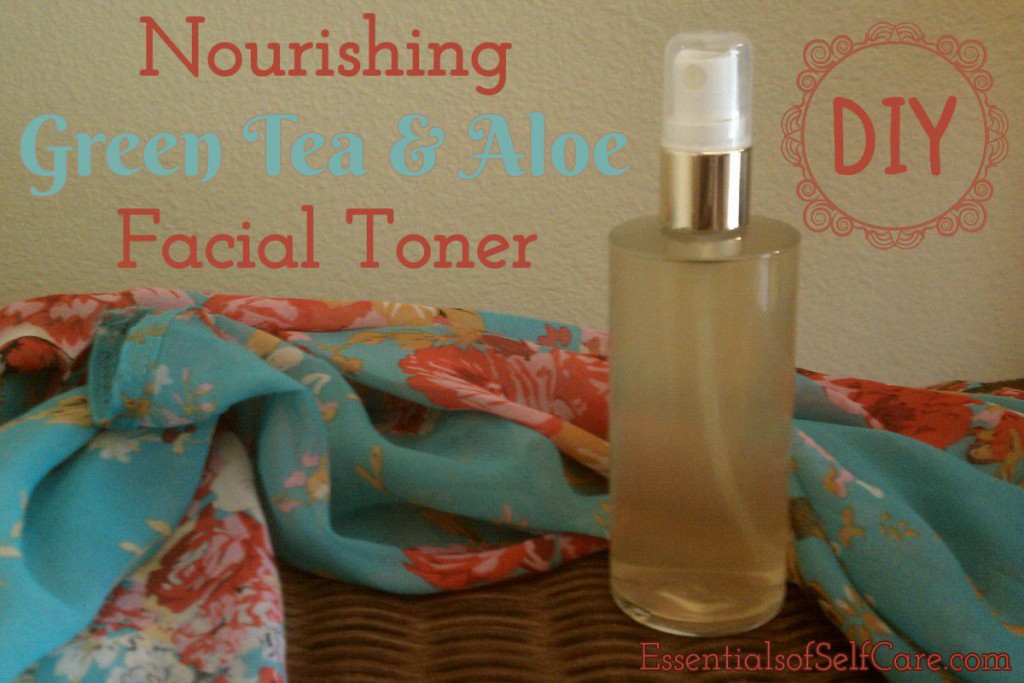 Why Use a Facial Toner?
Depending on the types of cleansers you use, they can result in changing the pH of your skin, causing dryness. Thanks to a trusty toner, it gets the job done when it comes to re-balancing pH. Plus, since the skin takes such a beating from environmental toxins, it's highly beneficial to provide it with ingredients to repair and restore it on a daily basis.
Toners get rid of chlorine and mineral residue from tap water, which are dehydrating when left to sit on the surface of the skin. Plus, moist skin allows serums and moisturizers to sink into your skin much better than dry skin, so if you want to reap the maximum benefits of other products in your facial care routine, don't miss out on the toner.
The right toner can give your complexion a healthy dose of daily love so it can look hydrated, and healthy.
The Benefits of Ancient Goodness
Thought you had to drink green tea to reap the benefits? Besides the numerous internal benefits, it's also superb when used on the skin. It is rich in antioxidants to help to reduce aging of your skin by fighting free radicals and healing damaged cells. It's also great for sun damaged skin, gets rid of toxins, and along with aloe vera, is helpful to reduce inflammation.
Speaking of aloe vera, I personally love its antiseptic, antibacterial, and anti-inflammatory abilities. It also does wonders for hydrating and promoting elasticity of the skin . Add to that, the soothing, anti-inflammatory properties of lavender and its ability to encourage healthy cell turnover, along with the skin softening, firming, and complexion clearing benefits of sandalwood, and you have one sweet recipe.
Like most of my DIY projects, this recipe is so ridiculously simple to throw together in minutes. I'm all about minimum effort with maximum results! If you want your skin to thrive, make toners – preferably this toner (I could have sworn I just heard a faint me, me, pick me) a comfy addition to your daily routine!
Nourishing DIY Green Tea & Aloe Facial Toner
INGREDIENTS
1/2 cup green tea
1 TBSP aloe vera gel
5 drops lavender essential oil
5 drops sandalwood essential oil
DIRECTIONS
Boil water and steep a green tea bag for 30 minutes. Remove tea bag (save for a green tea mask)
Add 1/2 cup steeped green tea along with the rest of the ingredients to a bottle with or without a spritzer nozzle, and shake well. After cleansing, spritz face with toner, or apply with a cotton pad twice daily for best results
Notes: Since there are no preservatives, I store my toner in the fridge. While sandalwood is amazing, I happened to have some on hand that I got as a sample some time ago, but if it doesn't fit your budget, lavender alone is highly beneficial. Or, if you prefer a fragrance free version you can omit the essential oils altogether.
I hope this quick and easy recipe encourages you to consider making toner a regular part of your daily facial care ritual – trust me, your complexion will love you for it!
Have you, or do you make your own facial toner? What are some of your favorite ingredients? Share below!