I'm going to show you how to whip up a quick and deliciously healthy dark chocolate pudding – Nutribullet style. No cooking, or hours of chilling involved and minus the usual suspects found in most puddings.
Yeah, I'm talking to you: heavy cream, eggs yolks, milk, sugar, and cornstarch, because although you have been known to make pudding taste good, I have found that there are some healthier versions to be used that taste just as, if not yummier than you. No, no, I will not apologize, because everyone deserves to indulge in chocolate pudding with better ingredients.
Did you used to love JELL-O pudding growing up? JELL-O pudding, I used to love finding you packed in my school lunches, but no offense, and sad as it was, when I grew up I decided it was time to end our relationship. It's okay, though because I've moved on to something much better.
Also, you've probably seen tons of healthy versions of chocolate pudding recipes made with avocado, I'll most likely post mine at some point. While I do love avocados, and if you eat the pudding right after it's made you can't taste the avocado, but still enjoy the health benefits and creamy texture…if you store it in the fridge instead, the avocado flavor gets really pronounced and tends to get kind of funky, almost on the verge of rotten-ish (for lack of a better way to explain it).
Which is why I chose banana as my main ingredient in this pudding. It adds sweetness without making it taste banana-y.
And a huge plus with this pudding recipe is, instead of giving you the typical sugar high followed by a sugar crash, it uses ingredients that provide real sustainable energy combined with protein, and healthy fats to balance out the natural sugars, which will also hold you over longer if you decide to enjoy by itself as a snack.
If you read my posts, you know how much I adore my Nutribullet, and this recipe is just one more reason why :) Let's get to the pudding! This makes a single serving, you can always scale up ingredients for the whole family, if you like.
Healthy Dark Chocolate Pudding – Nutribullet Style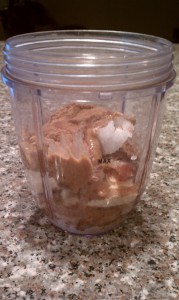 INGREDIENTS
1 small banana
2 dates, pitted and chopped (I use medjool)
2 Tbsp almond butter
2 Tbsp cacao OR unsweetened cocoa powder
1 Tbsp hydrolyzed collagen (optional)
2 Tbsp unsweetened almond milk
1 Tbsp coconut oil
1/4 tsp maca powder (optional)
DIRECTIONS
Remove pits from dates and chop into pieces, and break banana into pieces
Add all ingredients to a Nutribullet or blender and blend until the smooth consistency of pudding. If you like it thinner, just add more almond milk until desired consistency. Be careful not to add to much, or you'll end up with a smoothie instead
Enjoy! No chilling required, unless you prefer it, of course :)
I'd love to hear what you think, so please share below!