Looking for healthy gift ideas under $20 this holiday season? Got ya covered! Not only are these gifts totally affordable but they're also stuff the health nuts and fitness buffs in your life will not only dig, but actually use. And who knows…you might even find something you want to treat yourself with!
Ceramic Tea Cup With Stainless Steel Infuser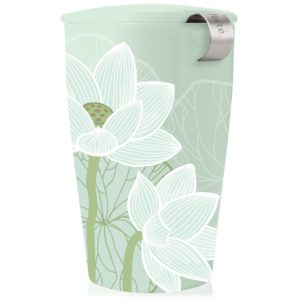 A stylish gift that allows the tea lover in your life to enjoy fresh brewed loose leaf tea at home or the office. This double-wall ceramic cup includes a removable stainless steel infuser and a ceramic lid that keeps tea hot while steeping and doubles as a trivet to hold the infuser.
Get it HERE
---
Live Infinitely 32 oz. BPA Free Infuser Water Bottles
Make drinking water tasty and refreshing by infusing it with fruit. Includes recipe eBook.
Get it HERE
---
Yoga for Stress Reduction
Beginners to seasoned yogis will benefit from this highly relaxing and transformational practice. Hala Khouri is an absolute gem.
 You can see my full review here.
---
 Brain Brew 2Go Premium MCT Oil (15 Pack)
Get the same fast brain energy from MCT oil that is added to Bulletproof coffee in convenient tasteless single serving packets to take to the gym, studio, office, or traveling. Great for the Keto lovers in your life!
Get it HERE
---
 Premium Massage Balls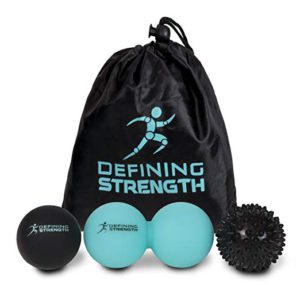 Portable and great for trigger point, acupressure, reflexology, and overall myofascial relief. Choose from a set of three massage balls including a lacrosse ball, a peanut ball/double lacrosse, and a spikey ball.
---
Drystat Compression Socks
Great for runners, fitness buffs, and people who spend a lot of time on their feet. Designed to keep feet dry, reduce odor, and provide compression to areas that normally get sore. They come in a variety of colors and sizes for men and women.
Get it HERE
---
Soursop Organic Matcha Green Tea Powder
Matcha green tea and soursop (graviola) are combined, making this a great alternative for people who want to enjoy the health benefits and energy boost of matcha but aren't necessarily down with the earthy taste. Easy to mix powder (no whisk required) to add to water, lattes, smoothies, and bake with.
Get it HERE
---
 Sage & Citrus Soy Mason Jar Candle
For fragrance lovers – made of 100% soy wax, no chemical based dyes, and high quality fragrance oils for a nice clean burn and solid burn time of about 50-60 hours.
Get it HERE
---
 Organic Lip Balm – Assorted Flavors (6 Pack)
6 delicious flavors, 100% organic and non-toxic ingredients, and recyclable packaging make this a perfect gift for healthy kissable lips.
Get it HERE
---
Eco-Friendly Cork Yoga Block
A great block to complement yoga practice – made of large grain renewable cork that is firm, stable, and comfortable and preferred by yoga and fitness studios for the quality and durability.
Get it HERE
---
Vegetable Spiralizer Package
Food enthusiasts and healthy eaters will love making veggie noodles with this spiralizer. Included is a bonus handheld slicer, bag, recipes, and instructional videos.
---
Stretch Out Strap
This durable nylon strap allows for safe unassisted stretching with greater control for better flexibility, range of motion, muscle recovery, and injury prevention. Includes strap and instructional book.
Get it HERE
---
 Himalayan Salt Rock Tea Light Candle Holder
Give the gift of relaxation with a himalayan salt candle holder that when heated naturally ionizes the air and gives off a beautiful glow. Himalayan salt has many therapeutic uses, find out more here.
Want more ideas? Check out 44 Gift Ideas for Health Conscious People!