Looking for the perfect gift ideas for health conscious people in your life? Celebrate their love of wellness with favorites for her, for him, for yogis and people who like to Zen out, for fitness lovers, and for healthy eaters. There's something that everyone will enjoy – hope you find something you'd love to give!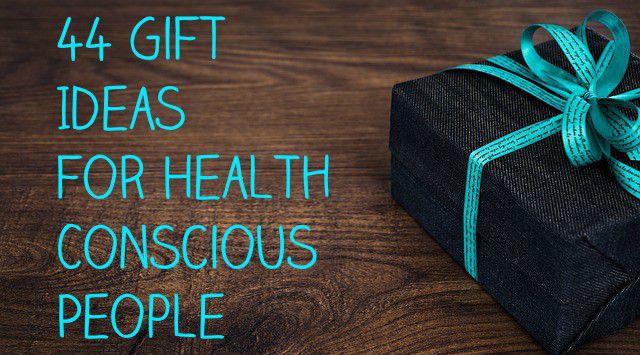 ---
Healthy Gifts for Her
---
 Essential Oil Blends Set with Wooden Box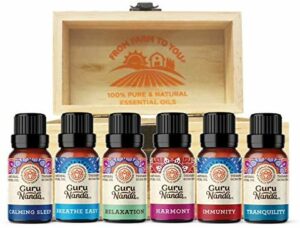 You can't go wrong with aromatherapy. Delight the holistic women in your life with 100% pure essential oils + sleek natural wooden box for easy storage. Add drops to a diffuser, a carrier oil for massage, a hot bath, or use in DIY projects. Set includes: Tranquility, Breathe Easy, Thrive, Harmony, and Calming Sleep for a soothing aromatherapy experience.
---
Premium Iron Aromatherapy Diffuser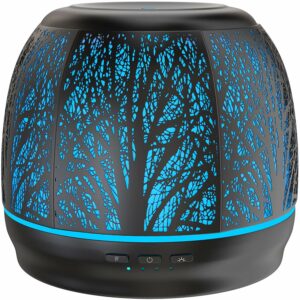 The elegant design of this premium iron diffuser adds a unique touch to any room and fills the space with the pleasant aromatic fragrance of healing essential oils. The whisper quiet ionizer, 7 color changing LED lighting modes, and extra large water tank allow for ease of use. Simply fill with water and add a few drops of your favorite oil to create a relaxing and uplifting environment, and to promote sleep and wellbeing. 
---
 Indian Coconut Nectar Perfume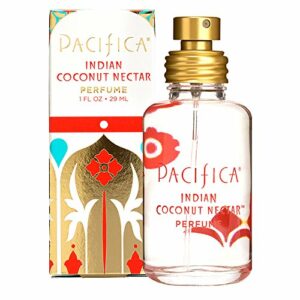 When it comes to non-toxic perfume with scents to die for, Pacifica's got it going on. Naturally conscious lovelies will totally appreciate that this is made with essential oils instead of synthetic fragrances and is vegan, gluten-free and cruelty-free. There are a variety of yummy fragrances and products to choose from – Indian Coconut Nectar is a long time favorite.
---
The Desire Map Planner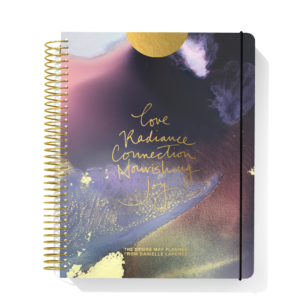 For women interested in conscious living, The Desire Map Planner is an absolute favorite. A lush planner gorgeously designed to help you align your thoughts and actions with your Core Desired Feelings so you can live a more heart-centered life. Free access to The Desire Map Planner Program included. 
---
iYURA Head-Turner Trio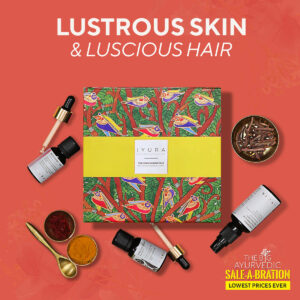 Women who love simple, no fuss skin and hair care products without sacrificing quality will love this trio. Give the gift of glow with just 3 drops of  iYURA ayurvedic Kesaradi oil in the morning, formulated to brighten, revitalize, and nourish your complexion, combined with 4 drops of Manjish Glow Elixir at nght. To turn mature hair from drab to fab, a small amount of Ambhring Age Embrace Revitalizer is the quintessential hair oil. This set comes in a gorgeous gift box and products are travel size – a perfect option for women on the go.
---
Arabica Coffee Scrub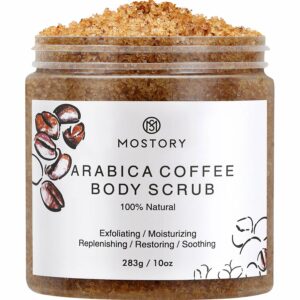 Coffee in a scrub = pure bliss. Formulated with caffeine from Arabica coffee extract, dead sea salts, hyaluronic acid, and nourishing oils, this decadent scrub is not only highly moisturizing, regenerating and exfoliating, but scrubbing your skin with invigorating caffeine stimulates blood flow and can help reduce the appearance of cellulite, stretch marks, spider veins, acne, age spots and eczema. Who doesn't love that?!
---
Dry Skin Brush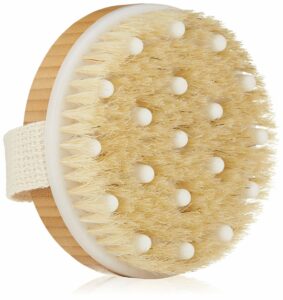 Every woman wants healthy glowing skin. Dry skin brushing is a fantastic way to detoxify the skin, moving daily impurtities and toxins out of the lymphatic system decreases cellulite, keeps your skin looking radiant and in peak condition. For the benefits and how-to of dry skin brushing check out my post here.
---
Healthy Gifts for Him
---
Beer Soap 6-Pack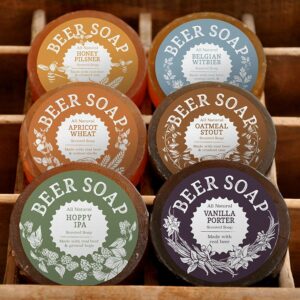 Turns out 6-packs of beer don't only come in the drinkable kinds. These fun novelty soaps are made with real craft beer, rich in nutrients his skin will totally dig, and paired with natural ingredients like orange peel, crushed oats, walnuts and ground hops – the perfect gift for any beer aficianado.
---
Bluetooth Beanie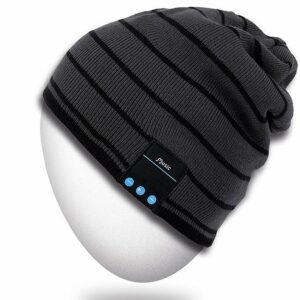 For guys who want to listen to their favorite music while enjoying an active lifestyle, this Bluetooth beanie brings great sound quality, style and comfort and allows you to listen without having to wear headphones. Pairs easily with cell phones, tablets, and other Bluetooth enabled devices with a wireless range up to 33 feet. 
---
Ultimate Beard Care Kit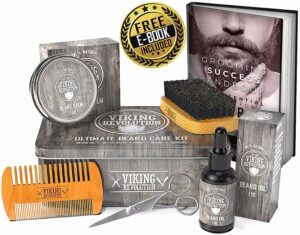 Complete with the tools a gentleman needs to make sure his beard grows to optimal awesomeness + a cool metal tin to store it all in. Includes a boars hair beard brush, double-sided pocket beard comb, scissors, sandlewood beard oil and beard balm, and a free ebook for grooming success.
---
Garmin Instinct Rugged Outdoor Watch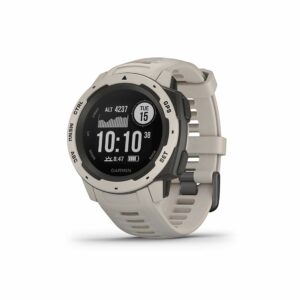 Built to withstand the toughest environments and made to take into extreme conditions with a built-in 3-axis compass, barometric altimeter, and multiple global navigation systems to easily navigate routes. Moniter your estimated heart rate, activity and stress, and train with preloaded activity profiles. With a hardcore battery life and a variety of cool colors to choose from this rugged GPS watch is a solid winner for the avid outdoorsman in your life. 
---
Acupressure Mat and Pillow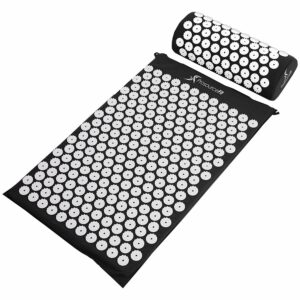 For hard-working men who suffer from back/neck pain relief and need muscle relaxation, an acupressure mat and pillow can be a real life-saver. Simply laying on the mat daily for 10-30 minutes will allow it to do its work on pressure points to improve blood circulation for increased energy and faster muscle recovery. 
---
Fitness/Workout Compression Shirt
Guys who are in to fitness will appreciate the breathable moisture-wicking fabric of this compression shirt available in a nice variety of colors, for its ability to keep them dry and comfortable while they're going hard at physical activity and workouts. The compression also grabs muscles tightly to enhance range of motion for peak performance.
---
Gift Ideas for Yogis & People Who Like to Zen Out
---
Eco-Organic Yoga Mat with Carrying Strap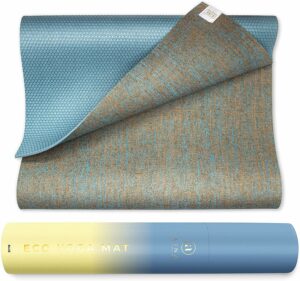 Beginners and seasoned yogis alike always appreciate a new yoga mat. With 3 chill colors, a non-slip grip, 1/4 inch cushioning and eco friendly materials, this mat has everything you want. The bonus carrying strap makes for easy transport and an all-around great mat for home, studio and outdoor use.
---
The Original SMART YOGA BAG
Made of double-lined, durable 100% cotton canvas with re-enforced stitching and quality zippers this super smart bag is made to last. A dual airflow system means your stuff stays fresh and odor free, and 3 multi-functional pockets inside the bag means you can securely store your yoga gear. With 4 stylish colors/designs to choose from you can't go wrong with this bag.
---
Microfiber Hot Yoga Towel
A lightweight, super absorbent, quick-dry towel is a must have for those slippery hot yoga classes and this microfiber towel fits the bill. A perfect companion to any activity, it's made to survive countless washings, and is a great gift for active people.
---
 Bamboo Non-Skid Grip Socks
These grippy socks have a cool looking non-skid sole design and are perfect for home, the studio, or for traveling. Naturally antiallergenic, antibacterial, antifungal and odor-resistant to keep those germies at bay, they even have a non-slip gel tab on the heel that helps keep them in place. These are some pretty clever yoga socks, and the responsibly sourced, fully recyclable packaging is sure to make healthy toes even happier.
---
Happy Wraps Herbal Neck Wrap w/Free Lavender Pillow & Sleep Mask
Happy Wraps are indeed a feel good gift. Made of 100% cotton and filled with a relaxing 12 herb blend and organic flax seed, you can microwave them for 1 minute for relaxing and soothing warm aromatherapy to melt away pain, tension and stiffness, or freeze for 30 minutes for cold therapy. The perfect gift for someone who needs soothing therapy, stress relief and better sleep, and who doesn't need that?!
---
Toe Spreaders and Separators
People who are on their feet all day long, wear high heels or restrictive footwear, practice yoga, runners, and dancers will absolutely love toe spreaders. Using them on a regular basis can change the shape of your feet and relieve pain by stretching and lengthening connective tissues. These toe separators are made of latex-free rubber and include not 1, but 2 pairs in both standard and large sizes and a nice wooden box to store them in, making them a super gift for super happy feet.
---
Massage Therapy Balls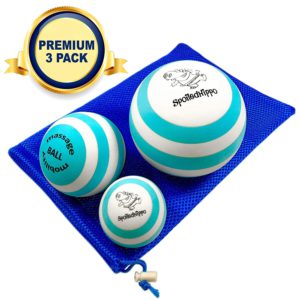 A 3-in-1 gift, SpoiledHippo balls offer a self massage that works out knots and tightness for all muscle groups, even in those hard to reach areas. Fantastic for warming up muscles pre-workout, speeding recovery post-workout, bringing relief to sore and tight muscles any time you need, and keeping muscles loosened. The mesh drawstring bag makes them easy to take with you anywhere and their size makes them easy to store in your desk drawer, car, and yoga or gym bag.
---
"Hanging with my Omies" Yoga Racerback Tank
Yogis will wear this tank with pride. This fun and light hearted tank is part of Inner Fire's OM Collection including more playful sayings like "Shake Your Asasna" and "Be a Warrior Not a Worrier" – each is hand-screen printed with eco-friendly water-based inks and include the Inner Fire Logo printed on the back middle of each comfy tank.
---
Buckwheat Meditation Cushion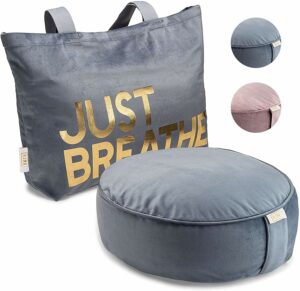 Crafted to last with organic buckwheat hulls and soothing aromatic lavendar + a fashionable and convenient tote bag, the Ajna buckwheat meditation cushion allows you to make meditation more enjoyable and transport your yoga practice wherever you go. 
---
The Little Book of Mindfulness: 10 Minutes a Day to Less Stress, More Peace
The perfect little book for busy people who have a hard time finding time to relax and de-stress…which is pretty much everyone. These bite sized 5-10 minute practices are a great way find freedom from stress and ultimately experience more peace in your life. Small enough to make a great travel companion and easy to store in your desk drawer or car for moments of mindfulness on demand.
---
Start Where You Are: A Journal for Self-Exploration
People who are looking to nurture their creativity, mindfulness, and self-motivation will love this thoughtful gift that inspires reflection. The description reads: Every answer is inside of you. This thoughtful journal pairs insightful quotes with prompts that spark reflection through writing, drawing, list making, and more. Wherever you're headed, these pages will help you get there – and gain a deeper understanding along the way.
---
Amazonite Hand Knotted Mala
A perfect gift for people who meditate – this beauty is handmade by Nepali women who chant mantras with each knot, making it even more energetic. Amazonite is associated with the throat chakra and an extremely soothing stone that calms the brain and nervous system and aligns the physical body.
---
Soul Limber Yoga Practice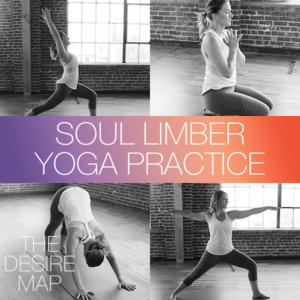 A soulful 60-minute yoga practice suitable for all levels welcoming a gentle inquiry into your body and heart while incorporating meditation and yin and yang yoga to bring openness and energy to the body.  
---
Gift Ideas for Fitness Lovers
---
Fitbit Inspire Heart Rate & Fitness Tracker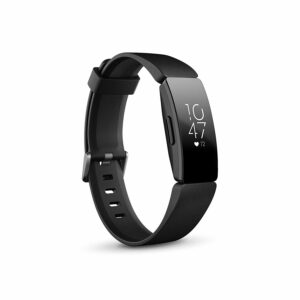 For the fitness enthusiast who wants to track their all-day activity a fitbit is their best buddy to help them stay motivated and focused on their health and wellness goals. Water resistant to 50 meters, comfortable, and 3 colors to choose from.
---
Running Belt with Touch Screen Window and Headphone Jack
Perfect for hands free running, walking, cycling, and hiking, this belt is made with dual slots that allow you to store your valuables like keys, ID, cards or money separate from your phone without being bulky or getting jostled around. The touch screen allows easy access to phones and there is a headphone jack to answer calls or listen to your favorite tunes. Moisture wicking material allows for quick drying after working up a good sweat.
---
Compression Socks
Made to help prevent and reduce foot injuries like Plantar fasciitis, shin splints, pulled muscles and cramps by improving circulation and reducing inflammation, compression socks are THE socks to wear for any activity which requires being on your feet, including running, walking, working out, active sports, training, and even standing for long periods.
---
iYURA Rujahari Oil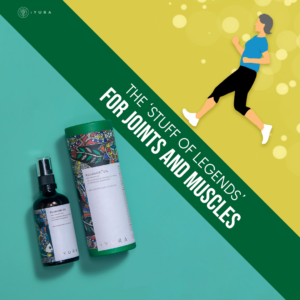 Made with all natural Ayurvedic ingredients including turmeric and six other very important herbs, and very commonly used in India to rejuvenate and soothe muscles and joints, Rajahari Oil is an ideal gift for those with an active lifestyle
---
Exercise Cards
It's hard to get bored with a fitness deck that includes 52 different exercises. No planning, equipment, or gym necessary – these cards only require the use of the individuals body weight and can be played anywhere, anytime, with anyone. Play solo or have a little healthy competition with friends or family. The website offers dozens of free card games and instructional videos that are made to motivate and make getting fit a whole lot of fun.
---
Acupressure and Muscle Relief Set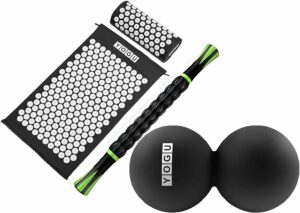 Fitness lovers will look forward to using this kit time and again to work out knots and sore spots for deep myofascial release and pain recovery. Muscle roller sticks and massage balls are on my list of top 7 best self massage tools (see the rest here).
---
Fitness Gym/Sports Towel
This lightweight microfiber towel makes sweating it out a breeze with an odor-free material and quick dry ability – things gym goers totally appreciate, and make this a trusty gift idea. Plus the neutral color works for both men and women and it also includes a handy soft hang loop.
---
Mixing Balls for Shaker Cups
No more blowing through shaker cups at $10 + a pop! Nutribomb Thunderballs are made of food grade BPA free plastic so they won't rust and will withstand countless workouts. Just add all 3 to any cup, thermos, bottle, or mason jar with your favorite protein powder, pre/post workout powder, or superfood powder and shake away for a nice smooth, power packed beverage.
---
Gifts for Healthy Food Lovers
---
Eco-Friendly Food Container 3 Layer Bento
This bento box simplifies healthy eating on the go, for the office, school, on the road, camping, or hiking. Folks trying to be conscious of the foods and portions they eat will benefit from 3 compartments that hold up to 5 cups of food total, allowing them to load up on healthy veggies and snacks throughout the day. Environmentally conscious folks will appreciate the reusable stainless steel contributing to less waste and no harsh chemicals coming into contact with food.
---
Glass Water Bottle with Bamboo Lid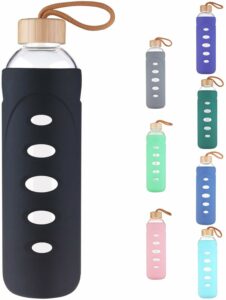 Health conscious people can always use a new bottle to support their water habit. Glass is the way to go to avoid BPA and other potentially harmful chemicals being absorbed into the water and affecting the taste. Break-resistant Borosilicate glass with a protective silicone sleeve and a 32 oz capacity, along with 8 colors and a unique bamboo lid will appeal to the most dedicated water drinkers on the go.
---
Lotus Glass Tea Tumbler/Infuser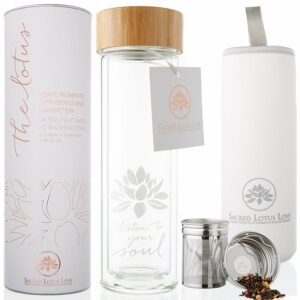 Perfect for tea drinkers, this double walled 15 oz glass tumbler with a gorgeous engraved lotus flower includes a stainless steel infuser basket, bamboo lid, and matching neoprene travel sleeve to keep your drinks hot for 45 minutes to an hour. 
---
Reusable Bamboo Utensil Set
Waste free, made of sustainable, sturdy and heat-resistant bamboo, To-Go Ware is perfect for a healthy eaters on-the-go toolkit – easy to store for use at the office, in the car, or in a backpack. On top of saving waste from entering landfills and oceans, the case is a sturdy washable material made of recycled water bottles. A carabiner makes it easy to clip your utensils to a lunch bag and the chopsticks double nicely as coffee/tea stirrers. A great gift for adventure-seekers to take hiking and camping!
---
NutriBullet Pro 900 or Nutri Ninja Pro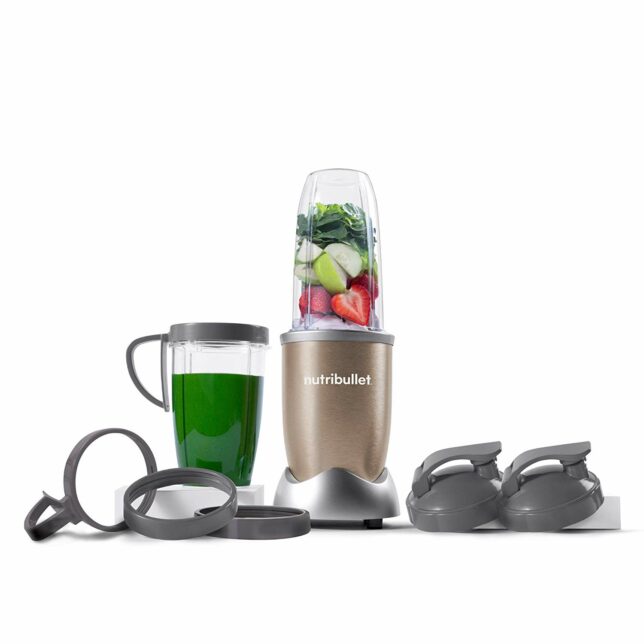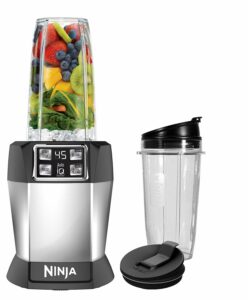 If your budget allows, smoothie lovers will be grateful for this gift, and for those looking to get healthier, this could be a life changer. To give someone access to making beautiful nutrient dense superfood smoothies whenever they want is a gift that lasts a lifetime since it impacts their overall health in such a huge way. Both of these blenders couldn't make it any easier to throw everything together, blend it up and drink it right away or toss on one of the lids and take it with you on the go. You can read my full Nutribullet review here.
---
Matcha Tea Gift Set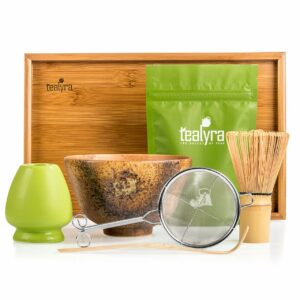 This beautiful set comes in 6 beautiful designs and is perfect for people who want to enjoy the health benefits of matcha including energy, natural stress relief, and increased antioxidant intake. Absolutely everything needed to start making a cup of delicious matcha tea is included; bamboo whisk and scoop, strainer, matcha cup and matcha powder for that perfect Zen moment.
---
Tea Forte Single Steeps Lotus Tea Sampler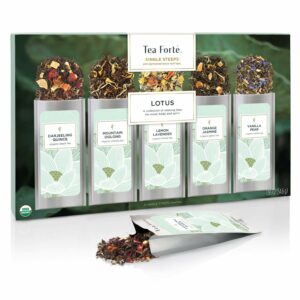 Herbal tea drinkers will enjoy this delightful gourmet organic loose leaf tea gift set curated with five delicious and relaxing varieties – Darjeeling Quince, Mountain Oolong, Lemon Lavendar, Orange Jasmone, and Vanilla Pear.
---
Double Walled Yerba Mate Gourd Set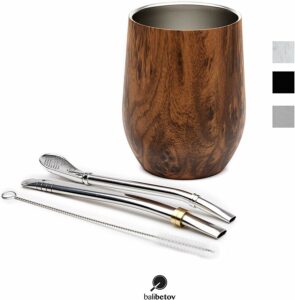 Ideal for people who want to enjoy yerba mate at home, work, or on the go. This modern take on the traditional mate gourd is made of stainless steel that doesn't hold flavors or odors and cleans very easily and a BPA free lid. It also includes 2 stainless steel bombillas and a cleaning brush with 4 sleek finishes to choose from. 
---
Reusable Foldable Wine Bag Set
For the wine enthusiast (the healthy red kind, of course :), WineCubby allows you to enjoy wine hassle free. Take it to the beach, pool, tailgates, picnics, and on hikes and camping trips, minus the glass bottle. It's BPA free, holds a full 750ml wine bottle, includes a collapsible funnel that makes filling easy, and a carrying case to store the full WineCubby in so there's no messes when transporting, plus it can double as a case for glass wine bottles as well.
---
Chocolate Mexicano Disc Classic Collection
Who doesn't love chocolate?! You can't go wrong with these Mexican chocolates in 6 divine flavors. This is chocolate done the right way – with minimal ingredients and no preservatives. It's certified USDA organic, non-GMO, direct trade certified, kosher, certified gluten free, dairy free, soy free and vegan.
---
For more great gifts on a budget, check out Healthy Gift Ideas Under $20 That are Cool and Useful!
Whatever the occasion for celebration, may it be special and may your gifts be appreciated and loved!