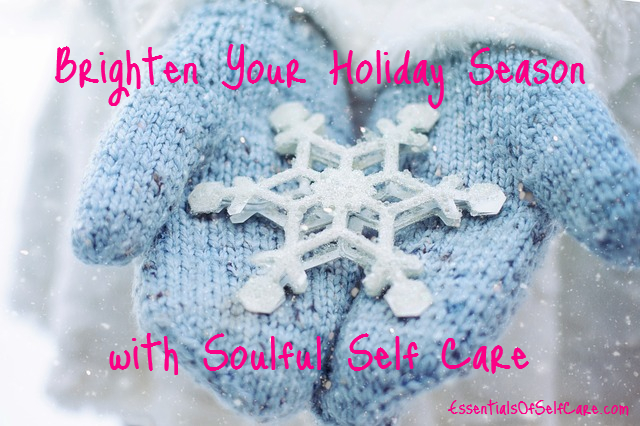 The holiday season is upon us and like every year I find myself reflecting back on all the things that took place…the good, the bad, the beautiful, and the ugly. When I think about the shifts that shaped and transformed some huge pieces of my life this year, although there were some really tough mountains to climb and the journey wasn't easy, the sacred movement, resolution, and healing was so worth it. I bet you can relate.
And I can honestly say that if I hadn't been taking care of myself with intention, really honoring my soul-fullness, I wouldn't of had the courage and strength to approach the things that I did with both fierceness and tenderness at the same time. Love leads to light and the more you love the brighter that light shines. ♥ 
I would love to know the meaningful transformations that have taken place in your life this year and how honoring your soul added grace to the movement or made the struggles a little lighter?
Speaking of soul…as you enter the season of celebration and giving, you might naturally think of everyone else and pencil yourself in at the very bottom of the list, lightly…like so it's barely there lightly. Don't. Be extra kind to you. You're a precious soul – treat yourself that way.
I really want that for you – so I've rounded up some of my favorite soulful things in hopes that you treat your precious soul to some soul-full self care (that's a heck of a lot of soul – are you feeling it?) not to mention some sanity and clarity to get through this hectic time of year. You got this.
Peace, clarity, and relief. Yes. Please. Shine on beautiful. ♥
---
The Desire Map Planner – 2019 Daily Edition
---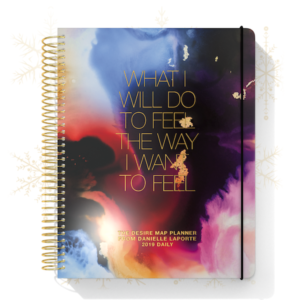 Grab your favorite beverage and take yourself on a mini retreat with THE essential planner + program to help you get clarity on how you want to feel. Start to get in touch with your core desired feelings and flow into 2019 designing a life with intention.
Choose your cover, including beautiful limited edition original cover art, and either a daily, weekly, or undated edition. Includes things like #truthbombs, daily gratitude, a stop doing list, soul prompts for positive declarations, and allows you space to pause, reflect, envision, and reconnect.
Included with your planner is The Desire Map Planner Program, which teaches you how to use your planner, plus provides additional support and motivation with encouraging weekly emails and monthly workbooks.
---
Love So Deeply – Tridoshic Candle
---

Light up your space with love energy. Bring on the soothing and heart opening with an Ayurvedic blend of 100% pure essential oils including geranium for revitalization, bergamot for cleansing energy, and jatamansi for harmony in a non-toxic soy candle that burns clean and long.
Get it HERE
---
Soul Limber Yoga
---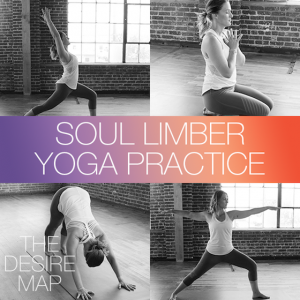 Unwind and refresh with this 60-minute practice that incorporates yin and yang yoga and meditation. The flow; Sensations of Positivity, Warming the Soul, Twists and Relating, and Circling Your Desires is suitable for all levels and is a graceful compliment to Desire Mapping.
---
White Hot Truth
---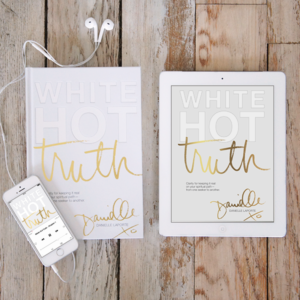 Clarity for Keeping It Real on Your Spiritual Path – from One Seeker to Another
A refreshing read for all light seekers trying to find a balance between genuine spiritual aspiration and the compulsion to improve. Figure out if your self-help has become self-criticism. You will find yourself saying yaasss gurl!!! as you read through Danielle's raw and relatable experiences in the self-improvement department.
For some of my takeaways from the book read the full review.
---
Self Care Reset – Real Plans
---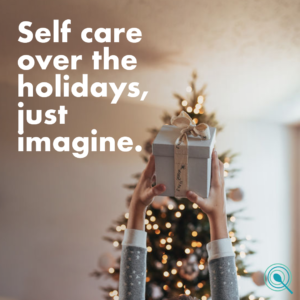 You've already got enough on your plate when it comes to cooking for holiday parties, potlucks, and school functions -why not make real food that fuels and nourishes you through the hectic holiday season a lot easier on yourself with the Real Plans Holiday Self Care Reset.
Treat you and your family to delicious free meal plans and bonus self care tips and inspiration. Enjoy doable weekly self care inspiration, tips for a minimalist Christmas, 2 meal plans, and a Pantry Detox Guide to help you flow into 2019 nourishing your body with healthful eating. It's free…no strings attached.
---
The Creation Space Meditation Kit
---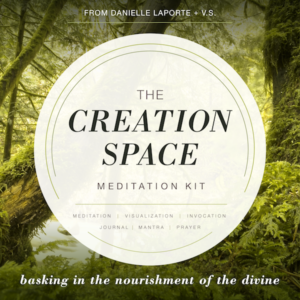 If you find yourself feeling frazzled or stretched too thin, try calming and revitalizing your central nervous system, and creating a peaceful energetic sanctuary, with meditation. Tap into divine feminine principle to stabilize yourself and generate nourishment for a happy and healthy holiday season.
---
Truthbomb Deck Bundle
---
Leave yourself fierce little love notes with #truthbombs, printed with natural soy ink on heavy, creamy stock, with gold/pink foil icon embossing. Use these cards as part of your morning ritual, keep them in your office, on your bedside table, tape them to your bathroom mirror, or anywhere your heart desires. Each box is loaded with 134 cards of #truthbomb wisdom for tons of introspective moments and getting your soul-full vibe on.
---
Ready. Set. Nourish.
So this season when you pencil yourself in on your holiday to-do list, throw some glitter on it and escape the overwhelm for the little moments filled with things that feel the most nourishing and refreshing to your heart and soul. May your light shine bright this holiday season.
XO