If how to diffuse essential oils in your home is something you're interested in, it's something that I love to do, pretty much all the time, and it's so simple.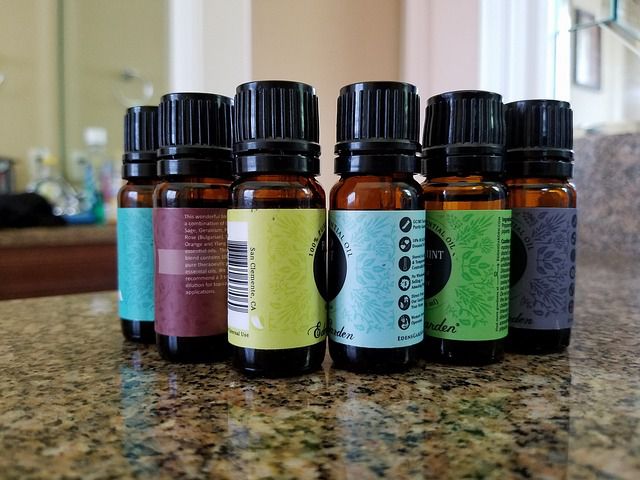 Not only can essential oils make your home smell divine without a load of chemical junk that can harm your health, but they can also have some really therapeutic benefits for your mind, body, and soul.
All you need is a good diffuser, some quality essential oils, and a little know-how about which oils are good for what. So let's get started!
Why and How to Use a Diffuser?
One of the best ways to get the long-lasting benefit of essential oils is to diffuse them. If you end up trying one of these handy devices – a word of caution…you might find a new love ;) They couldn't be any more simple to use either, just fill with water and add the recommended drops of your favorite essential oils, turn it on, and let the magic begin.
In no time the essential oils evaporate, dispersing their fragrant molecules throughout the air and lasting for hours. As you breathe in, these molecules impact the nervous system and brain, creating a healthy and healing environment – leaving you feeling better and surrounded by wonderful smelling remedies.
I almost always have a diffuser going in my house, and a lot of times have a couple going at the same time with different oils to create the desired effect in each space – for example, uplifting and focus-promoting oils in my work space, and oils to promote a calm and peaceful environment for sleep in the bedroom.
In fact one of my favorites places to diffuse is on the bedside table to help my mind and body relax so I can sleep better.
Your home is not the only place that can benefit from diffusing essential oils either. Maybe you need some stress relief at work, or want to increase your focus, creativity, or productivity? Try a diffuser for your office space. Need some stress relief during your commute or travel a lot and have a hard time sleeping in hotels? Try a portable diffuser.
What Essential Oil Benefits Can You Expect for Your Home or Space?
The numerous benefits of essentials oils can help to create a therapeutic and healing environment in your home or any space, so let's talk about which oils are great choices for the effect you desire. One important thing I should mention first though is that if you plan on diffusing essential oils in an environment with kids or pets, or during pregnancy and breastfeeding you'll want to make sure the ones you choose are a fit, since some are safe under these circumstances and some are not.
For more information about which essential oils are safe for kids and pets, and during pregnancy and breastfeeding, here are some great resources from a certified clinical aromatherapist, but I also encourage you to do your own research.
Using Essential Oils Safely with Children
Using Essential Oils Safely with Cats
Using Essential Oils Safely with Dogs
Using Essential Oils Safely During Pregnancy & Breastfeeding
Now on to the benefits that diffusing essential oils can have and recommendations on which ones to use.
Calm & Relaxation
Probably one of the most well-known reasons for diffusing essential oils is for their calming and relaxing benefits. If you've ever inhaled the scent of lavender and felt a sense of relaxation, then you know how quickly it can effect you. And that's just one of many essential oils that can have this type of effect.
Here are some of my favorite essential oils that you can count on to help create a chill environment:
Lavender
Vetiver
Roman Chamomile
Clary Sage
Cedarwood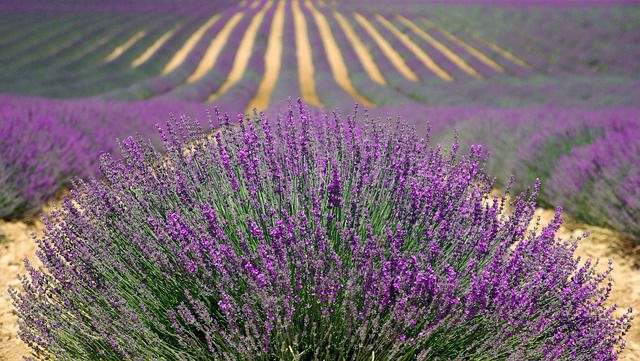 Sleep
If you have trouble winding down before you go to bed or struggle with getting enough good sleep diffusing essential oils in your bedroom at night can be really helpful. Many diffusers also come with nice soothing lighting options to help create a peaceful ambiance and set the mood for a restful nights sleep, and many of them will run throughout the entire night.
Try these essential oils for a calm mind and body and restful sleep:
Lavender
Roman Chamomile
Clary Sage
Sweet Marjoram
Neroli
Vetiver
Energy & Mood Enhancement
In the same way that essential oils can relax you, they can also uplift you, enhance your mood, and energize you. If stress is zapping your energy or bringing you down – when you are feeling overwhelmed or faced with anxiety – essential oils can come to the rescue.
Here are some trusty oils that can help invigorate you and elevate your mood:
Ylang Ylang
Citrus Oils (Grapefruit, Orange, Lemon, Tangerine, Bergamont)
Ginger
Cinnamon
Jasmine
Peppermint
Rosemary
Meditation
Although this could fall under the "calm & relaxation" category, there are actually specific essential oils that when diffused are not only relaxing, but also grounding and centering. As you inhale their fragrance it can help calm the mind and body and enable you to relax deeper into a peaceful, tranquil, and even euphoric state, ultimately helping you to make the most of your meditation experience.
These essential oils can help to put you in a zen state of mind:
Sandlewood
Clary Sage
Frankincense
Vetiver
Focus, Concentration & Productivity
If you need to get your creative juices flowing, or need to really focus on what's at hand, diffusing essential oils that promote concentration and cognitive function can be a great pick-me-up when it comes to fueling productivity.
Try supercharging your brain cells with these essential oils:
Lemon
Pepperment
Frankincense
Clary Sage
Vetiver
Rosemary
Cypress
Basil
Sage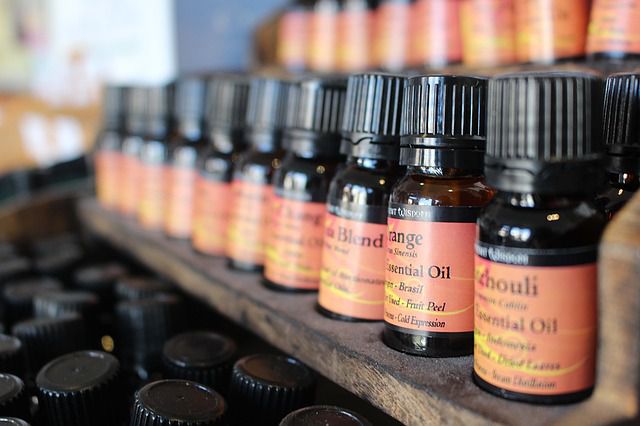 Headache Relief
If you are one of the millions of people who suffer from headaches, the nice thing about diffusing essential oils is that you are able to select oils that apply to the type of headache you are experiencing whether it's tension/stress, hormonal, or sinus/allergy related, etc. From there you can control how much of the oil you diffuse to get the desired effect. Plus it's a way to get to the root of the headache, without the nasty side effects of pain killers.
For headache relief try some of of these essential oil remedies:
Peppermint
Lavender
Clary Sage
Bergamont
Eucalyptus
Rosemary
Respiratory Support
Diffusing essential oils that contribute to breathing more easily, in a room(s) of your home where you spend most of your time, can be a great way to get some relief by reducing inflammation in the airways and helping to break up congestion.
Here are some essential oils that can help you to breathe easier and can relieve congestion:
Eucalyptus
Peppermint
Rosemary
Bergamont
Lemon
Pine
Marjoram
Chamomile
Cedarwood
Clove
Purifier and Illness Fighter
Diffusing essential oils to prevent and fight off illness works on a couple levels – they have antimicrobial properties that wipe out airborne pathogens before they can invade your body, and some have immune boosting properties. I love diffusing essential oils that purify the air during cold and flu season and it also works like a charm for us to stop the spreading of germs when anyone in the house gets a bug.
To purify the air and combat illness give these kung-fu fighting essential oils a shot:
Clove
Oregano
Thyme
Citrus Oils (Grapefruit, Lemon, Bergamont)
Ginger
Tea Tree
Eucalyptus
Insect Repellant
While making a bug repellent with essential oils to spray on your skin is the most effective way to ward off insects like mosquitoes, diffusing oils can also deter bugs like houseflies, fruit flies, moths, and mosquitoes from entering an area.
Try these insect repelling essential oils to keep bugs away from your house:
Citronella
Ylang Ylang
Cedarwood
Lemongrass
Rosemary
Clove
Where Can I Get a Good Essential Oil Diffuser?
You can get a nice diffuser online, and sometimes you can find them in natural foods stores. The differences in the types available are mostly the way they look – as in design and style, and the size of the water chamber. But generally most have similar features such as the chamber where you add water and essential oils, an on/off button that allows it to diffuse intermittently or continuously, and some sort of lighting feature. Some also have timers and automatic shut-off features for when the water chamber is empty.
From there, it depends on your taste and how minimal or stylish you want to go.
Where Can I Find Quality Essential Oils?
One thing I can tell you for sure is that the quality of essential oils really does matter. There are a lot of brands on the market that claim to be good quality oils and sadly are not. Particularly since essential oils are meant to be therapeutic, it's important to look for 100% pure essential oils, nothing else added.
When oils are pure and potent, not only does the amount last you longer since you need to use less, but the effects last longer in the diffuser, and you can tell a real difference in the way they smell, as opposed to low-quality and degraded oils, which tend to have weak, too perfumy, or just "off" smell about them.
That said, two of my favorite suppliers for quality essential oils at reasonable prices are Aura Cacia and Plant Therapy. And kits offer a fun and useful way to build your essential oil collection.
Ready to Plug in?
I hope you found this post useful and I'm excited for you to experience the joys and benefits of diffusing essential oils in your home or any other space that could use a little aromatherapy magic.
Are you ready to plug in? Already an essential oils user and have some favorite blends you want to share? We'd love to hear in the comments below!