You guys, this kick ass asian kale salad makes me so happy when I eat it, I mean it's in the name right! With how much I love kale these days it's funny to think back to the days when all I knew about it was that it was supposed to look pretty as a garnish on your plate in restaurants.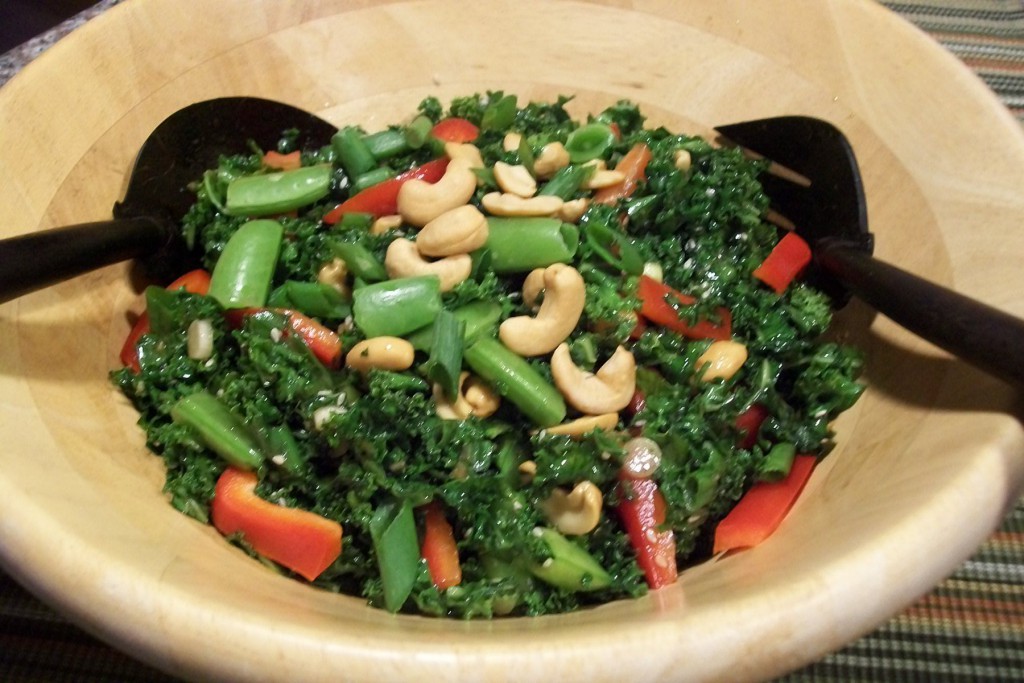 Poor kale they never gave you much credit, did they? Certainly not the credit you deserve based on what a nutritional leafy green super hero you are!
I love salads for the simple fact that they are quick, simple, and healthy meals to throw together. For those times when you don't have stuff in your fridge to cook a meal, nine times out of ten you have a few things to throw together a salad. The thing about salads though is they can tend to get b-o-r-i-n-g if you don't switch the ingredients up a bit.
Then again you can have the most delicious greens and veggies in your salad and if you don't have something magnificent to dress it with it can quite easily land back on the boring list. But we all know how many calories a store bought dressing can add, and how much unwanted junk they contain.
I promise you salads don't have to be boring, and hopefully this will prove it to you, delicious dressing and all. And if you're already a salad lover here's another one you can whip up :) This serves 2 as a main dish, or 4 as a side.
Kick Ass Asian Kale Salad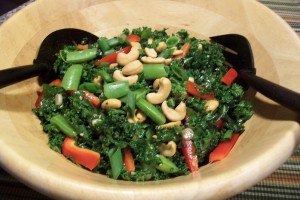 INGREDIENTS 
1 bunch organic tuscan, lacinato (dinosaur), or curly kale
sea salt
1/2 cup cashews
1/2 red bell pepper, chopped
1/2 cup snap peas, broken in halves
2 scallions, sliced thin
SESAME GINGER DRESSING
4 Tbsp extra virgin olive oil
2 Tbsp toasted sesame oil
2 Tbsp tamari (gluten-free soy sauce) OR low sodium soy sauce
2 Tbsp honey
1 Tbsp brown rice vinegar
1 Tbsp lime juice
1 tsp grated ginger OR 1/2 tsp ground ginger
2 garlic cloves, minced
1 Tbsp sesame seeds
Optional: 1/4 tsp crushed red chili flakes
DIRECTIONS
Whisk all dressing ingredients together, or shake up in a mason jar, and put in the fridge for now
Rinse kale and remove stems, roll leaves up like a cigar and thinly slice
In a large bowl, add kale leaves, sprinkle with sea salt, and massage (I know it sounds weird) with your fingers until softened, fragrant, and dark green (this makes it less bitter tasting)
Add the rest of the ingredients, drizzle in dressing, toss well, serve and enjoy!