This mango coconut kale-licious smoothie is a nutritional powerhouse of pure plant-based goodness, packed with greens, tropical fruit, healthy fats, fiber, protein, and electrolytes for an awesome way to supercharge your day!
Mango Coconut Kale-licious Smoothie
serves 1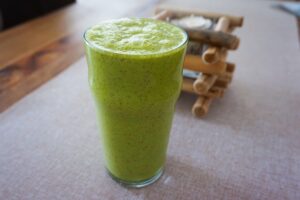 INGREDIENTS
DIRECTIONS
In large NutriBullet cup first add kale, then mango
Add coconut oil and hemp seeds or smoothie powder
Add coconut water to fill line
Blend until smooth. Enjoy!
Notes: The frozen mango should make it cold enough, but if you like it colder just add a few ice cubes. To make a large batch in a Vitamix or blender just scale up all ingredients per person.
Also, if you are making bigger batch in the blender – for a smoother consistency, it helps to blend the kale with the coconut water first, and then add the remaining ingredients.
Happy blending :) If you enjoy this recipe please share or leave a comment below!