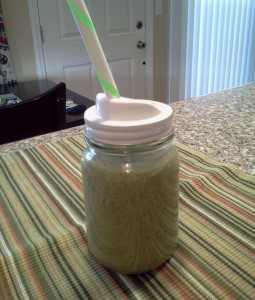 This mango coconut kale-licious smoothie is a nutritional powerhouse of greens, tropical fruits, healthy fats, fiber, protein, and electrolytes and needless to say…an excellent way to supercharge your day!
Mango Coconut Kale-licious Smoothie
serves 1
INGREDIENTS
DIRECTIONS
In large NutriBullet cup first add kale, then mango
Add coconut oil and hemp protein
Add coconut water to fill line
Blend until smooth. Enjoy!
Note: The frozen mango should make it cold enough, but if you like it colder just add a few ice cubes. You can also substitute protein powder of your choice.
To make a large batch in a Vitamix or blender just scale up all ingredients – adjust as follows for the coconut oil, hemp protein, and hydrolyzed collagen (1 Tbsp coconut oil per person and 3 Tbsp hemp protein per person, and 1 Tbsp collagen powder per person).
Also, if you are making bigger batch in the blender – for a smoother consistency, blend the kale with the coconut water first, and then add the remaining ingredients.
Happy blending! As always, if you enjoy this recipe please share or leave a comment below!