Short on time? For a super healthy way to start your day, or satisfy those afternoon cravings, try this quick and easy, fresh strawberry banana spinach smoothie with a delicious and energizing dose of plant-based nutrition that your body will love.
Strawberry Banana Spinach Smoothie
serves 1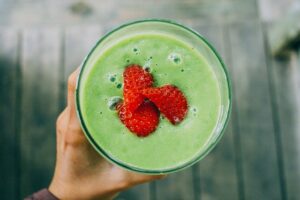 INGREDIENTS
1 generous handful baby spinach
1/2 banana, chopped
1/2 c fresh strawberries, halved
3 Tbsp hemp seeds OR DIY smoothie powder
Unsweetened almond OR coconut milk
DIRECTIONS
In large NutriBullet cup add spinach, banana, and strawberries
Add hemp seeds or DIY smoothie powder
Add unsweetened almond or coconut milk to fill line
Blend until creamy. Enjoy!
Note: To make larger batches in a Vitamix or blender just scale up all ingredients per person.
And there you have it, an easy way to fit some good clean nutrition into your day! If you like this recipe please share or leave a comment below!