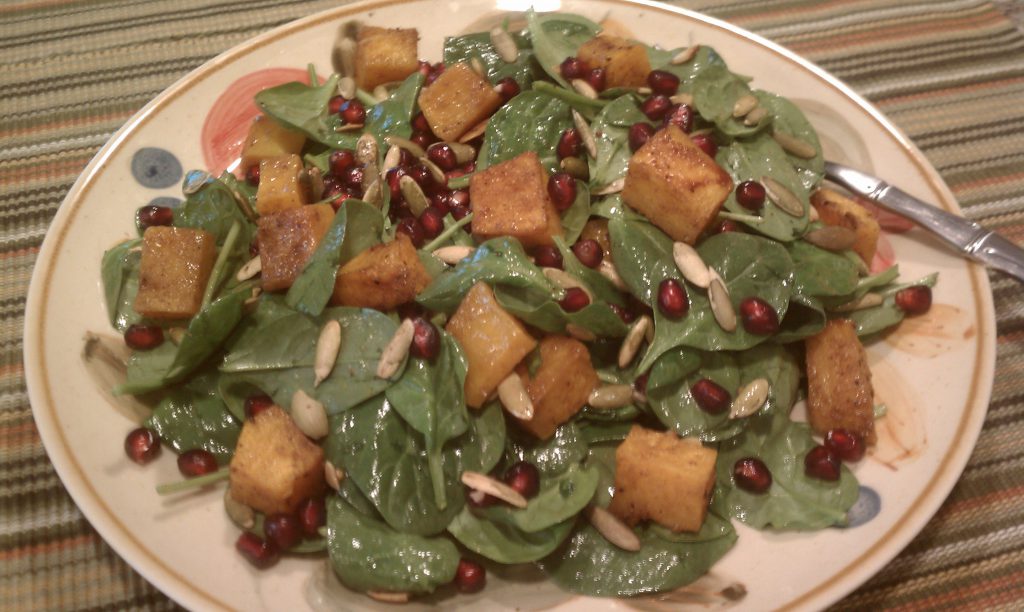 This spinach salad wraps up my little party of fall flavors I've been having lately. The roasted and seasoned butternut squash is sweet and mildly spicy complimented by sweet pomegranate seeds and slightly salty, roasted crunchy pepitas. Tossed together with power greens (spinach) and an easy to whip up vinaigrette, this salad is a super tasty powerhouse of nutrients.
This salad makes a great side dish or lighter salad for lunch, but you could totally turn it into a delicious main dinner salad by adding some grilled chicken, fish, shrimp, or steak.
Spinach Salad with Pomegranate, Butternut Squash and Roasted Pepitas
INGREDIENTS
1 medium butternut squash, peeled and cut into 1/2 inch pieces OR ready cut butternut squash (about 4 cups)

1 Tbsp olive oil
1 Tbsp dark brown sugar
1 tsp smoked paprika
1 tsp sea salt
3/4 tsp cumin
3/4 tsp ground coriander
1/4 freshly ground pepper
1/8 tsp nutmeg
1/8 tsp cayenne
10 ounces baby spinach
1 cup roasted pepita (pumpkin) seeds
1 pomegranate seeded OR 1 cup pomegranate seeds
DRESSING
1 Tbsp whole grain dijon mustard
2 Tbsp honey
1/4 cup apple cider vinegar
juice of 1/2 lemon
1/2 cup olive oil
1/2 tsp sea salt
1/4 tsp freshly ground pepper
DIRECTIONS
Preheat oven to 400°
In a large bowl, toss butternut squash, olive oil, and all spices together until evenly coated. Spread out evenly on a baking sheet and roast for 20 minutes, rotating pan halfway through
While squash is cooking, prepare dressing by adding all ingredients into a small bowl or mason jar and whisk or shake until well combined
Once squash is done cooking, let sit for a few minutes to cool down
In a large bowl add spinach, roasted butternut squash, pomegranate seeds and pepitas, drizzle with a 1/4 cup of dressing or more to taste and toss all ingredients together
Serve as a side dish or a light lunch, or add grilled chicken, fish, shrimp or steak for a main salad
Hope you enjoy this salad with fall flavors! What are some of your favorite go-to ingredients when it comes to a salad? Share in the comments below!