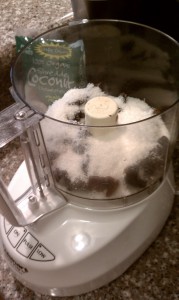 Today I got a hankering for something sweet, so I started scouring the fridge and pantry for something that would satisfy my craving. Of course my kitchen is bare bones right now, grocery shopping is on the to-do list for later.
I had almost given up when low and behold, I spotted a bag of dried fruit. That solved my sweet dilemma but – plain dried fruit all by itself wasn't screaming my name. Not today, anyway. Then I remembered I had some shredded coconut.
So I put my thinking cap on and starting have flashbacks of my days in Colorado snacking on raw food nuggets or bites of all kinds. Friends and I used to make them all the time, trying different variations to share.
They make great snacks for hiking, camping, or a day at the beach. They make a great snack for the kiddos, and can easily be tossed in their lunch bags for school. They're a quick easy, energy packed snack combining actual real food. You know, not the packaged stuff.
Dried Fruit Pros and Cons
Let's talk for a sec about dried fruit though…because it's one of those misunderstood foods. The dark side of dried fruit is that it's high in calories and sugars. Being sweet, energy-dense and nice small pieces makes it easy to keep eating by the handfuls, which can load your body up with excess calories and sugars faster than you realize.
The way it's dehydrated varies too. Many dried fruits are coated with added sugar, aka "candied" fruit (um, they naturally contain a ton of sugar guys) or syrup before dehydrated. I always check my labels and avoid these. I also watch out for sulfites, which is a preservative added to many dried fruits, especially brightly colored ones to help them look pretty longer. Sulfites can cause food sensitivities such as stomach cramps, rashes, and even asthma attacks.
The bright side is that one piece of dried fruit has about the same nutrient content of the fresh version but condensed into a much smaller version. It contains vitamins, minerals, a lot of fiber and antioxidants. So it's super nutrient dense and can make a healthy energy snack when eaten in small amounts, with no added sugar or sulfites.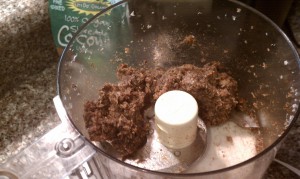 Just wanted to get that out of the way before we move on to the recipe. The recipe, that's the other thing is that I'm almost embarrassed to even call this a recipe (it's really just throwing a few ingredients into the food processor) so for all intensive purposes I guess we'll call it a guide to ingredients and ratios :)
Call it whatever you like, I don't mind, I just hope you enjoy!
Sweet Lil' Dried Fruit Nuggets
INGREDIENTS
1 cup dried fruit of choice (I used an organic sugar and sulfite free fig, plum, apricot combo)
1 cup unsweetened shredded coconut
2 Tbsp coconut oil
1 Tbsp lemon juice
DIRECTIONS
Add dried fruit and coconut to food processor and combine
Add coconut oil and lemon juice and combine until mixture is a wet dough like consistency
Roll mixture into 1 – 1½ inch balls
Roll in shredded coconut (or not) and store in the refrigerator
Enjoy 1 to 2 nuggets as a sweet snack!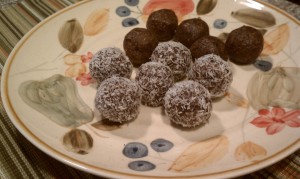 Note: This makes about 20 nuggets depending on the size. I did half rolled in coconut and half without since half of us likes it and half doesn't in our house.
There are pretty much endless variations of sweet lil' nuggets to try. You can add nuts, oatmeal, dark chocolate chips, almond butter and the list goes on, so have some fun with it!
Well, today's search for a sweet snack on the fly has inspired me, reminded me of good memories with good friends, so let's just say it may be a good indicator of more nugget escapades on the horizon ;) I hope it has inspired you to give these a try and let me know what you think!