Sometimes the best wisdom and inspiration is the simple kind. When it comes to lessons on life, Dr. Seuss had a knack for delivering them in his quirky, fun and unique way. Enjoy a walk down memory lane with these timeless Dr. Seuss quotes that will live on forever.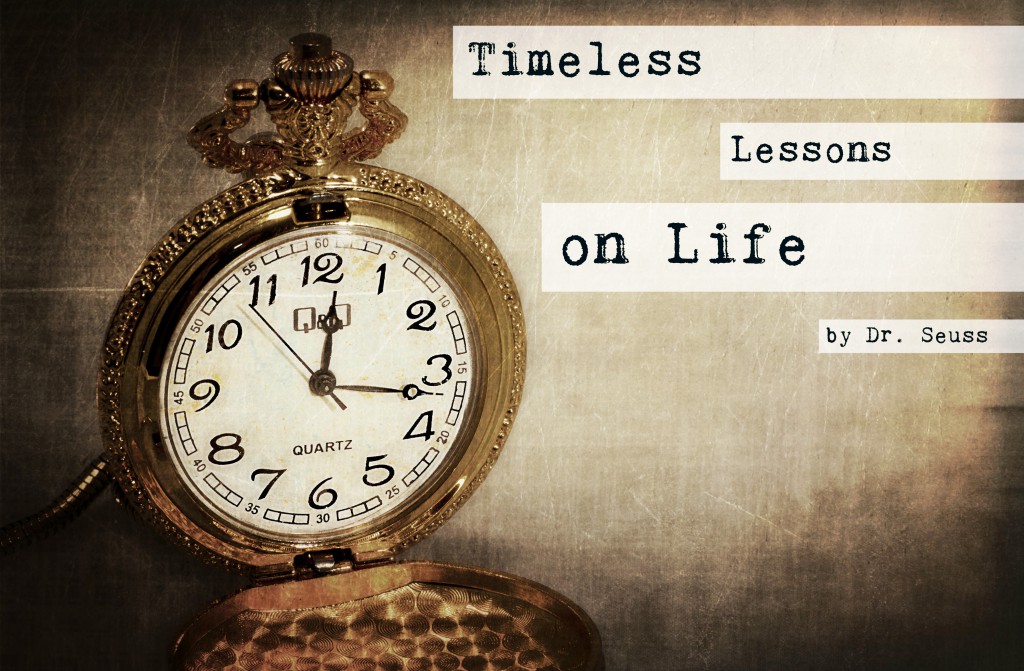 On being true to yourself 
Today you are You, that is truer than true. There is no one alive who is Youer than you.
You are you. Now isn't that pleasant?
Be who you are and say what you feel, because those who mind don't matter and those who matter don't mind.
Why fit in when you were born to stand out?
On choosing your direction in life
You have brains in your head. You have feet in your shoes. You can steer yourself any direction you choose. You're on your own. And you know what you know. And YOU are the one who'll decide where to go…
Only you can control your future.
You're off to great places! Today is your day. Your mountain is waiting, so you get on your way!
On opportunities and experiences
Oh the things you can find, if you don't stay behind!
If things start happening, don't worry, don't stew, just go right along and you'll start happening too.
Life's too short to wake up with regrets. So love the people who treat you right, forgive the ones who don't and believe that everything happens for a reason. If you get a chance, take it. If it changes your life, let it. Nobody said it'b be easy, they just promised it would be worth it.
On learning and potential
The more that you read, the more things you will know. The more that you learn, the more places you'll go.
There's no limit to how much you'll know, depending how far beyond zebra you go.
It's not about what it is, it's about what it can become.
And will you succeed? Yes! You will, indeed! (98 and 3/4 percent guaranteed.) Kid, you'll move mountains!
You'll be on your way up! You'll be seeing great sights! You'll join the high fliers who soar to high heights.
On imagination and creativity
Think left and think right and think low and think high. Oh, the things you can think up if only you try!
I like nonsense, it wakes up the brain cells. Fantasy is a necessary ingredient in living, it's a way of looking at life through the wrong end of a telescope. Which is what I do, and that enables you to laugh at life's realities.
Think and wonder. Wonder and think.
Oh, the thinks you can think!
On joy, optimism and fun
From there to here, from here to there, funny things are everywhere.
If you never did, you should. These things are fun and fun is good!
I know it is wet and the sun is not sunny, but we can have lots of good fun that is funny.
Look at me! Look at me! Look at me NOW! It is fun to have fun but you have to know how.
On being in the moment
You'll miss the best things if you keep your eyes shut.
Sometimes you will never know the value of a moment, until it becomes a memory.
Today was good. Today was fun. Tomorrow is another one.
On being grateful
Just tell yourself, Duckie, you're really quite lucky!
You're in pretty good shape for the shape you are in.
Don't cry because it's over. Smile because it happened.
Remember me and smile, for it's better to forget than to remember me and cry.
It came without ribbons. It came without tags. It came without packages, boxes or bags. And he puzzled and puzzled 'till his puzzler was sore. Then the Grinch thought of something he hadn't before. What if Christmas, he thought, doesn't come from a store, What if Christmas, perhaps, means a little bit more.
On being free
It's opener there in the wide open air.
And turtles, of course…all turtles are FREE. As turtles and, maybe, ALL creatures, should be. 
On overcoming challenges
I have heard there are troubles of more than one kind. Some come from ahead and some come from behind. But I've bought a big bat. I'm all ready you see. Now my troubles are going to have troubles with me!
Sometimes the questions are complicated and the answers are simple.
On love
You know you're in love when you can't fall asleep because reality is finally better than your dreams.
To the world you may be one person; but to one person you may be the world.
We're all a little weird and life's a little weird. And when we find someone who's weirdness is compatible with ours, we join up with them and fall in mutual weirdness and call it love.
On making choices
With your head full of brains and your shoes full of feet, you're too smart to go down any not-so-good street.
So be sure when you step. Step with care and great tact and remember that life's a Great Balancing Act.
On making the world a better place
Unless someone like you cares a whole awful lot, nothing is going to get better. It's not.
A person's a person, no matter how small.
So, open your mouth, Lad! For every voice counts!