Wow summer is flying by! I can't believe tomorrow is already the 4th of July! Fireworks, delicious food and beverages, and the celebration of our nation's independence – I'm ready to get together with family and friends and enjoy some fun time – how about you?!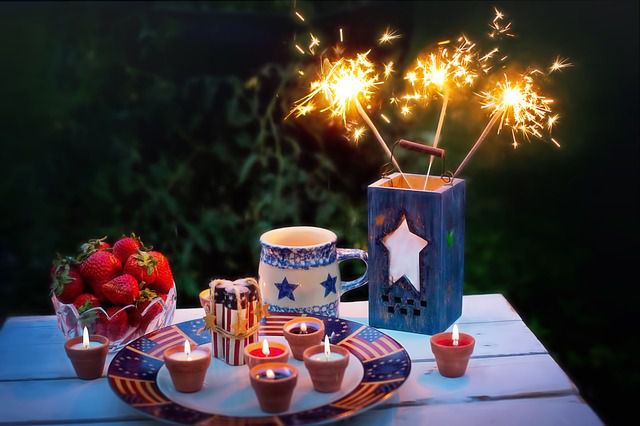 Since the 4th is one of the biggest grilling days of the summer I figured it would be fun to share some recipes that make delicious BBQ fare, and are also on the healthier side so you don't have to feel guilty about enjoying them. And if you already have your menu planned, you can keep these recipes handy for your next summer get-together : )
And for easy summer cocktails that aren't loaded with extra sugar, check out my recipes here : )
I rounded up recipes you can feel good about eating and that are super tasty, whether you are hosting a party or taking something to a potluck this summer, so enjoy!
Snacks

Quick Watermelon Skewers – Short on time or just want something super simple to make? Throw together some quick, easy, and festive red, white and blue watermelon skewers. The saltiness of the feta pairs nicely with the sweetness of the watermelon, a 4th of July fave. For a twist, try blackberries instead of blueberries, or a little of both, and drizzle the skewers with some balsamic glaze for a little touch of fancy.
Paleo Zucchini Hummus – Dazzle taste buds with this savory homemade hummus that blows store bought hummus out of the water. Made with zucchini instead of garbanzo beans, it's simply delicious and a great summer snack served with veggies or gluten-free crackers for dipping.
Vegan Chili Cheese Dip – Yup, you read that right! This dip is vegan, gluten-free, and soy-free using a clever combo of cashews, orange bell pepper, nutritional yeast and other ingredients to create a "mock cheese" dip so yummy, no one will care that the cheese is missing. Just be careful not to "over-dunk" on this stuff…I have to step away from the bowl before I get carried away!
In case you've never had nutritional yeast before, it's loaded with B vitamins, has a cheesy taste (it's yummy on kale chips) and can be ordered online, or most natural foods markets carry it in their bulk or vitamins section under the names nutritional or brewer's yeast.
Peach Pie Protein Dip + Healthy Sugar Cookie Dippers – Who says you can't have dessert before dinner This simple yet brilliant decomposed peach pie in a dip with cute sugar cookies (that can be made gluten-free) and look like little crackers, puts a super fun spin on traditional dips + crackers/chips for kids and adults.
Mains

Mediterranean Grilled Chicken Kabobs + Cayenne Tahini Sauce – Add some pizazz to plain chicken kabobs  with this zesty mediterranean spiced garlic marinade. And for my saucy peeps – you'll love to get your dip on with the flavor-packed cayenne tahini sauce.
Sweet Potato Black Bean Burger – This scrumptious healthy patty seasoned with smoky cumin and paprika is for all my meatless lovers and anyone who just isn't in the mood for meat today. Pure yum!
Cilantro Lime Grilled Salmon – Grilled salmon is a delicious way to get omega-3 and the cilantro lime butter is simply mouth-watering – go ahead and drizzle away.
The Best Portobello Mushroom Burgers With Quick Caramelized Onions – I L-O-V-E portobello burgers! You seriously have to try them if you haven't…I've seen even non-mushroom fans dive into a great portobello burger because it's just that darn delicious. Topped with sweet caramelized onions, cheese, and crispy veggies – this one will not disappoint!
Sides & Salads

Just because classic potato salad is loaded with mayo doesn't mean you have to skip it. Try one of these fresh and lively twists on the traditional BBQ favorite that are sure to be a hit at your next cook-out:
Roasted Potato Salad With Pancetta Sun-Dried Tomatoes and Arugula
Grilled Chili Lime Sweet Corn Salad – A BBQ just isn't a BBQ without grilled corn on the cob. But let's face it having a face full of buttery corn isn't the most glamorous thing. This vibrant side dish combines all the yummy flavors of Mexican street corn in an easy to eat salad that let's you skip the picking-corn-out-of- your-teeth-all-day part : )
Grilled Spiced Cauliflower – What do you get when you take a head of cauliflower, cut it into slices and toss it on the grill with some olive oil and spices? A delicious and very healthy "cauliflower steak". You can make this easily using any seasoning you like but this recipe is slightly spicy and really great!
Summer Berry Salad With Maple Walnuts – Not only is this salad full of beautiful bright patriotic colors, it's  packed with nutrient dense greens and berries for days. Add crunchy maple walnuts, blue cheese, a zesty dijon vinaigrette and this salad is sure to make bellies happy.
Sweets

Red White & Blue Berry Cashew Cream No Bake Bars – These yummy dessert bars made of all real food and sweetened with dates and honey are the perfect frozen treat on a warm summer day. They're paleo and vegan friendly too.
Blackberry Thyme Yogurt Popsicles – Just 5 ingredients and a food processor is all you need to whip up these refreshing frozen summer treats…need I say more?!
Apple Pie Snickerdoodles – These irresistible chewy cookies filled with spiced apples and coated with cinnamon sugar are a fun lower calorie treat that will satisfy that good 'ol 4th of July apple pie craving. They are sure to be a crowd pleaser and can be made with gluten-free flour if you want.
Skinny Strawberry Cheesecake Frozen Yogurt Sandwiches – For the quinessential summer ice cream sandwich fix, surprise the party with this lighter and healthier version made with chocolate graham crackers and cheesecake flavored greek yogurt with fresh diced strawberries. Just 5 ingredients and nom-nom!
I hope you dig these recipes! Have a happy and healthy 4th of July filled with great food and company, and a fabulous summer!