No doubt, water is one of our bodies biggest allies, but you would think it's one of our worst enemies. We know how important it is for our health but let's be real, in a world full of flavored beverages plain water can seem a little blase' and most of us don't drink near enough of it.
If the word "boring" comes to mind when you think about drinking water, adding some flair is a great solution. And bonus, you can flush unwanted toxins at the same time. Try these homemade detox water recipes that taste refreshing and help you stay hydrated and cleansed at the same time.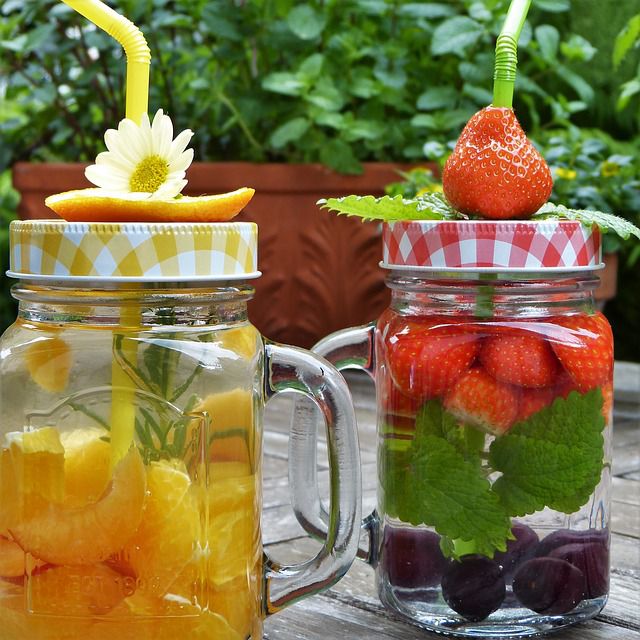 When you're thirsty, the mass selection of beverages mixed with lives full of deadlines and places to be makes it easier than ever to grab something convenient to get you through the day. And for many, that equates to beverages loaded with sugar or caffeine, or both. Truth is, water is usually far down the list when it comes to most people's "drink of choice."
Despite many people's love-hate relationship with water, hydration from enough water alone is necessary for optimal functioning of nearly every system in the body, improving things like digestion and skin.
And when certain fruits, veggies, herbs, and other things are added to water you can create a variety of detox waters that help to naturally cleanse the liver, kidneys and lymphatic system, support digestion, promote healthy skin, boost energy, and reduce inflammation.
The best part about detox water is that it can be made easily at home without a blender or juicer, and you may already have some of the ingredients on hand. Simply mix everything in a glass, pitcher, or an infuser pitcher and drink, drink, drink!
How to Make Detox Waters
These recipes are for simple detox waters you can make ahead and drink throughout the day at home or on the go. Just add your ingredients to a mason jar, water bottle (or an infuser water bottle), pitcher (or an infuser pitcher), and let it sit for a few hours to overnight in the refrigerator and you'll have a jazzed up detox water all ready to drink first thing in the morning or to take to the office for later. You can add ice if you like and have fun playing with the combos and amounts of ingredients.
Feeling like an entire pitcher of water? Alternatively you can scale up the ingredients on any of these recipes and fill a pitcher full of water for more servings.
Now let's have some fun with water!
Mint Watermelon Lime Detox Water
This is especially great for summer. Besides being delicious, watermelon is hydrating, detoxifying, provides magnesium, potassium, a high amount of lycopene, and fights free radical damage and inflammation. Mint contains a high amount of antioxidants, soothes the stomach or indigestion, and has antimicrobial properties. Lime provides vitamin C, antioxidants, stimulates digestion and promotes liver detoxification.
INGREDIENTS
32 ounces purified water
2 cups cubed watermelon
1 lime cut into wedges
1 handful of fresh mint leaves
Cucumber Lemon Detox Water
It doesn't get any easier then slicing up a cucumber and lemon to reap the benefit of this refreshing water. You get the cleansing benefit of lemon which among other things stimulates digestion and provides vitamin C for glowing skin, and cucumbers cleanse the liver, contain diuretic properties to flush water retention, and fight free radical damage and inflammation.
INGREDIENTS
32 ounces purified water
1 cucumber sliced
1 lemon cut into wedges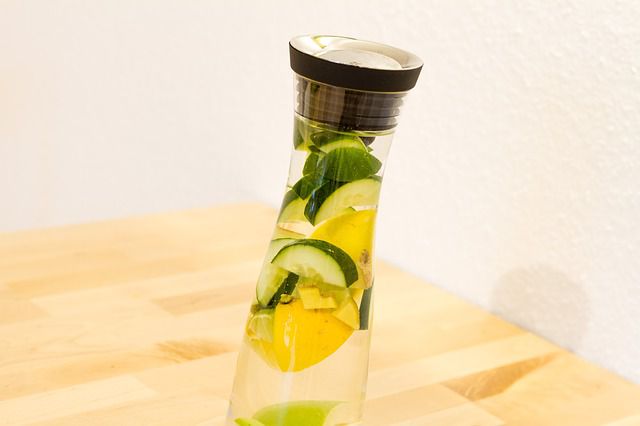 Strawberry Rosemary Detox Water
Try this refreshing combo for it's healthy gut and glowing skin promoting properties. Strawberries are loaded with antioxidants, provide vitamins A and C to protect the skin and promote healthy digestion and detoxification. Rosemary aids in detoxification, promotes healthy gut microflora, boosts nutrient absorption, is anti-inflammatory, and aids metabolism.
INGREDIENTS
32 ounces purified water
2 cups sliced strawberries
2 sprigs of fresh rosemary
Fruit Infused Detox Green Tea
Another great combo to support healthy skin and anti-aging. This is also a great way to get an energy and weight loss boost by combining the antioxidant benefits of green tea, lemon, strawberries, and cucumbers.
INGREDIENTS
8 ounces brewed green tea, cooled
24 ounces purified water
1 cucumber sliced
1 cup sliced strawberries
Juice of 1 lemon
Mango Ginger Detox Water
This delicious combo promotes healthy digestion and metabolism. It's also excellent after a night of too much fun with cocktails since ginger is a natural remedy for nausea and you're hydrating at the same time. Ginger can also relieve bloating, constipation, and is anti-inflammatory.
INGREDIENTS
32 ounces purified water
1 cup frozen OR fresh mango
1 inch ginger root, peeled and sliced
Raspberry Lemon Mint Detox Water
This detox water recipe contains the antioxidant power of high vitamin C from both raspberries and lemon. Raspberries also contain ketones which are thought to promote healthy liver and weight loss, and mint is soothing to the stomach and digestive tract.
INGREDIENTS
32 ounces purified water
2 cups raspberries, lightly smashed
1 lemon cut into wedges
1 handful of fresh mint leaves
Grapefruit Cucumber Mint Detox Water
Not only is grapefruit hydrating and rich in vitamin C for skin health, but just smelling it can actually have an effect on the nervous system encouraging fat metabolism and suppressing appetite. It also contains an enzyme that aids in sugar utilization and boosts metabolism for weight loss. Add the ability of cucumber to flush water retention and this is a solid addition to any weight loss plan.
INGREDIENTS
32 ounces purified water
1 grapefruit sliced
1/2 cucumber sliced
1 handful fresh mint leaves
Apple Cinnamon Cleansing Water
I love the taste and benefits of apple cider vinegar. The fermentation process makes it rich in enzymes and minerals and promotes a healthy digestive system and provides relief from acid reflux. If you want to cleanse your liver and lymphatic system, apple cider vinegar is a great addition to detox water. It aids in metabolism and weight loss and, along with apples, supports cardiovascular health. The addition of cinnamon is a great combo with the apples and supports healthy blood sugar.
INGREDIENTS
32 ounces purified water
2 Tbsp apple cider vinegar
1 apple, sliced and seeds cut out
1 tsp cinnamon OR 1 cinnamon stick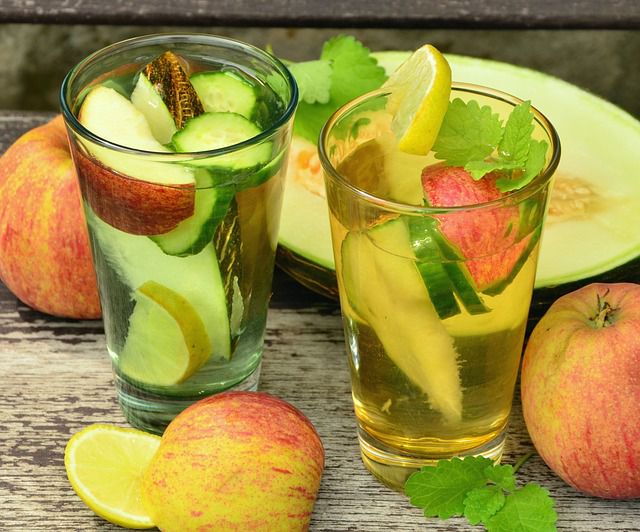 Apple Cider Detox Water
Instead of making this one ahead, you want to drink it when it's made. Also, it's best when warm or room temperature. You can drink it once a day, or on occasion when you feel sluggish, or it can be added to a full detox three times daily 20 minutes before meals for two weeks. It combines apple cider vinegar for metabolism and digestion, and helps to cleanse the liver and lymphatic system. Lemon juice alkalizes and detoxifies, while the cayenne also aids in digestion and metabolism, and the optional honey is an energy booster that contains protective antioxidants.
INGREDIENTS
16 ounces warm or room temperature water
2 Tbsp apple cider vinegar
2 Tbsp lemon juice
1 dash cayenne pepper
1 tsp raw honey (optional)
Cleansing Lemon Maple Syrup Cayenne Water
This is also best right when it's mixed. Remember the Master Cleanse? This detox water is pretty much it, minus the fasting part. Once again you get the cleansing benefit of lemon and the benefits of cayenne in boosting metabolism and also aiding digestion.
INGREDIENTS
16 ounces purified water
Juice of 1 lemon
2 Tbsp pure maple syrup
1/8 tsp cayenne pepper
Need to flush water weight fast? Try these:
2 Detox Water Recipes to Shed Water Weight Fast
Do you have favorite detox water combos you'd like to share? We'd love to hear in the comments!