Today I'm thrilled to share with you how to make homemade toothpaste inspired by my favorite 'Earthpaste'.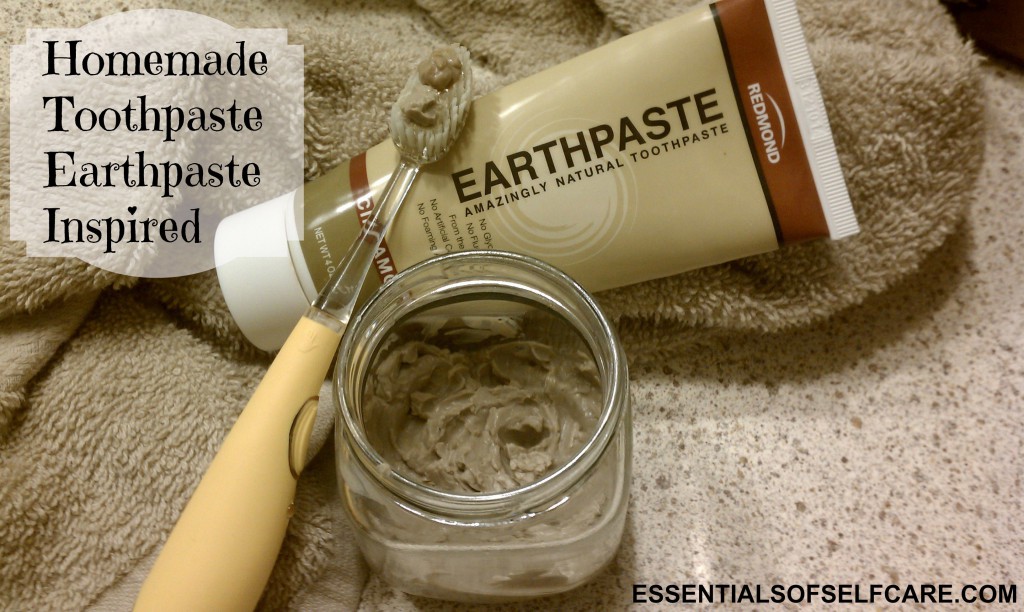 I have used many different natural toothpastes in the past but recently I tried 'Earthpaste' and totally fell in love with it. It's my favorite toothpaste so I started experimenting with a DIY version, and am happy to say I came up with a recipe with a taste and texture almost identical.
You can barely tell the difference in the picture above (the one on the top portion of the toothbrush is 'Earthpaste' and directly below is my homemade version). The homemade version comes in at 50-60 percent less cost per ounce, which makes this girl very happy :)
The base of this recipe is mineral rich Redmond Clay, which draws out toxins and micro-organisms, increases circulation and is anti-inflammatory, which promotes healthy gums and teeth. Add to that the power of liquid trace minerals and you've got yourself a nice recipe to promote remineralization of your pearly whites.
To learn more about Redmond Clay you can watch this short video.
The ingredients in a tube of 'Earthpaste' are pretty straightforward; purified water, food grade Redmond Clay®, xylitol, essential oil, Redmond Real Salt®, tea tree oil.
So it was fairly easy to duplicate, I omitted the tea tree oil because I've never been a fan of the taste in my toothpaste, and after some playing around I was able to find the ratio of ingredients that came the closest to the real thing.
Homemade Toothpaste –  'Earthpaste' Inspired

INGREDIENTS
DIRECTIONS
Using non-metal measuring spoons, mixing bowls and stirring spoons, place clay into a mixing bowl
Add water, start with 2 Tbsp and work your way up to achieve the consistency you like (3 Tbsp works well for me) and mix well
Add essential oil, stevia OR xylitol, sea salt, and liquid minerals
Taste and adjust flavor as desired. If the flavor is close enough to your liking it's a good idea to wait for 48 hours to make any further adjustments as the flavors will intensify
Store in a glass jar or reusable toothpaste tube
Note: Keep in mind this is not a foaming toothpaste, which may take some getting used to at first but you will notice it ultimately does a much better job at keeping your mouth fresh and healthy. You'll want to keep your toothpaste sealed well to prevent it from drying out. If it starts to dry out just add a little purified water to loosen it back up.
Other good flavors of essential oils to experiment with are cinnamon, orange, lemon, or wintergreen.
If you're not into the idea of this clay based recipe my other toothpaste recipe combines coconut oil and the whitening power of baking soda with other ingredients (recipe here). Plus in the same post I give you a heads up on common toxic ingredients in most store bought toothpaste to avoid and the dangers in using it.
Another excellent natural option I like to use for teeth whitening and to support overall oral health is activated charcoal.
If you're new to Earthpaste and would rather try it ready made first, or don't want to make your own, you can get it here
.
I hope you enjoy the benefits of this homemade toothpaste as much as I do! If you make it, let us know what you thought in the section below!