If you're feeling sluggish, chances are it's your body's way of telling you your liver needs some love. This sweet delight will have you feeling recharged in no time! Loaded with nutrients to help nourish and support your liver and kidneys, it's time to tame those toxins with this super cleansing liver detox smoothie.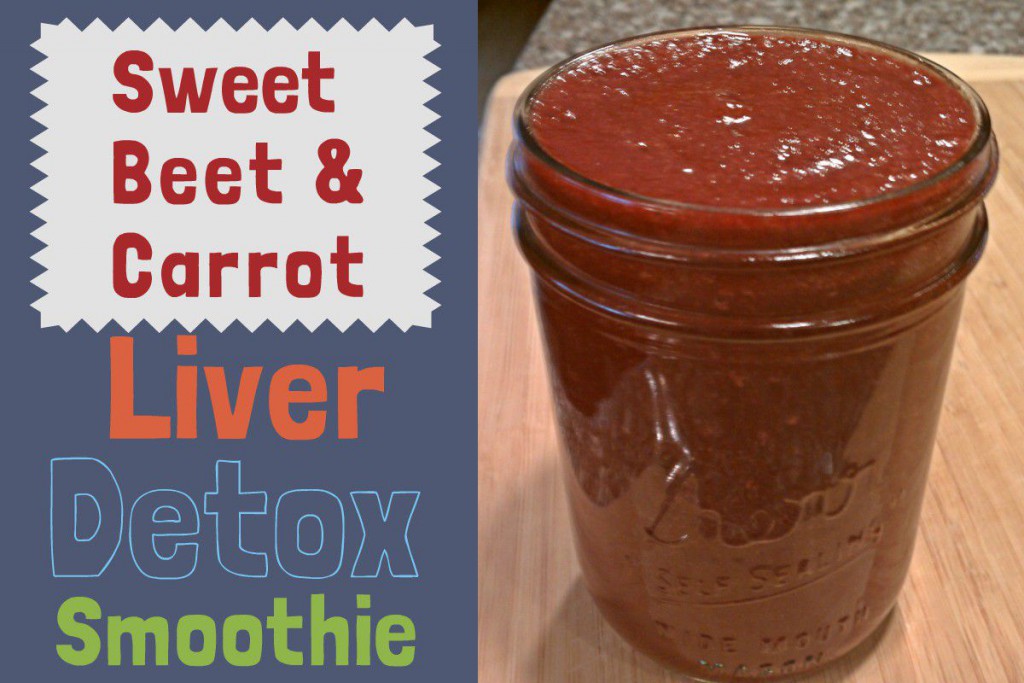 So what is it that makes this smoothie so detoxifying?
Toxin Taming Nutrients
Beet ~ This root veggie contains betalain (responsible for its red pigment) and supports the body's Phase 2 detoxification process – how toxins are neutralized and excreted from the body. Beets are known for their cleansing and anti-inflammatory properties, and are loaded with powerful antioxidants that help detoxify the liver and kidneys.
Carrot ~ This sweet root contains a fiber which binds to unused hormones and toxins and helps to remove them from the body, which allows the body to perform the detoxification process more efficiently and prevents estrogen from being reabsorbed in the intestine.
Power Greens ~ An ultimate detoxifier, greens contain alkalizing phytonutrients like chlorophyll and enzymes that aid in the detoxifying process of the body.
Ginger ~ This root has astringent properties and stimulates digestion and circulation which cleanses and removes toxins from the liver and colon.
Lemon ~ This fruit helps to enhance enzyme functions in the body and stimulates the liver to flush toxins out of the body. Also a mild diuretic, it helps to cleanse the kidneys.
Chia Seed ~ These tiny seeds add fiber to clean out the digestive tract, and essential fatty acids that have an anti-inflammatory effect which helps protect the liver from cellular damage, plus healthy fats help carrot juice absorb better, maximizing the benefits.
To Beet or Not to Beet
Confession: I used to hate beets, and not just a little. In fact, I had sworn them off for good and then I decided one time to suck it up and try them again. This time they were prepared so deliciously that I was delightfully surprised, and that "re-do" moment was when I gradually started adding beets into my life. Fast forward to today and beets are not only a permanent mainstay but a true love of my life!
Beets are a love or hate food, I don't think there's any in-between, the root flavor tends to make many people think they taste like dirt. I get it, like I said – I was there. But now I think of it as a sort of earthy flavor and the sweetness of the beet totally shines through instead. So, if your not a fan of beets don't be scared to try this smoothie…it just may change your mind about this sweet root!
I also find that steaming and roasting beets really brings out their delicious sweetness much more, which is why I use steamed beets in this smoothie, however if you're a hardcore beet lover then go for raw beets instead and you'll amp up the nutritional value even more.
I like to steam a bunch of fresh organic beets at once to store in the fridge for a quick grab when I need them, and this way I don't miss out on the beet greens (how to prepare them here) which are loaded with nutrients, but it's fairly easy to find organic beets that have already been steamed and vacuum sealed, which I often keep on hand to quickly toss in salads and smoothies too.
So if you want to cut the prep time out, just grab yourself some of these!
Using raw organic carrot juice makes this soooo delicious, and it's always in my fridge anyway since I pretty much drink it daily. Bolthouse Farms and Trader Joe's both make excellent 100 percent raw organic carrot juice, nothing added. Plus it gives the smoothie a much smoother consistency.
If you juice your own carrots, even better, toss that in! You can use raw organic carrots instead, just keep in mind your smoothie will be quite a bit thicker.
Time to get your liver lovin' on!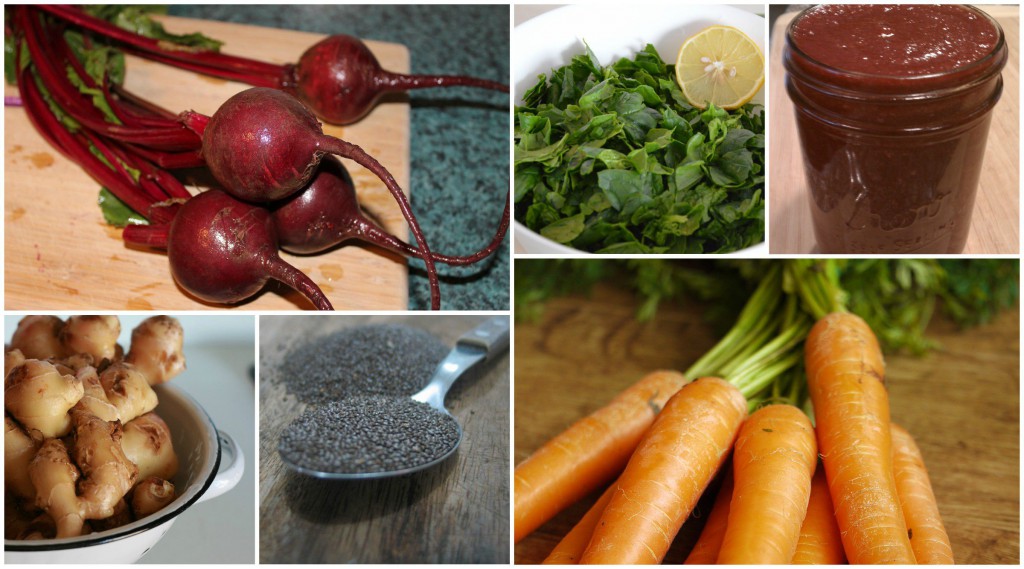 Sweet Beet and Carrot Liver Detox Smoothie
INGREDIENTS
3 organic baby beets OR 1 regular beet, steamed (see note below)
16 ounces organic carrot juice
1 cup mixed baby power greens (baby kale, chard, spinach, arugula) OR plain spinach or kale
1 inch piece of ginger, peeled
juice of half a lemon
1 Tbsp chia seed
DIRECTIONS
Place all ingredients in a Nutribullet or blender and blend until smooth. Enjoy immediately!
Note: I love the sweet flavor of steamed beets, but you can also use raw beets cut into cubes instead. Beets are one of those foods that steadily lose nutrients the longer they're cooked. Betalain (the detoxifying pigment) damage significantly increases in 25 minutes of steaming as opposed to 15 minutes, for example. For this reason, I would recommend to keep steaming time to 15 minutes or less.
Steam your beets this way and you'll maintain a nice amount of nutrients.
To steam beets
Add 2 inches of water to the bottom of a steamer over medium high heat
While waiting for the water to boil, wash beets, leaving 2 inches of tap root and 1 inch of stem on
Without peeling, cut beets into quarters
Steam covered for 15 minutes, they are done when a fork or tip of a knife can be easily inserted
Once cooled, remove the skins and your beets are ready to toss into a smoothie, salad or recipe
I hope you love your smoothie, I know your liver will! I'd love to hear how it turned out for you!