Have you looked at the price of green superfood powders and cringed? I totally get it. Many greens products almost seem geared towards the eliteists of the health and nutrition world, or at least the hefty price tags do.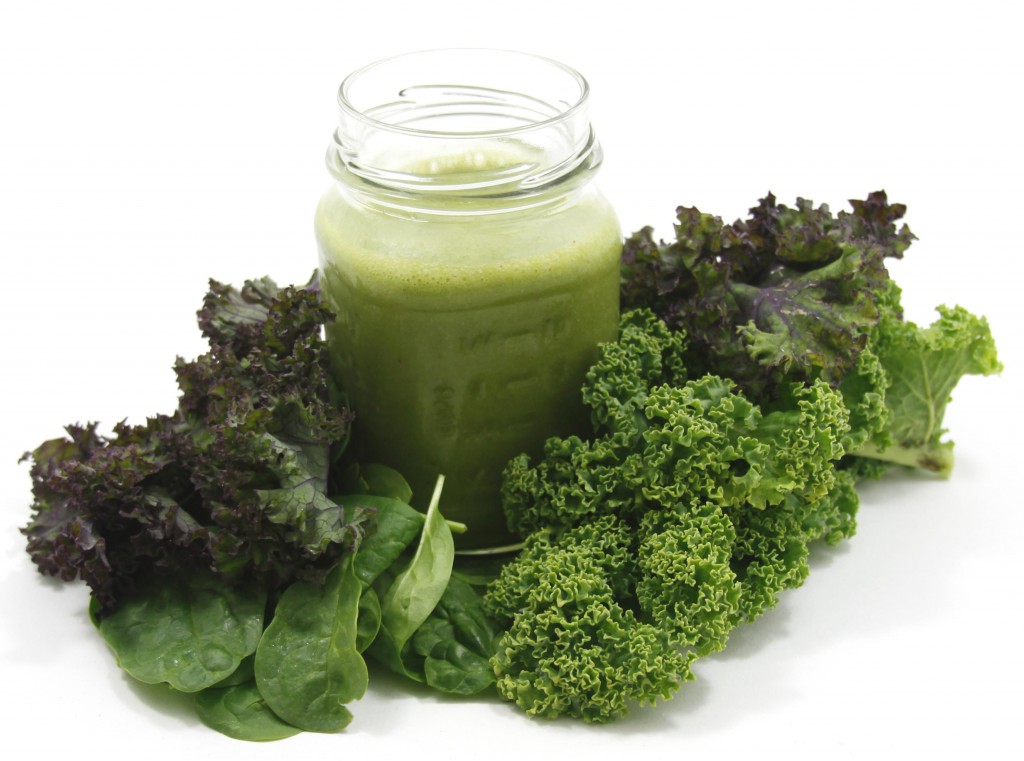 But green veggies are something alot of people just don't get enough of, and in that way greens powders can be an ideal way to fill the gap. So, I'm happy to share with you my favorite picks that won't break the budget.
If more greens and superfood nutrients need to find their way into your diet, greens powders are a super simple, no-brainer way to pack concentrated amounts of powerful nutrients into a serving at a cost of less than a cup of coffee a day!
What Are the Advantages of Green Superfood Powders?
Not eating enough fruits and vegetables? Feeling a lack of energy? Immune system need a boost?
Green superfoods are some of the most nutrient dense, alkalizing and detoxifying foods on the planet. Greens powders are an excellent way to make up for those times when you or your family aren't getting enough fruits and veggies, you're constantly on the go, or you just want an extra nutritional boost. Here are some benefits of greens powders:
Alkalizing
Detoxifying
Immune Enhancing
Energy Boosting
Support Healthy Digestion/Elimination
Support Healthy Circulation
Boost Mental Clarity
What Should I Look For in Green Superfood Powders?
With so many greens powders available it can be confusing to try and figure out which are good quality. There are a few things to look for when it comes to ingredients. Once this criteria is met, you can start getting more in depth on the actual nutrient profile. First, look for this foundation:
Raw young cereal grasses juiced and dried at low temperatures to ensure nutrient potency and freshness
Organic or ecologically wild crafted and pesticide free (esp. since grasses tend to be heavily sprayed)
Non-GMO
Free of unnecessary additives, fillers and preservatives
What Is the Best Way to Consume and Store Greens Powders?
Let's just get this off the table here and now…there's really no other way to put it – greens powders don't taste the best. You're never going to be able to fully avoid the "green" taste, but there are some much worse than others which was definitely one of the considerations with the greens I've chosen here.
The good news is, it's actually a really easy fix. If you absolutely despise the "green" taste, for one – definitely mix it in something other than water. Mixing your greens in juice or a smoothie will totally make everything all better.
In fact, mixing greens with a delicious organic raw unpasteurized apple juice you can find in your local natural foods store (they usually carry a store brand or Santa Cruz makes a great one) is the way to go – it's downright delicious!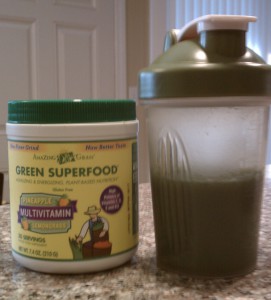 Plus many companies catch peoples drift and as a result are offering flavored versions that mask the taste of the greens really well. As a result, there are now various fruit flavors and even chocolate, which is a new favorite. These don't taste "green" at all.
I mixed this Pineapple Lemongrass flavor in plain water and it actually tasted great and gave me a nice clear energy boost!
I don't recommend adding greens to hot beverages like coffee, since it may degrade the potency. For the same reason, I don't see the point in adding them to warm/hot foods or baking them into things, like you see in some recipes. Adding them to cold foods like yogurt, overnight oats, chia puddings and the like makes much more sense.
As far as storage goes, storing your greens in the freezer is best, or the refrigerator is next best, to insure maximum potency and freshness.
I've narrowed my reviews down to the two best greens powders in two categories:
Advanced Formulas
Basic Formulas
Going from highest to lowest and starting with advanced:
---
 Vibrant Health Green Vibrance
---
Description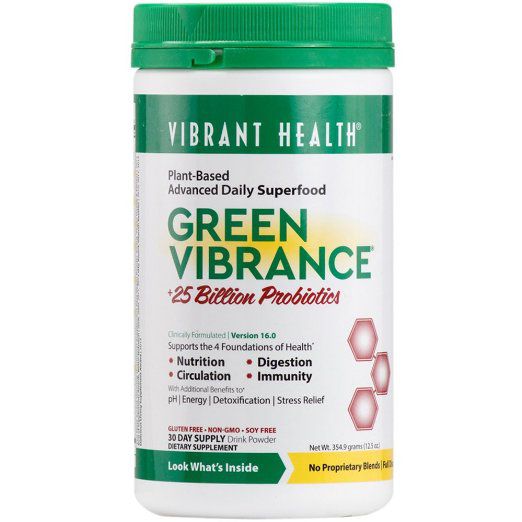 Contains nutrient dense plant concentrates including; young grass juice powders, veggies, spirulina and chlorella, sea vegetable complex, fiber and prebiotic complex, antioxidant & circulatory support, liver support, immune support, adaptogens, probiotics, enzymes, and skeletal support
2000 IU's of vegan D3 + 25 billion probiotics from 12 dairy free strains
Organic greens and freeze-dried grass juices, non-GMO certification in process
Free of unnecessary additives, fillers and preservatives
30 day supply, serving size 1 slightly rounded scoop (12.1 g)
Pros
*Super comprehensive formulation with a whopping 72 ingredients geared to support nutrition, digestion, circulation and immunity at a low price point compared to similar formulas.
*The amount of every single ingredient is listed so you know exactly what you are getting and most are listed as certified organic.
*Tastes decent and mixes easily, especially in a shaker cup or blended in smoothies.
*Flavored versions (Orange Pineapple & Citrus Cucumber), note that they are not the same formula, they contain less ingredients at a lower price point. Also available is a Junior Formula for Toddlers & Tweens Green Apple flavor.
Cons
There are some ingredients not specified as organic.
Summary
With a variety of whole food blends targeting all body systems making up the comprehensive profile of Vibrant Health Green Vibrance, no doubt it's one advanced formula.
A powerhouse of green superfood micro-nutrients for a little over a dollar per serving ($39.96 for 30 servings at the time of this review), it's one of the most competitively priced greens powders in it's category. With great tasting flavored versions and a kids version, there's something for everyone.
---
Paradise Herbs ORAC Energy Greens
---
Description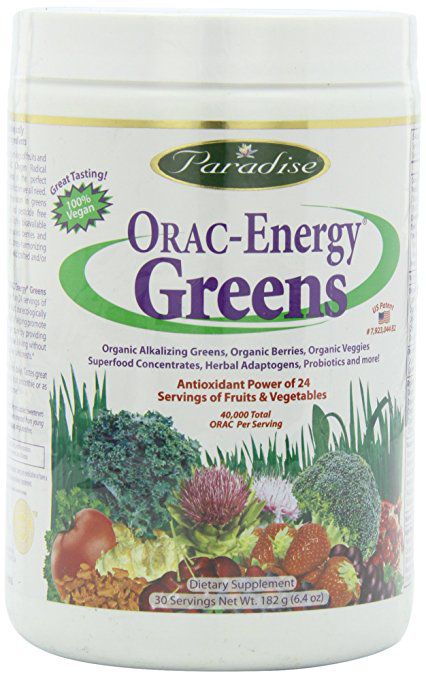 Combination of highly bioavailable young grass juice powders, spirulina and chlorella, freeze-dried veggies and berries, probiotics, immune-supporting mushrooms, adaptogens, liver cleansing/support herbs, and antioxidant blend
One tablespoon contains a super concentration of antioxidant equivalent of 24 servings of fruits and vegetables
Organic ingredients and ecologically wild crafted herbs that promote fair trade
Free of unnecessary additives, fillers and preservatives
30 day supply, serving size 1 level tablespoon (scoop – 6 g)
Pros
*An awful lot of nutrients that address various aspects of health and nutrition from quality organic and pesticide free sources all packed into one superfood powder.
*I really appreciate that the exact amount of each ingredient is broken down inside of the proprietary blend in seven out of twelve blends. Especially considering they are some of the most important ingredients. For example, within the proprietary 1560 mg Organic Alkalizing Green Juice Powders 50:1 blend, the individual ingredients are broken down into the following amounts:
Organic Wheat Grass (young leaf)                                           312 mg
Organic Egyptian Wheat Grass (Triticum polonicum)           312 mg
Organic Alfalfa Grass (young leaf)                                           312 mg
Organic Barley Grass (young leaf)                                           312 mg
Organic Oat Grass (young leaf)                                                312 mg
*Actually tastes quite nice in comparison to some of the "grassier" ones that taste like they're fresh from the pond, and mixes nicely in a shaker cup or blended in smoothies.
*A plus is that they offer the same formula in Truly Chocolate made with organic cocoa powder with zero sugar. Chocolate greens powders mix wonderfully with almond and coconut milk, and you can't even taste the green. How's that for a killer healthy chocolate milk?!
Cons
No greens formulated specifically for kids. Other than that, five of the proprietary blends not being broken down could be considered a con, but I'm okay with it especially considering they are things like berries, for example. If I know I'm getting 125 mg of an Organic Berry Blend the most important thing is that the berries are of good quality and source, I can live without knowing the exact amount of each type of berry in this case.
Summary
With a super concentration of a highly bioavailable superfood profile Paradise Herbs ORAC Energy Greens is another winner advanced formula. Coming in at around a dollar per serving ($32.59 for 30 servings at the time of this review) these greens pack quite a punch.
When mixed in juice (apple works best) or a smoothie, the "green" taste is palatable even for newbies. As an added bonus they offer a Truly Chocolate version, so there's really no reason not to drink your greens.
---
Garden of Life Raw Organic Perfect Food Green Superfood
---
Description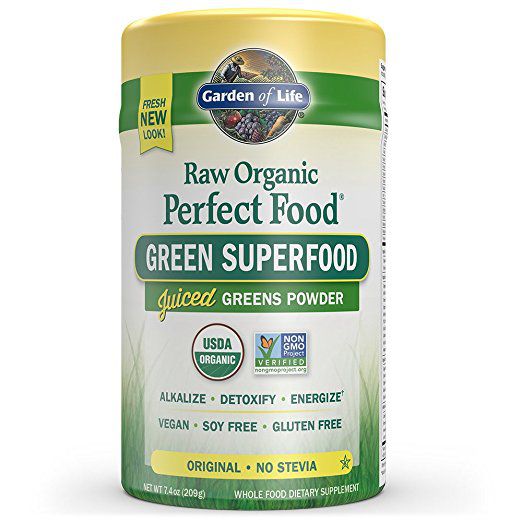 Raw nutrient rich young grass juice powders, freeze-dried fruit and veggie juices, sprouted seeds, nuts and legumes, enzymes and probiotics
#1 selling certified organic greens and non-GMO certified
Free of unnecessary additives, fillers and preservatives
30 day supply, serving size 1 level scoop (8 g)
Pros
*Price is good especially for 100% certified organic and non-GMO ingredients. Taste is pretty good if you have tried other green drinks, and it mixes well in a shaker cup or blended in smoothies.
*Available in Chocolate Cacao and Apple flavors for beginners. Also, now available are more specialized formulas, Alkalizer & Detoxifyer and Energizer.
*Sprouting seeds, nuts and legumes raises their nutritional value and makes them easier to digest.
Cons
Taste may be a bit harsh for newbie greens drinkers, in that case you can see above for what to mix it with to make it more palatable, but it will probably grow on you over time.
Ingredient amounts are listed as proprietary blends, so there's no way of telling how much of each individual ingredient is actually in the formula. The probiotic and enzyme blend consists of all enzymes with the exception of one probiotic, and the entire blend comes in at a mere 100 mg total, so there's not a whole lot of actual added probiotic power here.
No kids formula but they do advise on the adult version how much of a serving for children over the age of four.
Summary
With a straightforward and more simplistic approach, Garden of Life Raw Organic Perfect Food is a super solid basic formula without a lot of bells and whistles. For almost exactly a dollar per serving ($30.29 for 30 servings at the time of this review) you can easily make sure to get your daily dose of greens.
---
Amazing Grass Green Superfood
---
Description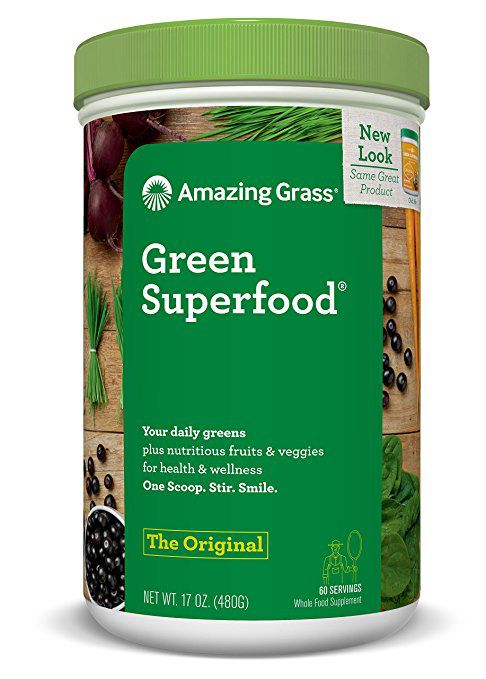 Powerful blend of nutritious young grass powders, spirulina, chlorella, fruits and veggies, EFA (essetial fatty acid) blend, enzymes and probiotics.
Organic, non-GMO and kosher
Free of unnecessary additives, fillers and preservatives
30 day supply, serving size 1 level scoop (8 g)
Pros
*One of my favorite things about Amazing Grass is their transparency of where the product is sourced. These guys grow their grasses using organic practices in Kansas fields and locally dehydrate them, so they have their hands in them from start to finish.
*Price is the best compared to other brands with similar quality and serving size. You never get bored with lots of fun flavors to experiment with and it mixes well in a shaker cup or blended in smoothies. Also available are Outrageous Chocolate and Wild Berry for kids.
Cons
The plain greens don't taste very good in water, especially if you're a newbie. It's does just fine mixed in juices and smoothies though. Again, we run into the fact that there are no individual ingredient amounts listed, only the proprietary blends.
Summary
Amazing Grass Green Superfood continues to be one of the most reviewed greens powders for good reason; at around .75¢ per serving ($19.35 for 30 servings at the time of this review), sometimes less (I've seen it for as low as .60¢), you simply can't beat it as a quality budget-friendly basic formula you can really feel the difference with.
And with so many flavors to choose from like Chocolate Infusion, Orange Dreamsicle (two of my favs), Watermelon, Berry and more, and specialized formulas like Energy, Immune Defense and Multivitamin, I guarantee you, you'll never get bored with this amazing superfood.
Final Thoughts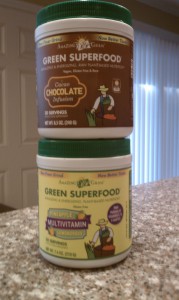 If you are looking to improve your health, green superfoods are an awesome way to go. We are facing a huge deficit of nutrient dense greens, fruits and vegetables in our modern day diet and greens powders are a fantastic way to fill the nutritional gap. They provide a rich amount of healthy micro-nutrients targeting every system in your body in a convenient concentrated powder providing you with a clean, clear energy boost to keep you feeling vibrant all day long.
Hopefully I have made selecting a quality greens much easier for you. Feel the difference today!
Have you ever tried greens and been discouraged by the taste? Do you think you may try some of the suggestions of how to make them taste better? If you drink greens, what do you love about them? Share below!