Say hello to the perfect way to make oats when you're crunched for time in the mornings. Super simple to make, absolutely no cooking involved, just prepare the night before and store in a mason jar in the fridge and you're good to go. What's not to love about that?
Single Serve Overnight Oats
serves 1
INGREDIENTS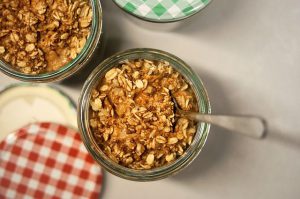 1/4 cup rolled OR quick oats
1/3 cup unsweetened almond OR coconut milk
1/4 cup lowfat greek yogurt
1 tsp chia seeds
2 tsp maple syrup OR honey to taste
1/4 c blueberries (or enough to fill the jar)
Optional toppings: nuts, seeds, shredded coconut, and nut butters
DIRECTIONS
In a 16-0unce mason jar add all ingredients except the blueberries
Put lid on jar and shake until all ingredients are well combined
Open jar and add blueberries stirring until combined
Store covered mason jar in refrigerator overnight
Enjoy chilled right out of fridge the next morning or take them to work for a snack or lunch later
Note: Rolled oats will give you a thicker, chewier texture. Quick oats will give you a softer, creamier texture.
So many variations can be explored with this recipe like adding raw cacao powder, changing up the fruit, using various flavors of greek yogurt, adding sweetener of your choice and spices like cinnamon and ginger. So go ahead and have some fun exploring different versions of this satisfying breakfast!
For a gluten free version try my single serve overnight buckwheat groats.
If you like this recipe please share or leave a comment below :)