If you like the crunch of steel cut oats, you're in for a real treat with overnight buckwheat groats. Even though "wheat" is part of the name, buckwheat groats are actually a fruit seed, a relative to rhubarb containing no wheat at all. They are a low glycemic pseudo grain packed with nutrition, and a great gluten free alternative to overnight oats.
Single Serve Overnight Buckwheat Groats
serves 1
INGREDIENTS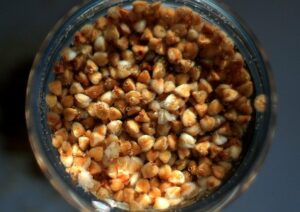 1/4 cup buckwheat groats, rinsed and drained
1 Tbsp chia seeds
1/4 tsp ground cinnamon
1 really ripe banana
2 tsp maple syrup OR honey
1/2 cup unsweetened almond OR coconut milk
Optional toppings: fruit, nuts, seeds, shredded coconut, and nut butters
DIRECTIONS
In a 16-ounce mason jar add all dry ingredients and mix
Chop banana into jar, mash with a fork against side of jar and stir into ingredients
Add sweetener and almond or coconut milk, place lid on jar and give a good shake
Place in fridge overnight, and enjoy with toppings of your choice, the next morning!
Note: You can adjust the amount of almond or coconut milk to get a thicker or thinner consistency, depending on your preference.