Good morning! What's for breakfast? How about some eggs? In a rush and don't have time to deal with dishes? I know the feeling, so what if the only dish to deal with is a mason jar instead? Easy, just toss it right in the dishwasher. Yep, good 'ol mason jars, good for making all kinds of things including eggs. Mason jars have been one of the best all time additions to my life, ever. I use them for tons of stuff.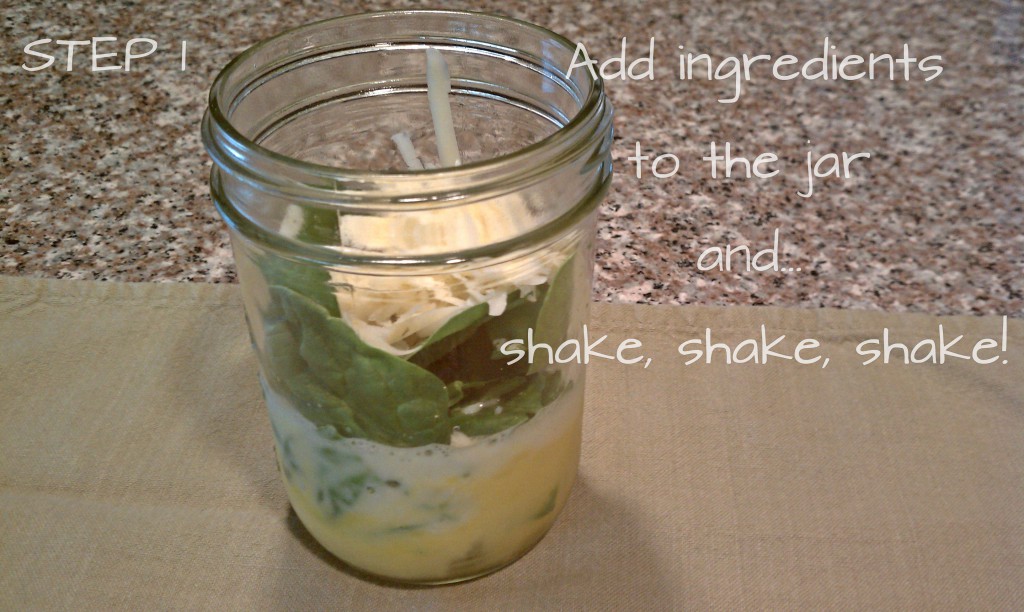 You can whip up some mason jar eggs, have them cooked and ready to eat in under 5 minutes. Add some spinach and cheese, top it with salsa and you've got yourself a protein rich meal with the added benefits of greens and essential fats to boost your brain power for the day. Sometimes, I find this filling enough on it's own, other times I add some sprouted bread with grass fed butter for a little extra comfort.
I try to minimize microwave usage, but sometimes when you're in a serious time pinch, if it's the difference between eating a nutritional meal or not, I say go for it. Besides the cooking time is minimal on these babies.
Except for the eggs, there are no quantities for this recipe…it's all about how you like it.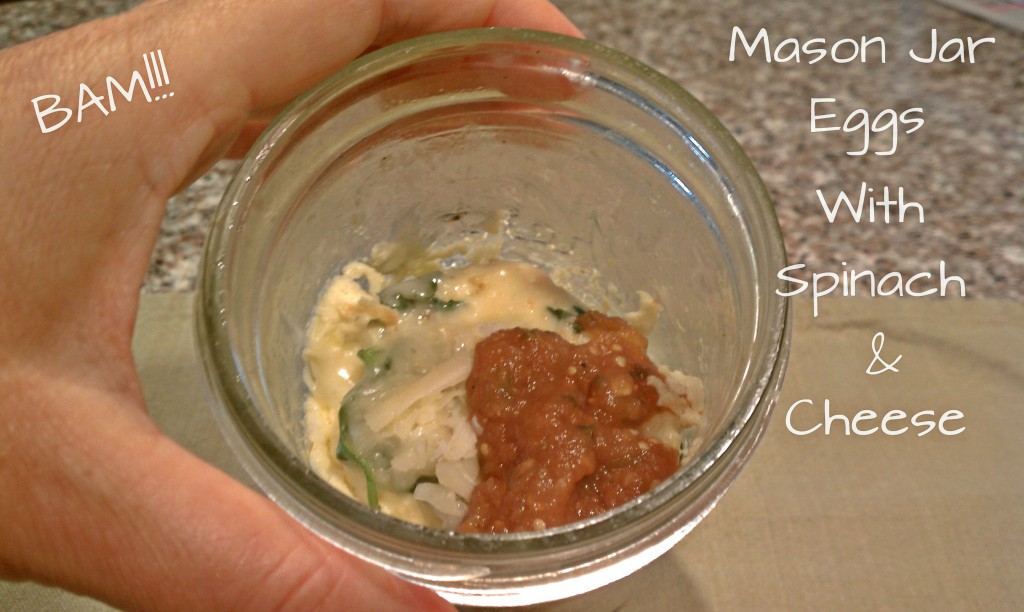 Mason Jar Eggs with Spinach & Cheese
INGREDIENTS
2 eggs
a little pour of milk or a dairy free version (I use almond or coconut)
fresh spinach
cheese
sea salt and pepper, to taste
salsa
DIRECTIONS
Spray the inside of a 16 ounce mason jar with non-stick cooking spray, or coat with coconut oil
Add all ingredients except salsa to jar with lid and shake until well combined
Remove lid and microwave (keeping a good eye on it) for 1 min 30 seconds to 2 minutes (the eggs will puff up and rise while cooking but no worries, they will deflate when done)
Remove, top with a little more cheese, let cool for a minute, top with salsa and enjoy!
Note: Have fun mixing up different variations of ingredients for quick and easy meals on the fly. You can also prepare this the night before, store in the fridge and pull it out to cook the next morning.
Do you have any favorite ingredient combinations for mason jar egg recipes? Share below!