Holiday countdown is here! The time for last minute scrambling and gifts has arrived. If you are looking for something quick and simple that your friends and family will love, look no further, I've got you covered. Instead of spending lots of money on a luxurious body scrub, why not make a homemade version that is way lighter on your pocketbook and way more healthy for your skin? Chocolate peppermint sugar scrub…that's what I'm talkin 'bout baby.
You can throw some handmade (with lots of love) sugar scrub together in minutes, make a batch big enough for all the lovelies in your life, dress your jars up with some festive ribbon, candy canes, holiday gift bags, whatever floats your boat. And I promise you, they will love it! Don't forget to save a little for yourself, trust me your not gonna want to miss out on the sweet scent of chocolate and peppermint all over your skin. It's a party on your skin with ingredients so great you can actually eat them! Enjoy!
Chocolate Peppermint Sugar Scrub
INGREDIENTS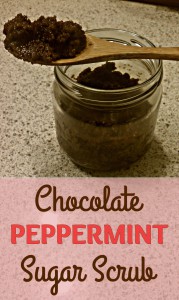 1 cup sugar (I used organic cane sugar, anything fine granule will do)
1/2 cup coconut oil OR carrier oil of choice (apricot, almond, jojoba)
1-2 Tbsp cacao OR cocoa powder
10-20 drops peppermint essential oil
DIRECTIONS
Combine sugar and 1 Tbsp cacao or cocoa powder in a bowl and mix well (if you want more chocolate smell add more cacao or cocoa powder, up to the 2 Tbsp total)
Add softened coconut oil (heat for 10 seconds if needed, it should be soft enough to stir) or other carrier oil
Add peppermint oil and mix all ingredients until well combined (if it looks a bit dry at first, keep working oil in, you should end up with a nice moist texture – you can always add more oil if necessary)
Spoon into a jar of your choice (I like to reuse old foods jars and mason jars, sometimes you can find cute jars at the dollar store) and seal
Apply to face and body while in the shower, let sit for a few minutes and rinse for soft skin
Notes: This makes about 10 oz of scrub, you can scale up the ingredients to make larger batches for gifts. It stays good for a couple of months. Suggested use is once a week, although I use mine more like 2-3 times a week during the winter when my skin gets more dry. Be careful, as the tub/shower can be a bit slippery after use :)
And one last note, coconut oil tends to harden when temps get lower, in this case simply heat your scrub for 20 seconds and it will last your entire shower.
Looking for more gift ideas? Try my pumpkin spice chai sugar scrub (recipe here).
Follow up with my whipped body butter (recipe here) to lock in more moisture.
Happy gift making, pampering, and holidays!