The thought of whipping up a body scrub has been floating around my busy little brain for quite some time now, but like tons of other fun project ideas it somehow landed on the back burner. Well, no more, not this weekend. This weekend, this girl decided to have a little DIY fun in the kitchen. And guess what happened? Pumpkin spice chai sugar scrub, that's what happened.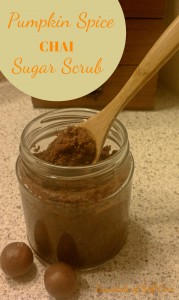 Disclaimer: I'm a total die-hard fan of pumpkin spice anything, any day of the week, anytime of the year. It doesn't have to be fall to love pumpkin and all the yummy spices that go with it.
What better time of year than winter to enjoy some sugar scrub – to soothe dry, itchy skin that comes with dry winter weather. Another solid reason it's a fab time for a scrub – it's a fantastic holiday gift solution, that's ridiculously simple to throw together in seconds, during this busy time of year.
Scrubs in fancy boutiques or department stores not only carry hefty price tags but questionable ingredients that can be harmful to our body. Instead, for a fraction of the cost, it's so easy make a delicious sugar scrub with lovely ingredients that make your skin soft and healthy.
Plus it's an added bonus to be able to lick the spoon and bowl after making your body scrub (don't ask me how I know)…the beauty of scrub with 100 percent sweet edible ingredients! The challenge is to save some for your body before it all makes it into your mouth! Of course that's only when your carrier oil is coconut oil NOT one of the other carrier oils.
Body scrubs make great gifts, just dress up your jar with some pretty ribbon, add a cute personalized label and you have a special little pampering treat. The best part…it's handmade, with a whole lotta love from yours truly!
Note: For this recipe, I happened to have some pumpkin spice chai latte on hand, and in an effort to get it out of my kitchen (it was yummy, but a total splurge), I decided to add it to my scrub. It smells yummy but you could easily achieve the same smell with pumpkin pie spices.
Pumpkin Spice Chai Sugar Scrub
INGREDIENTS
1 cup coconut sugar OR brown sugar
2 Tbsp pumpkin spice chai latte mix (or sub pumpkin pie spices)
1/2 cup coconut oil OR any carrier oil (apricot, almond, jojoba)
DIRECTIONS
Combine sugar and spices in a bowl and mix well
Add softened coconut oil (heat for 10 seconds if needed, it should be soft enough to stir) or other carrier oil
Mix all ingredients until well combined (if it looks a bit dry at first, keep working oil in, you should end up with a nice moist texture – you can always add more oil if necessary)
Spoon into a jar of your choice (I reuse food jars and mason jars) and seal
Apply to your body in the shower, leave on for a few minutes and rinse for silky soft skin
Notes: This makes about 10 oz of scrub, so you can easily scale up ingredients for larger batches as gifts. My coconut oil hardens due to lower temps in the house right now, so I just heat it for 20 seconds and it's good to go for the entire shower.
I found that with gentle pressure, this also makes a nice facial scrub. Keep in mind the tub/shower may be a bit slippery after use. Suggested use is once a week, although I'll probably use it 2-3 times a week while weather is really dry. It should last for a couple of months, if needed, although I'm pretty sure mine won't make it that long!
My "test kitchen" scrub ended up being just what the doctor ordered, I enjoyed every second of scrubbing with the delicious smelly goodness of pumpkin spice and the coconut sugar adds a yummy smell, almost a bit gingerbread-ish. My skin felt so soft and nourished…a scrumptious spa experience indeed, just what this girl needed! Your turn!!!
Next stop…more batches for holiday gifts!
Looking for more gift ideas? Try my chocolate peppermint sugar scrub (recipe here).
To lock in more moisture follow up with my whipped body butter (recipe here).
Do you make your own scrub? Do you think you will now, are you inspired with gift ideas? What fragrances do you enjoy? Share below!