While making a quick trip to the grocery store to pick up a couple things to take a salad over to friends, I couldn't help but notice a beautiful bunch of rainbow Swiss chard in the organic section. It stopped me dead in my tracks, just sitting there, in all it's deep green and glowing rainbow colored glory. Oh, rainbow Swiss chard, I did not come for you this time, oh but how can I resist? Wait…you're beautiful and organic and only $1.49…oh, you're so hopping into my arms right this minute! Just could not resist.
And that's the story of how this love affair, and delicious sautéed Swiss chard with toasted walnuts came to be.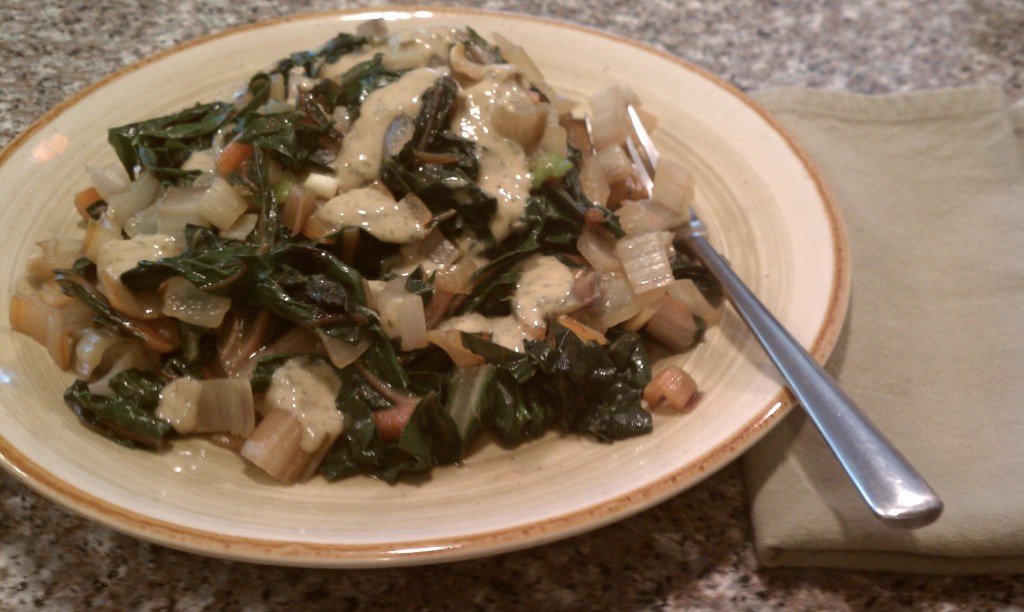 Why is this girl so excited about some Swiss chard, you ask? Well, because Swiss chard is a fantastic nutrient dense leafy green with anticancer carotenes, chlorophyll and soluble fiber, containing a significant amount of vitamin K per cooked cup for healthy bones, along with minerals like calcium, magnesium, potassium, copper, and iron. This awesome leafy green aides in red blood cell formation and circulation of the blood helping to make more oxygen available to essential organs in the body.
I think that's super exciting…don't you? :)
This recipe makes a delicious side dish to accompany meats, poultry, or fish, or it can be eaten the way I enjoyed it this time, as a warm main salad. And, oh how happy this salad made my tummy. Confession: I used to think chard was a big fat yuck! So, if you've been turned off by chard in the past, or just haven't known what to do with it, give this recipe a try, I think you'll really enjoy it.
There's a reason you caught my eye, lovely Swiss chard, thank you for that, now I can share your rainbow-y goodness with all the world. :)
The ribs of Swiss chard can be tough if not cooked properly, which is why most recipes leave them out, but I think it's a very unfortunate event – I figure why waste them, and why miss out on more nutrients? The ribs here are a nice and tender addition, and add more depth to these greens.
Start by toasting the walnuts in a dry sauté pan over medium-low heat until golden brown, and set aside (we're pic-less on this one folks, sorry about that)!
Heat olive oil in a large sauté pan over medium heat. Add onion and ribs of Swiss chard and cook, stirring until onions begin to turn translucent.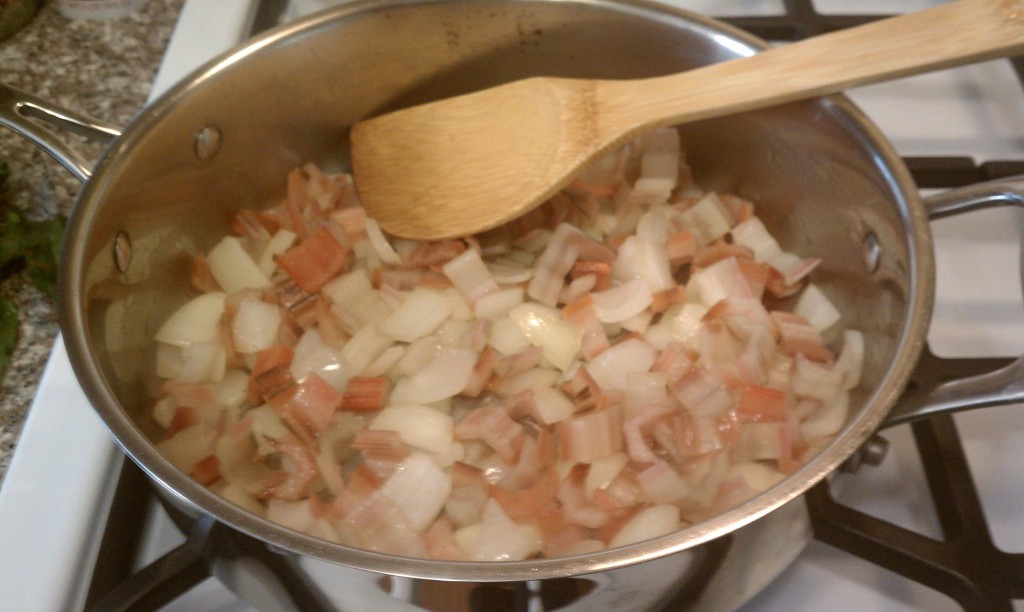 Add garlic and start adding in leaves of Swiss chard in batches until it's all wilted.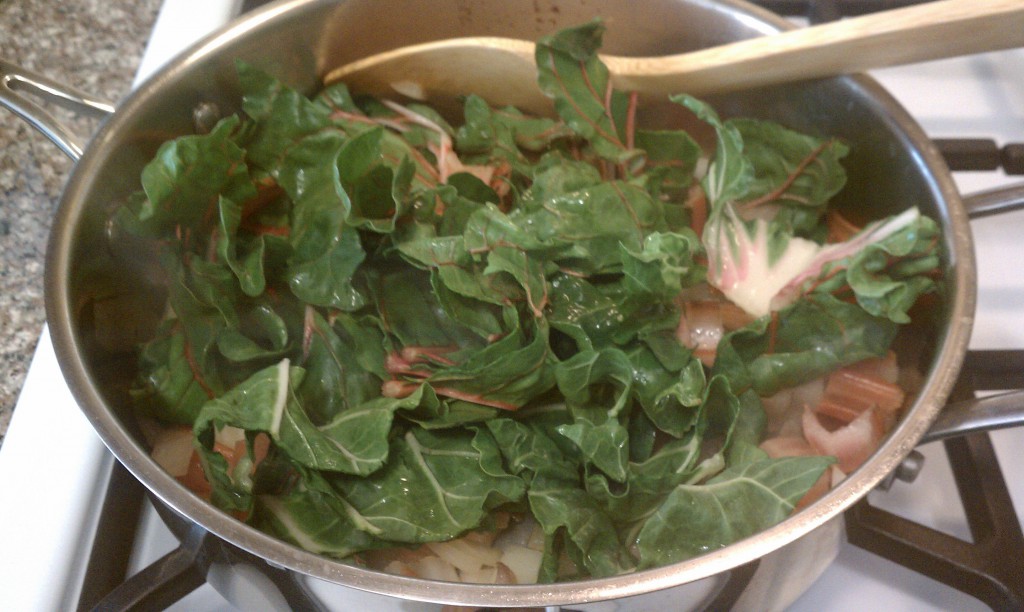 Add vegetable broth, cover and turn heat to a simmer until broth is reduced.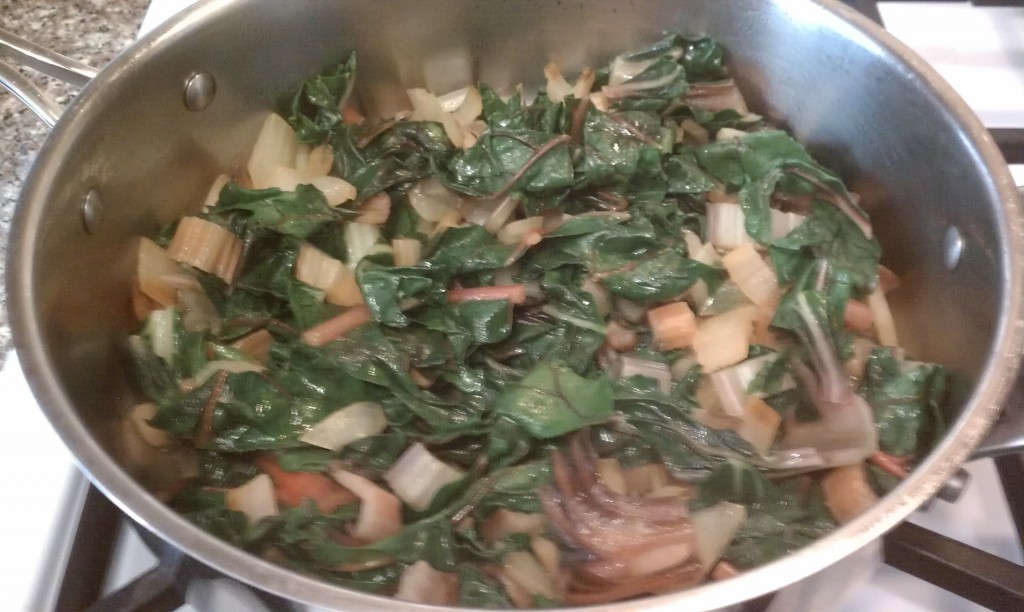 Serve topped with fresh squeezed lemon juice, fresh ground pepper, and toasted walnuts.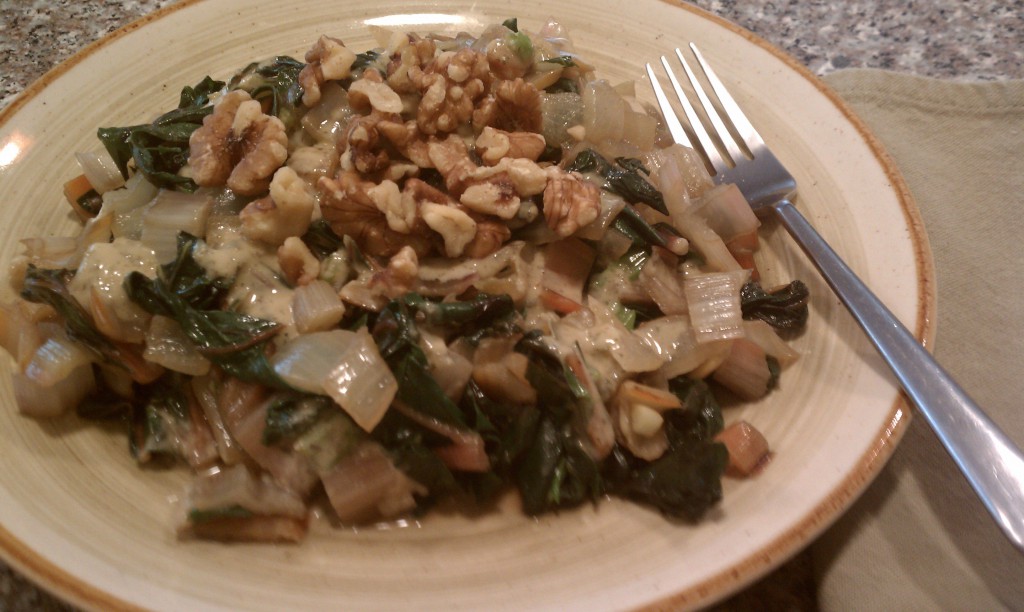 I drizzled some hummus goddess dressing over mine and ate it on it's own, as a salad for lunch and it was so satisfying!
Sautéed Swiss Chard with Toasted Walnuts
Serves 4 as a side – 2 as a main salad
INGREDIENTS
1/2 cup walnuts, toasted
1 Tbsp olive oil
2 garlic cloves, chopped
1/2 an onion, chopped
1 large bunch Swiss chard, washed – chop off ribs at base of leaves and chop into 1/2-1 inch pieces, discarding the very bottom pieces. Layer leaves, roll up like a cigar, and cut into strips
1/4 – 1/2 cup vegetable broth (depending on the size of your bunch of chard)
1 Tbsp lemon juice
cracked black pepper
Optional: hummus goddess dressing OR dressing of choice
DIRECTIONS
Toast walnuts in dry sauté pan over medium-low heat, until golden brown
Heat olive oil in a large sauté pan over medium heat
Add onion and ribs of Swiss chard and cook, stirring until onion begins to turn translucent
Add garlic and start adding leaves of Swiss chard in batches until it's all wilted
Add vegetable broth, cover and turn heat to a simmer until broth is reduced
Serve topped with fresh squeezed lemon juice, fresh ground pepper, and toasted walnuts