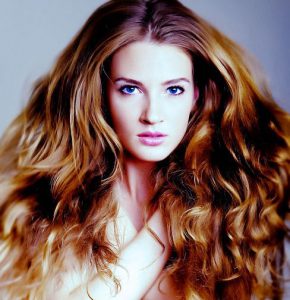 I have been wanting to share this soap nuts shampoo recipe since I started experimenting with it during the time I also discovered I could use soap nuts for laundry (it slipped by the wayside, but thanks to some requests, it's here now!)
Being a natural shampoo user, I was curious about making my own with even less ingredients. If this is something you jive with, I think you're going to be surprised at what the natural cleansing power of soap nuts and two other herbal ingredients can do to make your hair healthy.
Before I decided to go this route I tried dwindling down to just one simple ingredient and washing my hair with castile soap, but it just didn't feel like enough for my thick wavy hair. I was about to go "no poo" but just knew it wouldn't be my thing. I can always use extra moisture in my hair, but I'm not a fan of a perpetual grease party all up in there either. Plus, while it might work well for some people, I've seen others complain that it ends up drying their hair out or irritating their scalp. No one wants that.
I kept coming across this staple in Ayurvedic hair care that was supposed to strengthen and soften your hair and make it super shiny – an herbal shampoo made with just three ingredients – reetha (soap nuts or soap berries), amla, and shikakai. All three had appealing benefits and if they worked on these difficult to manage, crazy locks, all would be well in the world.
I'll get to how it went in a minute but first, what are the benefits of each ingredient and their purpose in this homemade shampoo?
Why Reetha, Shikakai, and Amla?
Soap nuts or Reetha contain saponins which are natural surfactants (foaming agents that help remove dirt and grease from hair and skin), making it a powerful natural cleanser with the added benefit of also softening the hair.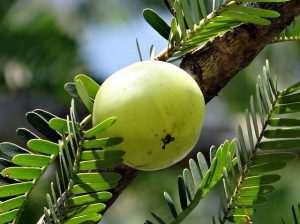 Shikakai is a gentle cleanser that can help detangle hair and make it soft and smooth. It is rich in vitamin C and D and other phytonutrients that are nourishing to hair follicles, promoting growth, and accentuating wavy or curly hair.
Amla or Indian gooseberry is a valuable hair tonic with antimicrobial and antioxidant properties for a healthy scalp. It is strengthening to the roots, encourages growth, prevents grey, and acts as a conditioner.
While you can wash your hair with soap nuts alone, the combination of the ingredients in this shampoo is more nourishing, especially for longer hair. It's suitable for all hair types, and the naturally low pH won't strip natural oils from your hair. In addition to healthier shinier hair, another benefit is less hair loss during each wash.
Don't let the fact that this is not a lathering shampoo deter you – the benefits far outweigh the lack of suds. This is a gentle, yet totally effective natural shampoo and a fantastic alternative to products with additives and things like parabens and sulfates. It's also soothing for eczema and psoriasis.
And you can save on conditioner due to the natural softening and detangling aspect – it typically isn't necessary. After towel drying your hair, you can rub a pea-sized amount of coconut or almond oil through the lower third of your hair, avoiding your scalp. Or, if you have dry hair and feel you need conditioner, try adding a tablespoon of marshmallow root or fenugreek seeds when making your shampoo – both are very moisturizing and conditioning.
You know your own hair best and if you feel you need conditioner, especially for dry hair, go ahead and use it. Over time with regular use of this shampoo, as your hair adapts and gets healthier, you may find that you don't need it anymore.
Also, I have medium to dark blond hair depending on the season and use this on color treated hair with no problem, but if you have very light blonde hair there is a possibility of it darkening a bit over time with regular use of this shampoo. It's always best to do a strand test on lighter hair, just to be safe.
Ready to have some fun with shampoo?! Let's put some love on those locks!
Homemade Soap Nuts Shampoo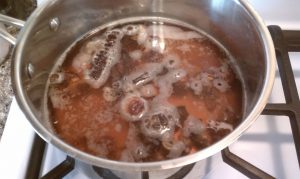 INGREDIENTS
DIRECTIONS
Add all ingredients to a pan with 3 cups of water, cover and let soak for 8 hours
Bring mixture to a boil, reduce heat to a light boil for 5-15 minutes, it will get frothy as the reetha releases saponins – the longer it cooks, the more concentrated it becomes (you can add more water if it boils down)
Remove from heat, cover and let cool. Once it reaches room temperature, using your hands, mash the reetha, shikakai, and amla – it will be nice and soft by now (you can also use a masher)
Pour through a fine mesh strainer and place liquid in a reusable container (I use an old castile soap or shampoo bottle)
Use some immediately and see notes below to store the rest
NOTES: Now I love to DIY but let's be real…the last thing I want to do is make my own shampoo every single time I need to use it, which is what many recommend with this shampoo. I get it…it does need to be fresh, but who has time for that?! So here's a neat little trick: freeze the leftover mixture in ice trays to use when you want. Then you can just take out 2-3 "shampoo cubes" (or however many you find works for your length/thickness of hair) a few hours before you plan to use it. Annnnd done!
I have learned that in order for me to make time for my healthy lifestyle, I have to designate one day each week to plan, prep, and create. So, since I wash my hair twice a week, what I do is make this recipe to use the day I wash my hair and store the rest in the refrigerator for later in the week. If you wash yours more often you could just increase the recipe and you're good to go! This will take some experimentation and if you find that the mixture isn't to your liking for subsequent uses, the freezing method might be more of your thing.
Also, I found this video that shows how to make a large batch to store and use for up to 2 months, so you can see what you think.
How to Use Your Shampoo & Other Helpful Tid Bits
Once you have made your shampoo you are going to use it just like any 'ol shampoo, but with one very important caveat…be careful not to get this shampoo in your eyes. Fair warning here. It's just that it can really sting your eyes, so I guess this is even more important if you're using it on little ones ;)
But back to how to use it…I like to give the bottle a good shake and then apply it to wet hair starting at the scalp, massaging it in, while working it down and through the rest of my hair. Even though it's been strained, the mixture will be a bit gritty and that's totally normal…all nat-u-ral baby. The herbs are very nourishing for your scalp so let them hang out for a few minutes before rinsing out. And remember I said earlier…barely any to no lather. You shouldn't need conditioner but if you feel the need, go for it…I would encourage you to try it without at least once and see/feel the results after it's dry – you may be surprised.
Don't worry if your hair feels coarse, dry, and not smooth while you're shampooing with this. I remember the first time I used it I thought that was odd, and since my hair is so thick and wavy and knots up easily I was scared it would be a nightmare to brush through afterwards, but it actually wasn't at all and was very soft and tamed.
Plus I'm used to this, since the same thing happens when I color my hair with Naturtint. Granted it makes you wonder initially, but I've been using it for years and every time I get my hair cut they always mention how healthy my hair is, so…'nuff said =)
Rather go with ready made soap nuts shampoo instead? Maybe you want to try one of these!
So what do you think? Ready to give soap nuts shampoo a try? I'd love to hear your thoughts and what it does for your lovely locks!