No time to plan meals or shop for groceries? Stuck in the rut of what to make for dinner? Eating healthy home cooked meals is easier said than done.
No worries friends, this Sun Basket review will show you how to totally simplify your life by saying goodbye to dreaded dinner decisions, meal planning, and grocery shopping and helloooo to gorgeous, delicious, healthy meal kits delivered straight to your door!

The opportunity to try Sun Basket couldn't have come at a better time. We had just finished a three day detox consisting of heaps of fresh green juices, green salads, and veggie loaded soup…green, green and more green(!), the fridge was in need of some restocking, I was in need of a break from the prep, and a change in color wouldn't hurt.
Now I get to share my experience with you and hopefully answer any questions you may have.
When I arrived home I couldn't help but smile at the Sun Basket box sitting at my door, with nice inviting packaging and cute phrases like Responsibly Raised, Room to Moo. Feeling calm, cool, and collected that my life was suddenly totally simplified – as in I wouldn't even have to think about what to make for dinner the next three nights, make a list, and shop for stuff felt really great!
Anticipating its contents, I took the box inside, pulled everything out and was absolutely thrilled with the incredibly fresh, awesome ingredients. Yum! Off to a great start. I couldn't wait for the fun to begin!
Why Meal Delivery?
I should say, I had been curious about meal delivery options for some time, because even though we all know eating whole foods is an integral part of a healthy lifestyle, cooking healthy meals at home is often the most challenging thing to do when life gets busy.
But takeaway the time involved in planning meals and grocery shopping and things suddenly become a heck of a lot more doable.
For the convenience factor alone, I could see why people dig meal kit delivery. But what about the rest of the details like time and effort involved in prep and actual cooking, portion size, taste, and cost, for instance?
Still, curious as I was, I was also overwhelmed by the many different meal delivery options.
What in the world was worth trying?
What I found in my search was that there were quite a few good options for meal delivery services offering healthy meal options but not a ton offering organic, non-GMO, sustainably sourced ingredients and packaging options that I could feel okay about. Then I came across Sun Basket.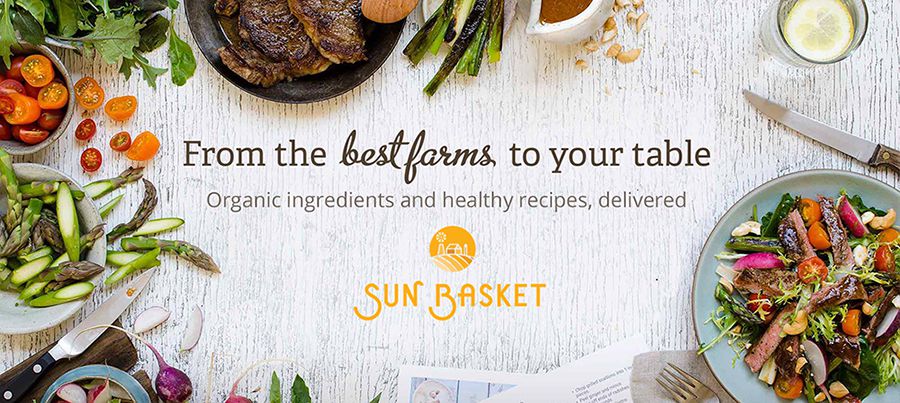 About Sun Basket
Sun Basket is a meal service that delivers ingredients and recipes directly to your door weekly, offering:
Seasonal organic and non-GMO produce sustainably sourced from the country's top farms
Grass-fed, antibiotic-free pastured meats and sustainable seafood
Meal plan options are Classic Menu which includes Chef's Choice, Paleo, Lean & Clean, Gluten-free, Vegetarian, Mediterranean, Vegan, and Pescatarian OR Family Plan with Chef's Choice or Vegetarian
Recipes created by Chef Justine Kelly, formerly of the James Beard award-winning The Slanted Door restaurant and approved by a nutritionist
How it Works
Sign up for Sun Basket using this

special invite link

and get FREE shipping on your first delivery!
Choose 3 recipes for 2 or 4 people per week on Classic Menu, or 2, 3,or 4 recipes per week for a family of 4 on the Family Plan
Customize with Gluten-free, Paleo, or Vegetarian options
Ingredients are pre-measured and ready to cook with detailed recipe cards for each meal
Ingredients are shipped weekly to your door in an insulated box to keep them fresh for up to 8 hours
Packaging is 100 percent recyclable and compostable
Use the following links to get FREE shipping on your first delivery:
My Impression of Sun Box
The Delivery and Contents
As I said earlier, Sun Basket did a great job delivering my meals as scheduled. The first thing you find when opening it is a nice little welcome card that recommends you unpack and refrigerate the ingredients as soon as possible (although they are packed to remain fresh for up to 8 hours, which I did after inspecting them of course) and tells you how to get started.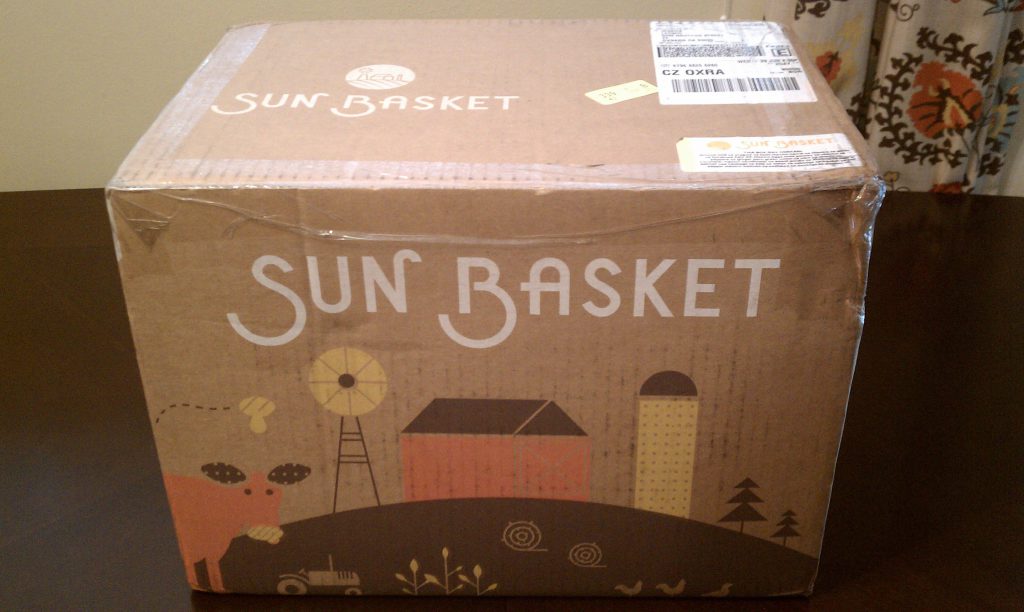 Contents are delivered in 100 percent recyclable and compostable packaging, which I'm totally thrilled about since it's no secret the amount of packaging involved with meal delivery. Also listed is where to get help online (which I didn't need to do, but it's nice to know help is available if you need it), and how you can rate your recipes if you like.
Next up are the recipe cards, each with delicious looking photos so you know what your meals should look like. The description of the flavor profile of each dish and a little background on the origins of things like sauces – romesco from Northeastern Spain for example, adds a nice touch and is a fun way to get introduced to things you're trying for the first time.
Each recipe includes whether it's Gluten-free, Paleo, and/or Vegetarian, prep time, cook time, calories, and servings. Meals take around 30 minutes from prep to finish, are nutritionist approved, and come in at around 500-800 calories per serving.

The back of the recipe card includes the ingredients you'll need from your basket and a few basics from your kitchen like salt, pepper, and olive oil (which was all I ever needed for the recipes I tried). I also found it useful that the cookware needed is listed under tools so you can have those ready to go. And lastly, the directions on how to make your meal are laid out really nicely starting with prep and moving through the cooking, which I felt flowed really well.
Bonus: On each card, they've included a link to view your recipe online just in case you have the dreaded mishap of spilling something on it (which I've never done, ahem), and not that you will but just in case. Way to be Sun Basket…I get the feeling you're experienced at this cooking thing :)
Sun Basket currently ships to most zip codes in the U.S., excluding AK, HI, MT, and parts of NM.
The Ingredients
Opening the top layer of my box, I noticed right away how cold the interior was. If I'm being totally honest, I hoped for fresh ingredients but how fresh could they really be? Well, let me just say I was really blown away at the quality and freshness of the ingredients. I like getting produce from a CSA but it can be hit or miss – all the produce included with Sun Basket was super fresh and great quality.
On top is each meal packaged really neatly within a paper bag (so neatly that the eggs were still intact!), each ingredient labeled and already portioned out for you.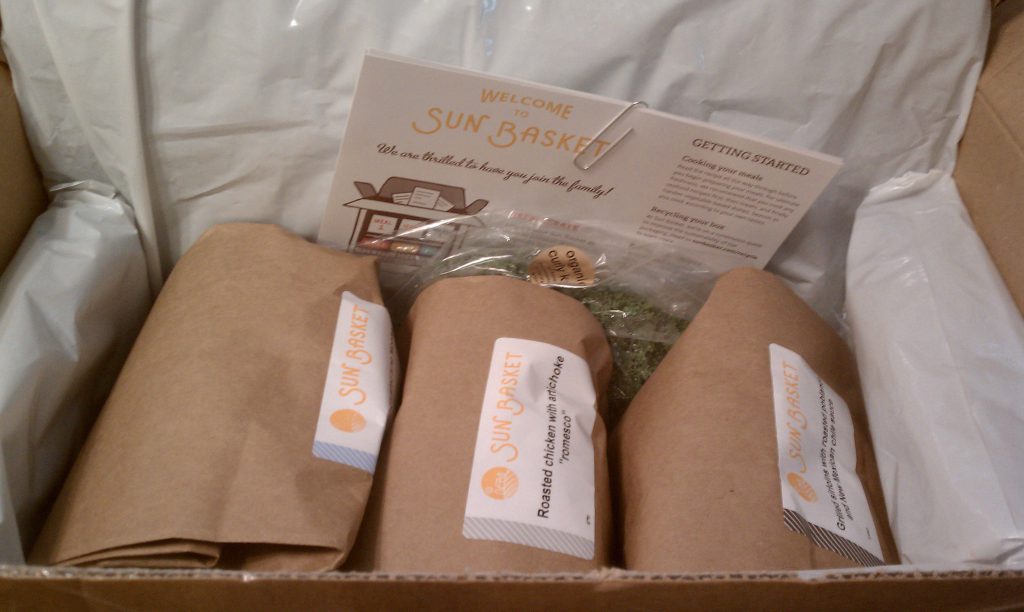 Under the bags is a piece of cardboard, another cute message that serves a purpose. It's a friendly reminder to grab your meats, seafoods, and proteins that are sandwiched between two ice packs (which are eco friendly) to keep them nice and cold. These are packaged individually for each meal. I was super impressed with the quality and learning about Fishpeople Seafood on the enclosed story card, where the Albacore tuna steaks were wild-caught added a nice touch of transparency.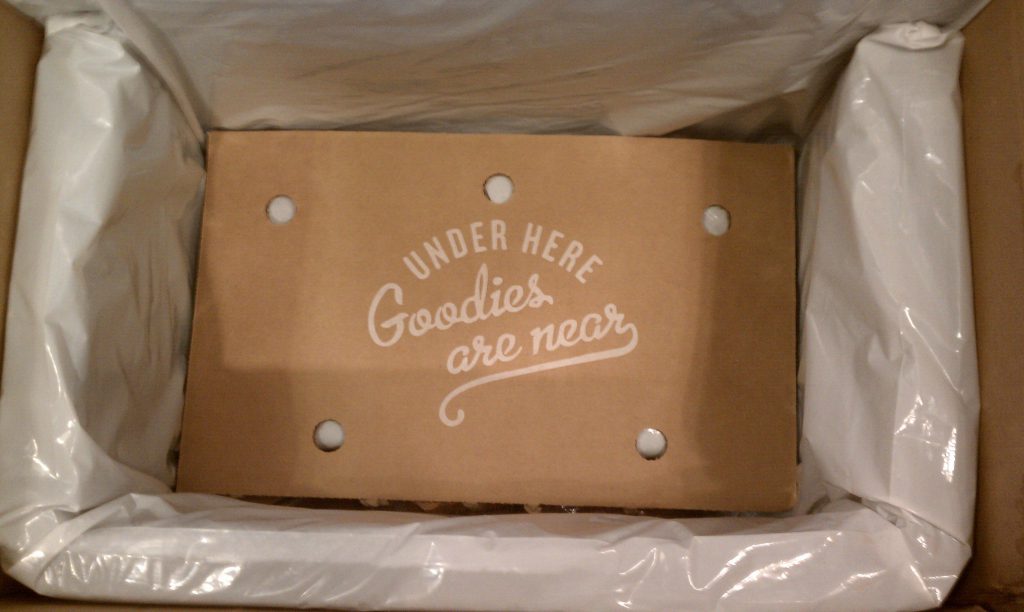 Besides the quality of the ingredients, I was impressed with the nice touches like sauces already made so that you don't have to lift a finger, the dressing base was already combined so that all I had to do was add olive oil, garlic cloves were already peeled. Too easy! I was happy that even though they were already made, the ingredients in each sauce and dressing base were listed on the recipe cards so I still knew what I was putting in my body – and it checked out just fine!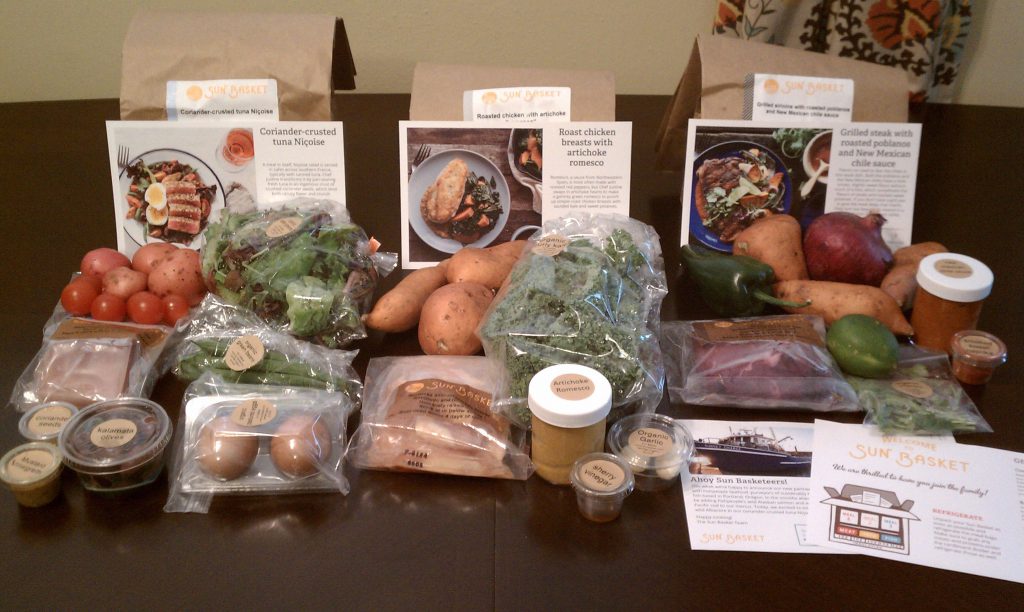 Notice a theme here? I wouldn't normally eat potatoes three nights in a row and yep, all three meals included them – a total oversight on my part when I was choosing my recipes. I will pay better attention next time.
I had to open some containers for a little teaser…I'm not gonna lie, the romesco sauce and New Mexican chile sauce made me drool a little!
The Meals
I wanted to test out how easy it is to customize meals when placing your order, so I chose the first from the current menu, and the other two were customer favorites (they feature three of the most popular recipes for a couple weeks). Here are the meals we cooked and tried from Sun Basket:
1. Coriander-crusted tuna Niçoise
2. Roast chicken breast with artichoke romesco
3. Grilled steak with roasted poblanos and New Mexican chile sauce
Coriander-Crusted Tuna Niçoise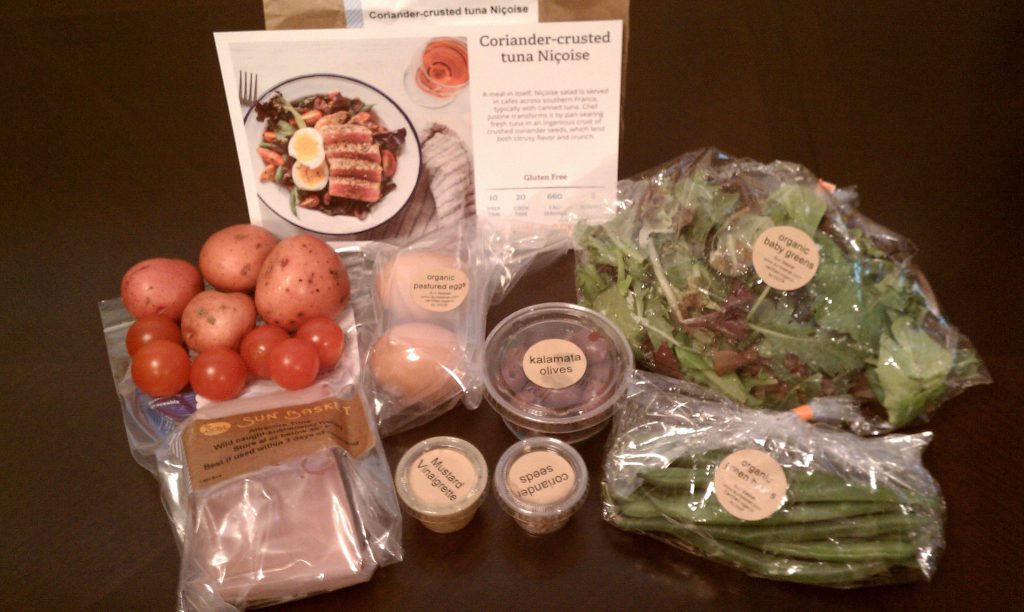 This was the first meal I made based on the suggestion from Sun Basket to make seafood first for ultimate freshness, plus I like my baby greens fresh, which were included in this recipe. Let me tell you, this was not your average tuna Niçoise! Chef Justine elevated the ingredients so beautifully.
I've had coriander before but the bright, fragrant citrus note it added as the crust of the tuna was something pleasantly surprising and a new experience for me. The baby greens were fresh, not wilted at all, veggies bursting with flavor, dressing super yummy, and the (pasture-raised) hard boiled egg added a nice touch.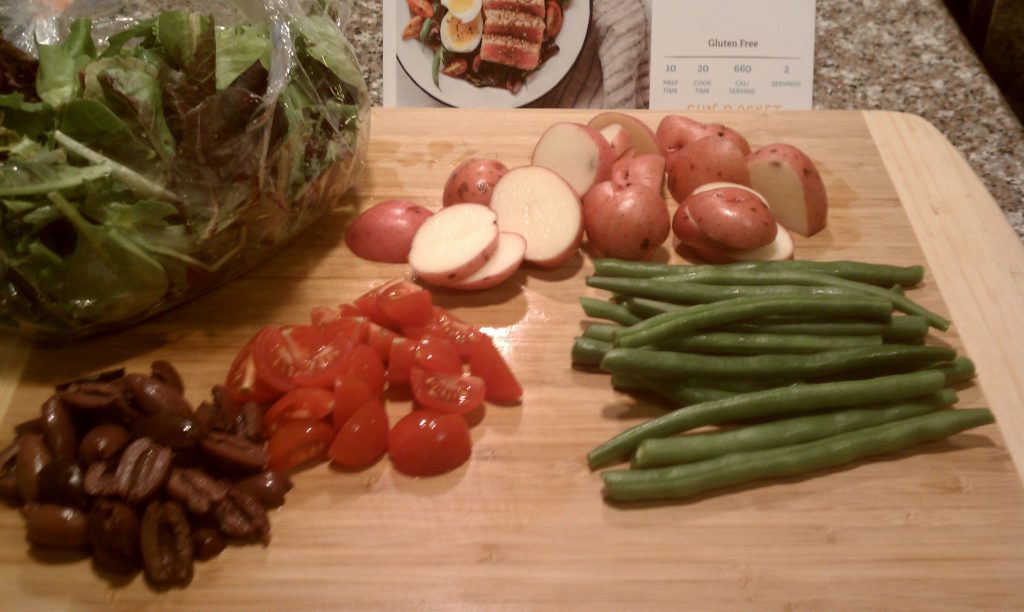 Honestly, I wasn't convinced it would be filling (I can eat a lot of salad) but it really was, in fact it even satisfied the hearty appetite of my other half, which is saying a lot! He really enjoyed this too. Overall a really fresh, delicious meal I would enjoy many times over.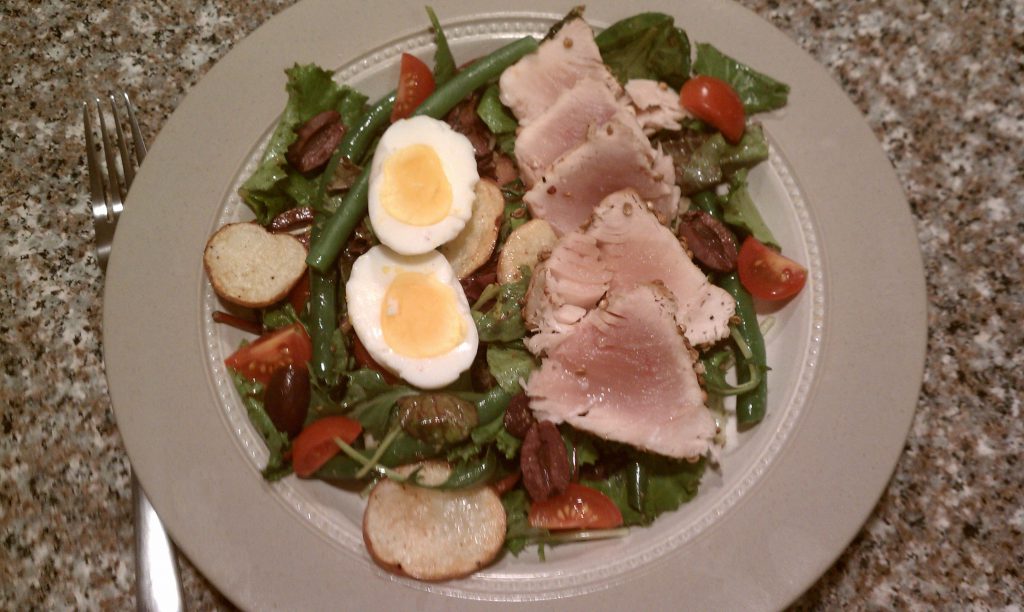 Other tidbits:
1. Maybe it was me, but I felt this recipe included the most steps and the 30 minute time was an under-estimation, especially when you're having to blanch things and run them under cold water to cool down, hard boil eggs and cool them down before peeling and such. It ended up taking me more like 40-45 minutes, which from start to finish is still fast in my book.
2. This recipe also involved the most dishes, which was a lesson for me…not only are you going to have cookware but also a bowl and more utensils to wash when you have to toss a salad too, McFly!
3. My tuna ended up more done than I would've liked, but so it goes with any cooking – you still have to watch your cooking times no matter what the recipe says. If you use common sense you'll be fine, for some reason mine was on pause that night. In the end it was all good :)
Roast Chicken Breasts With Artichoke Romesco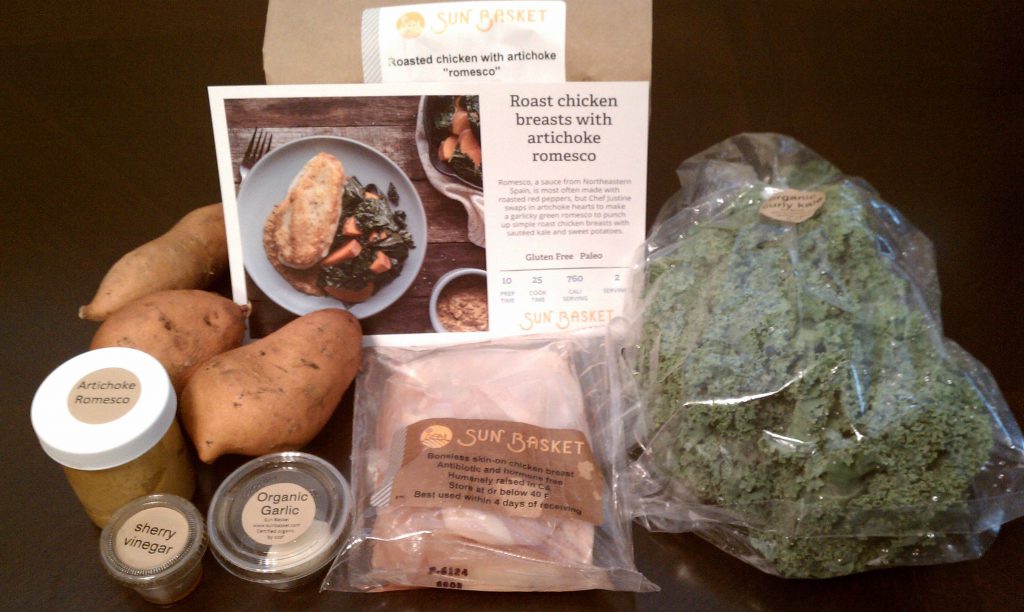 I cooked this up the second night. This was both our first time trying romesco sauce, which was already prepared for me (love that!) and apparently is most often made with roasted red peppers but once again Chef Justine put her spin on it making it with artichokes instead and we both loved it. The garlicky, slightly tangy, and sightly sweet sauce was delicious on the chicken and paired nicely with a side of kale and sweet potatoes. Total winner for both of us!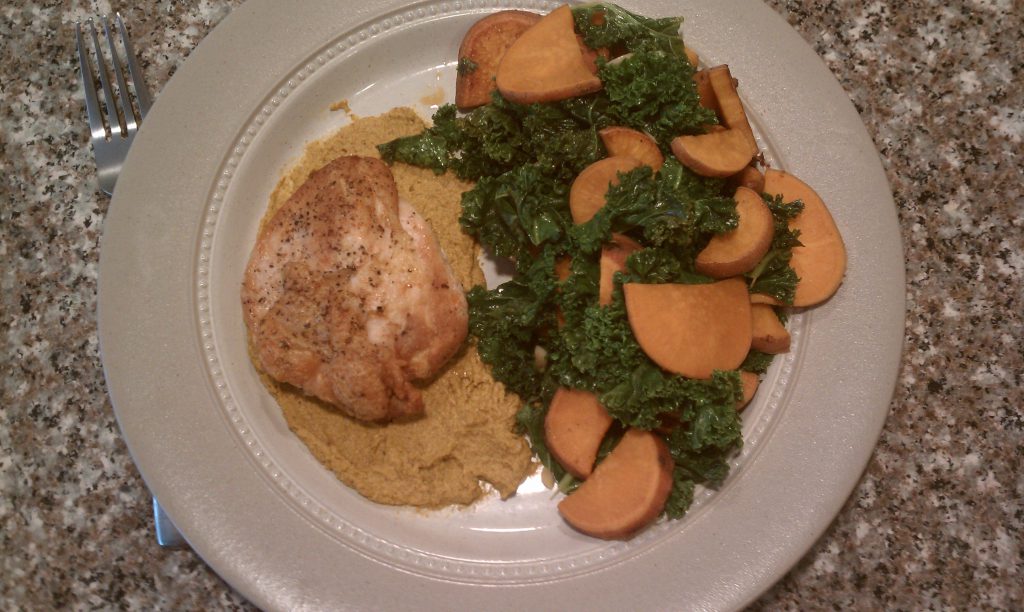 Other tidbits: The suggested 35 minutes for this recipe was pretty spot on. It only required a saute pan and a baking pan. Although it didn't say to heat the romesco sauce, we decided we would next time. Also there was a generous amount of sauce, so generous that he didn't finish his…I, on the other hand, had no problem…
Grilled Steak With Roasted Poblanos and New Mexican Chile Sauce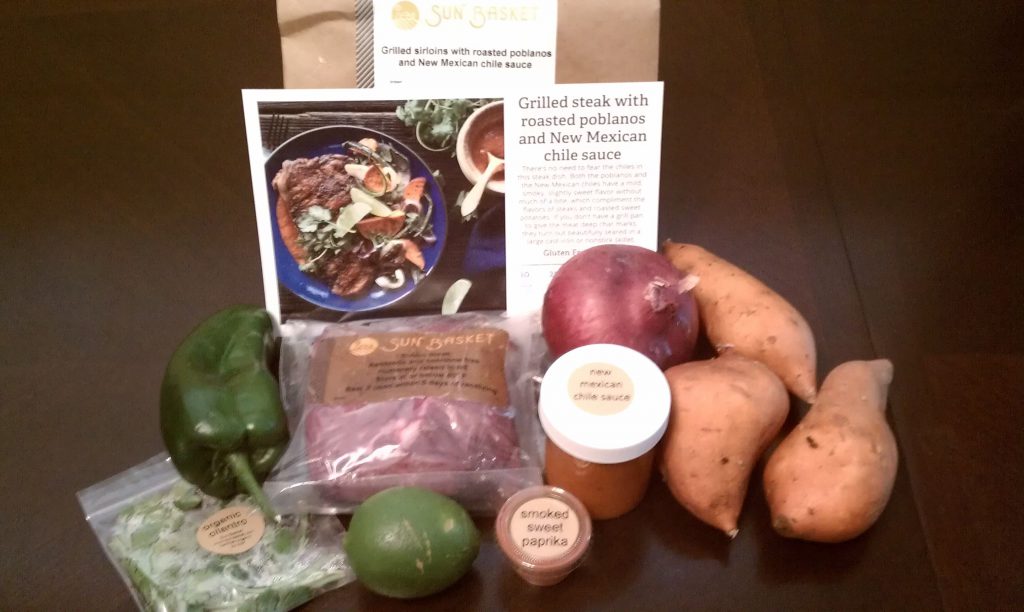 The final meal was our absolute favorite. To make this Sun Basket test fair, and because steak is so manly, my other half tried his hand at this recipe. No complaining from this girl! In the spirit of good clean fun and Iron Chef we decided to make it a competition – who's plate looked closest to the recipe picture?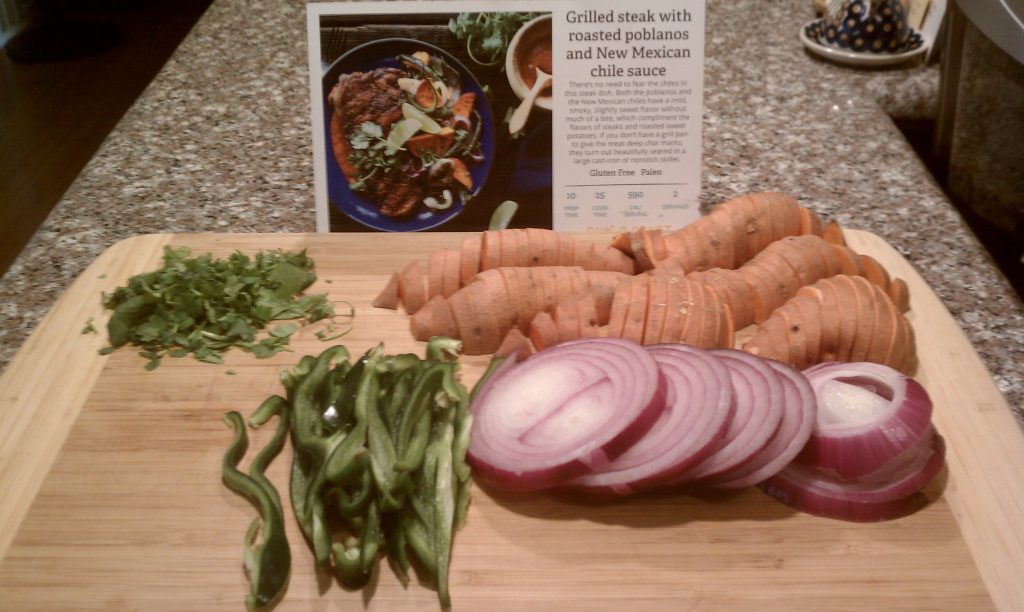 This plate, ah this plate was abso-freaken-lutely the bomb. I mean To. Die. For. We both couldn't stop eating it even though the portions seemed large (no complaining here) and I couldn't stop talking about how amazing it tasted (he doesn't talk so much, especially when there's food involved).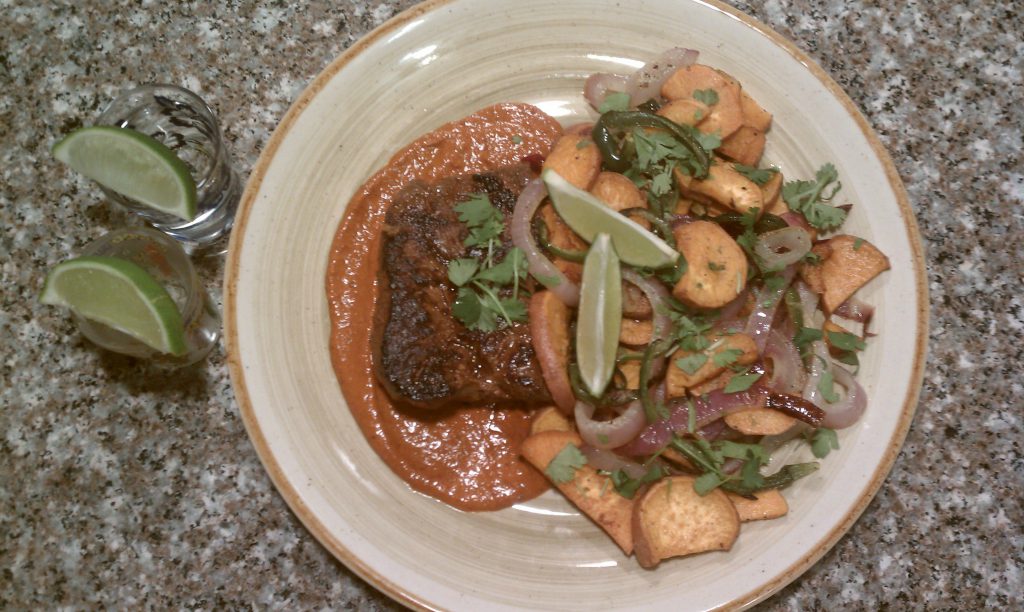 The steak was tender and juicy, the New Mexican chile sauce (already prepared!) had just the right spiciness and was so killer I could've drank a bottle of it, and I wouldn't have thought to roast sweet potatoes, poblano peppers, and onion together but it was an awesome combination that went amazingly well with the steak and sauce. We would have no qualms eating this every week. Loved, loved, loved this!
How about this plate? I have to admit, this plate looks pretty dang awesome. I must accept my defeat now, but have no fear, I shall carry on.
Oh, and it was Friday night so we had to have a shot of tequila with it! One more for the encore…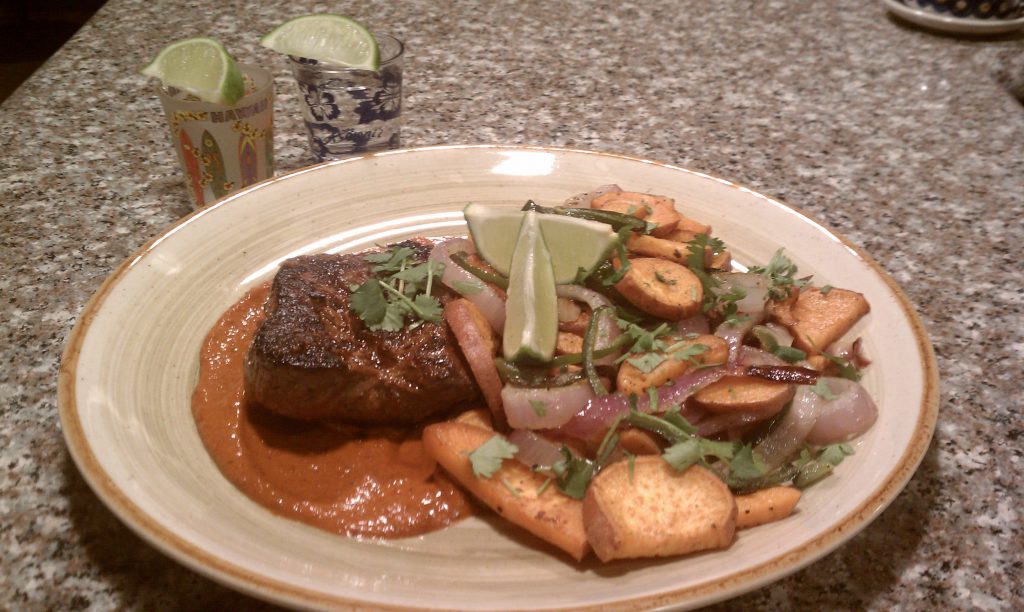 Other tidbits: Instead of 35 minutes this took more like 45 to make, but I think that's pretty good for a steak dinner. Minimal tools involved here – I liked that if you didn't have a grill pan you could use a skillet and a baking pan to roast the veggies.
The Cost
Obviously when it comes to cost, I don't know of any meal delivery that can compare to buying your own groceries at the market. At first glance it may seem expensive. I thought so, but after being able to experience it I am better able to gauge all the factors that contribute to a meal kit service and the multitudes of benefits it offers.
If you're comparing apples to apples, the cost of Sun Basket is right in line with other meal delivery services offering top notch quality.
Compared to eating out Sun Basket is a cheaper option, plus way better for your health and waistline. Sun Basket organic meal kit delivery is a nutritional lifeline for busy people who are stuck in the rut of takeout and would rather eat fresh healthy home cooked meals if it were easy enough and not time consuming.
Classic Menu Meal Plans cost $11.99 per serving for 2 or 4 people and Family Meals cost $10.99 per serving for 4 people (for current pricing, see here).
Health savvy people often use this trick to minimize time spent on prep and cooking meals – cook once, eat twice. So if you need meals for just one person this is a great way to do that. Cook the meal for two, enjoy it that evening and voila! lunch is ready for tomorrow. It's a great way to stretch your dollars too!
When it comes down to it you can't put a price on the convenience, quality, freshness of the ingredients, and the yumminess factor of these meals that simplify your life in such a huge way.
No Obligation Ordering
This means that you can change, pause, or cancel your meals at anytime as long as you do it by the deadline before your delivery. Sun Basket also offers 100% money back guarantee on all food.
Gift Options
What better way to spread the love then by giving the gift of 1, 2, or 4 weeks of healthy meals from Sun Basket delivered to your friends and family. New moms love this! Details here.
Final Thoughts
Who doesn't love a fast and easy recipe? The recipes from Sun Basket are just that, with all ingredients pre-measured and step by step directions to make most meals in 30 minutes from prep to finish. This is made for busy people who want convenience without sacrificing freshness and nutrition.
Give Sun Basket a try and get FREE shipping on your first order! I don't know where you would find this quality of meals any cheaper, so it's definitely worth experiencing. You're going to love it! Just check out next week's menu and see if it's not making you drool a little bit!
Have you had Sun Basket's meals or any other meal delivery? Share your thoughts or questions below!

A huge thank you to the kind folks at Sun Basket for letting me try their meal delivery. I received no other compensation for this review. As always, all opinions are my own. I approach my reviews with objectivity in order to provide readers with an unbiased and honest opinion based on my personal experience with a product or service.