Walk into any grocery store or health food store and you'll find a massive section of protein bars of all kinds staring at you. But, can all of them be good for you? Truth: No. The fact is, some supposed "healthy" protein bars are not much better than your average candy bar. But, if you know what to look for, there are some good options available. Stick with me and I'll show you some of the best protein bars and what to look for when choosing them.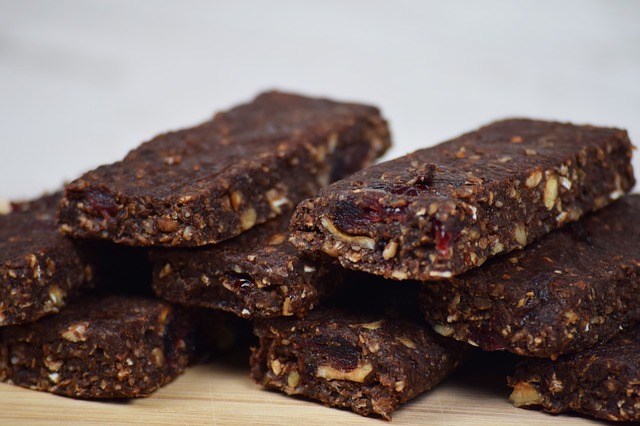 I'm a big fan of keeping simple healthy snacks, on me wherever I go. For one, it's a safeguard against grabbing the nearest option available in convenience stores, they're also handy for a quick source of protein before or after workouts, great for road trips, and help to keep that blood sugar level while day trippin on hikes, bike rides, and adventures of all kinds. Tons of people grab protein bars for a common quick snack thinking it's a healthy option. And some are, but there are a few things to be watchful for.
I'm also an advocate of satisfying an occasional sweet tooth with a bar, if you're about to grab a candy bar, these are a way better option for sure! At least you get real foods and even the addition of some superfoods with some nutritional content as opposed to a bunch of refined and processed junk. That being said, the key word here is occasional sweet tooth :) Or, if you're trying to wean yourself off a candy bar addiction, these bars can be a lifesaver along with increasing intake of healthier foods altogether.
Don't let those shiny wrappers and claims of 20 grams of protein lure you in. The last thing you want is a bar loaded with a long list of artificial ingredients and chemical preservatives that you can't even pronounce. Here are a few tips to help make shopping for protein bars easier.
What's the Source and Amount of Protein?
Protein sources have come along way since the dawn of soy and whey protein. Bars now contain protein from things like nuts, nut butters, seeds, sprouted whole grains, hemp, pea, and even meat, which are all great choices. Another option that makes some people cringe is crickets, which, if you think about it, other cultures have been consuming along with various insects forever – but don't worry, we'll avoid that one in this post. If your curiosity is peaked, check out Exo Bars.
While whey protein can still be a solid source of higher amounts of protein, especially in bars targeting sports and workout performance, soy protein isolates are a different story. Avoid bars with soy protein, especially since most are GMO sources. This type of soy is processed and doesn't yield the health benefits that true traditional fermented soy foods consumed in Asian culture do, and can even have negative effects, especially if consumed long term.
If you're looking to sustain energy levels during activity, aim for at least 10 grams of protein and more like 20 grams when burning lots of calories during an intense workout. If you're just looking for a quick snack to maintain blood sugar levels for a short period of time between meals, lower levels (3-6 grams) can do the trick.
Be Sure to Check the Sugar
One of the main reasons protein bars get such a bad rap as glorified candy bars is because they are loaded with refined sugars like high fructose corn syrup. The amounts can soar over 30 grams for one bar. That's definitely not good. But, even though many bars are now being made with low glycemic sugars, which is a much better option since they provide a sustainable energy load instead of a sudden rise in blood sugar, coming from things like dates, fruits, honey, maple syrup, and coconut nectar, you still have to be aware of how much sugar is actually in there.
If you're choosing bars with brown rice syrup or agave nectar, I would consume them in moderation, considering that while they may have some nutrient value, brown rice syrup is high glycemic (contrary to misinformation), and agave nectar (while lower glycemic), contains a high fructose content which can have poor effects on the liver and promote obesity when consumed regularly. Also, avoid bars with sugar alcohols – sugar free usually equals gastrointestinal problems.
How About Those Carbs?
Ah, the dreaded carb topic. Carbs have been so vilified, and for sure simple refined carbs never do any good for the average person, they really only serve an occasional purpose for intense athletic activity. But complex carbs (low glycemic), from things like dates, fruits, natural sweeteners, and whole grains can be a great source of sustainable energy and a helpful blood sugar stabilizer when you need it.
That pretty much sums up the tips, well…maybe one last thing, this probably goes without saying, but on the topic of overall calories in a protein bar, most bars contain around 200 something calories which is in the right range for a snack. A 200 calorie bar is not going to hold you over for super long, so if you're using it as a meal replacement, you want more like 300-400 calories.
Alright, now for the top picks. Based on the tips above – and taste, because at the end of the day the bar has to taste good, these bars are made with high quality protein, superfoods, healthy fats, fiber, and carbs from whole food sources.
Bars With a Decent Amount of Protein
Rise Foods Protein + Bar Almond Honey
Calories: 280
Protein: 20 g
Carbs: 20 g
Sugars: 13 g
Ingredients: Almonds, honey, whey protein isolate.
---
Shanti Bar Protein Bar Mulberry Vitality
Calories: 250
Protein: 17 g
Carbs: 21 g
Sugars: 11 g
Ingredients: Organic sunflower seeds, organic rice protein, organic almonds, organic dates, organic cashews, organic coconut nectar, organic figs, organic cacao nibs, organic cacao, organic maca, organic mulberries, organic cayenne pepper, organic cinnamon, celtic sea salt.
---
Raw Revolution Glo™ Bar Creamy Peanut Butter & Sea Salt
Calories: 180
Protein: 15 g
Carbs: 17 g
Sugars: 2 g
Ingredients: Raw Rev Superfood Blend (peanuts, pea Protein, organic brown rice protein, raw organic hemp protein, raw organic virgin coconut oil, raw organic chia seeds, raw organic sprouted flax seeds), Isomalto-Oligosaccharide (prebiotic fiber from tapioca), sea salt.
---
Vega Sport Protein Bar Chocolate Mint
Calories: 240
Protein: 15 g
Carbs: 29 g
Sugars: 19 g
Ingredients: Complete protein blend (organic sprouted whole grain brown rice protein, pea protein), organic tapioca syrup, organic brown rice syrup, organic cane sugar, organic dates, palm kernel oil, cocoa powder (processed with alkali), unsweetened chocolate, Vega saviseed™ (sacha inchi) oil, inulin (from chicory root), brown rice crisps, organic agave syrup, peppermint extract, natural vanilla flavor, sunflower lecithin, organic vanilla extract.
---
Squarebar Organic Protein Bar Chocolate Coated Cherry
Calories: 210
Protein: 12 g
Carbs: 23 g
Sugars: 14 g
Ingredients: Organic coconut nectar, organic sprouted whole grain brown rice protein, organic dark chocolate (organic cocoa liquor, organic cane syrup, organic cocoa butter), organic coconut oil, organic gluten free oats, organic cocoa liquor, organic cherries, sunflower lecithin, sea salt.
---
Epic Nutrition Protein Bar Bison Bacon Cranberry
Calories: 200
Protein: 11 g
Carbs: 10 g
Sugars: 8 g
Ingredients: Bison, uncurred bacon – no nitrites or nitrates added*, dried cranberries, lactic acid** starter culture, celery powder, sea salt. *Except those naturally occurring in celery powder and sea salt. **Not from milk.
---
Kind Caramel Almond & Sea Salt
Calories: 170
Protein: 6 g
Carbs: 16 g
Sugars: 5 g
---
Health Warrior Organic Pumpkin Seed Protein Bars
Calories: 170
Protein: 8 g
Carbs: 12 g
Sugars: 6 g
---
Greens Plus +plusbar Protein Energy Natural*
Calories: 230
Protein: 9 g
Carbs: 31 g
Sugars: 24 g
*Coming in right under 10 g of protein, this superfood bar is worthy of making the list, although carbs and sugars are pretty high, so keep that in mind. This is a longer ingredient list, but it contains a bunch of superfoods, not junk.
Ingredients: Organic dates, organic almond butter, organic honey, pea protein, greens+ superfoods, organic brown rice crisps (organic brown rice, organic brown rice syrup, sea salt), organic quinoa sprout powder, natural mixed tocopherols (vitamin E).
Greens+ Superfoods Advanced Multi Superfood Blend (sunflower lecithin (non GMO), organic wheatgrass, organic barley grass, organic alfalfa grass, Spanish bee pollen, royal jelly, organic vitamin B-complex (guava, holy basil, lemon extract), organic red beet juice, natural vitamin D3, natural vitamin E), sea vegetable multimineral blend (earthrise spirulina, algaecal plant calcium, Japanese chlorella, organic fulvic acid, dunaliella salina algae, organic Nova Scotia dulse), High-ORAC antioxidant fruit extracts (organic appleboost, camu camu berry juice, full spectrum grape seed and skin, European bilberry), standardized herbal extracts (milk thistle seed, siberian eleuthero root, astragalus root, licorice root, Japanese green tea).
---
Bars With Less Protein (Snackers)
Raw Crunch Bars Organic Dark Chocolate
Calories: 150
Protein: 5 g
Carbs: 10 g
Sugars: 5 g
Ingredients: Organic sesame seeds, organic sunflower seeds, organic pumpkin seeds, organic cashews, organic dark chocolate (organic sugar, organic unsweetened chocolate, organic cocoa butter, organic vanilla beans, organic soy lecithin), organic macadamia nuts, organic pecans, organic flaxseeds, raw honey, celtic sea salt.
---
Larabar Apple Pie
Calories: 180
Protein: 4 g
Carbs: 23 g
Sugars: 17 g
Ingredients: Dates, walnuts, unsweetened apples, almonds, raisins, cinnamon.
---
Health Warrior Chia Bars Chocolate Variety Pack
Calories: 100
Protein: 3 g
Carbs: 14 g
Sugars: 5 g
---
Kind Fruit and Nut Bars Almond and Apricot
Calories: 190
Protein: 3 g
Carbs: 21 g
Sugars: 12 g
Ingredients: Almonds, coconut, honey, non GMO glucose, crisp rice, chicory root fiber, soy lecithin.