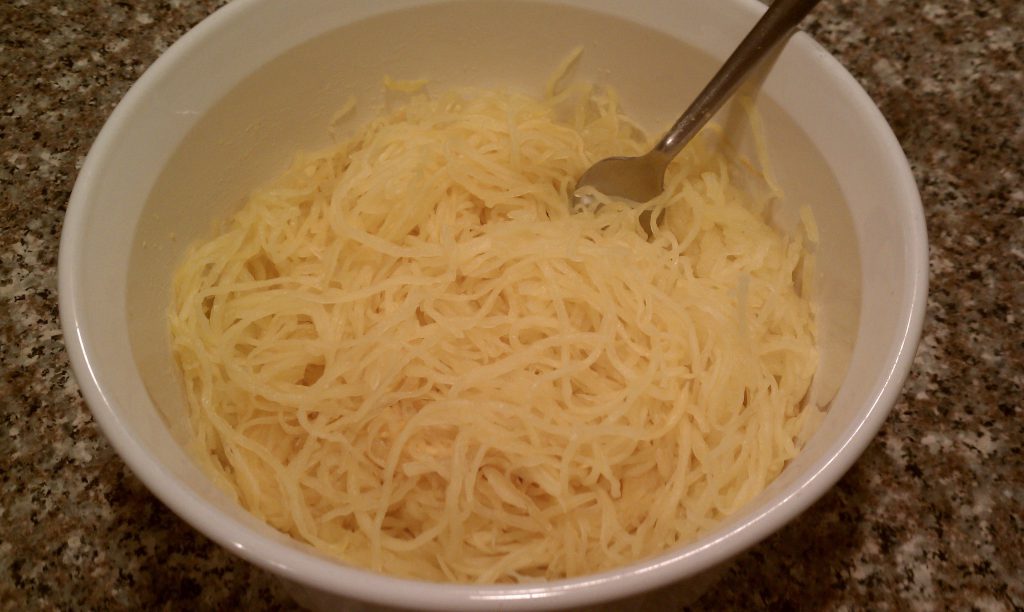 If you're looking for the best way to cook spaghetti squash you just found it! And you'll notice from my recent posts here on the blog, I've been a bit of a fanatic with fall and all of the squashy related things, so I figured why not keep with the spirit.
After trying different ways of cooking spaghetti squash I'm super excited to finally have found the secret since I never would have imagined it could taste this darn delicious. I mean I've always liked spaghetti squash but cooking it this way…all I can say is that if scrumdillyumptuous was an adjective, I would use it to describe this.
Seriously, if you haven't been a fan of spaghetti squash in the past, you may want to give it another chance and try cooking it this way, I have a feeling you'll be pleasantly surprised.
When it comes to versatility, spaghetti squash has a lot to offer both as a side dish and as the star of the show. You can enhance its sweet flavor with seasonings like cinnamon and butter, or add savory seasonings like cumin and paprika, or use it in place of pasta, which I love. However (not that I need to say this, but) it definitely doesn't taste like pasta.
Well heelllloooo there beautiful squashy!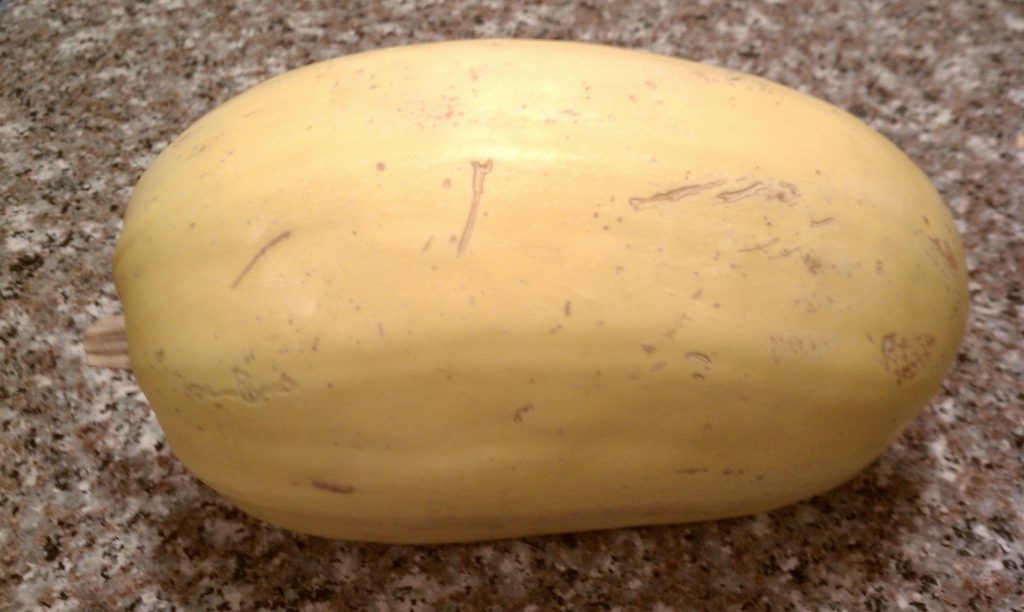 So for those people who say spaghetti squash noodles taste just like pasta – I'm callin' y'all out…let's be real here. As long as you're willing to accept that it's not meant to taste exactly or not at all like pasta and take it for what it is…a tasty complex carb alternative in my opinion =) you're good to go!
Back to what took me by surprise the most about the way this spaghetti squash turns out – it seriously tastes soooo yummy just roasting it brushed with a little olive oil and sea salt – that's really all it needs. It barely made it to the plate before I devoured it all by itself.
So we're going to roast this squash in the oven. Well great, what's so different about that right?! Well, lots of instructions tell you to bake the spaghetti squash at around 350° and to poke holes in it or microwave it and many tell you to add water to the bottom of the pan or place the squash cut side down. But when done this way, it really ends up more like steaming it than roasting it.
Trust me, there is a better way.
The trick is roasting it at a high temperature which emphasizes the squash's natural sweetness like I've never experienced before, almost a caramelized flavor. Gone are the days of soggy strands too, and you get nice long noodles cutting it widthwise instead of lengthwise. Easy enough right?!
Preheat your oven to 460°. Cut off a thin slice of each end of the spaghetti squash so it will sit flat. Then slice the entire squash in half widthwise and scoop out the seeds (or you can scoop them out after it's cooked).
In a baking dish place the squash halves with the center parts facing up and brush them with olive oil and sprinkle with sea salt. Bake for 40-50 minutes or until browned and strands easily pull out. Smaller squash take around 20-30 minutes to roast (this one took 30 minutes).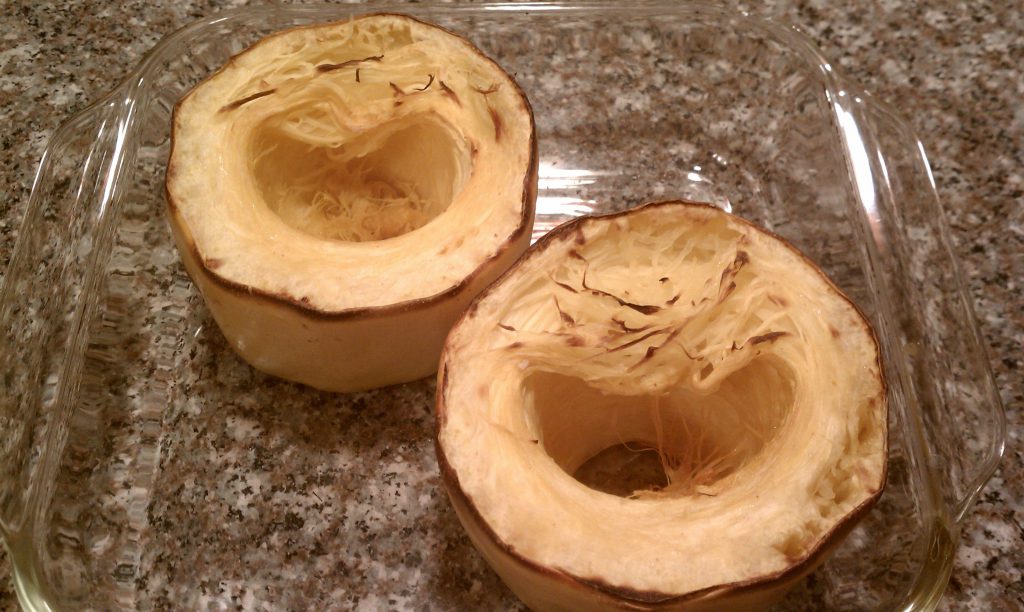 Scoop out strands with a fork and eat plain or add butter, seasoning, or sauce of your choice. This versatile veggie makes a great blank slate for tons of recipes :)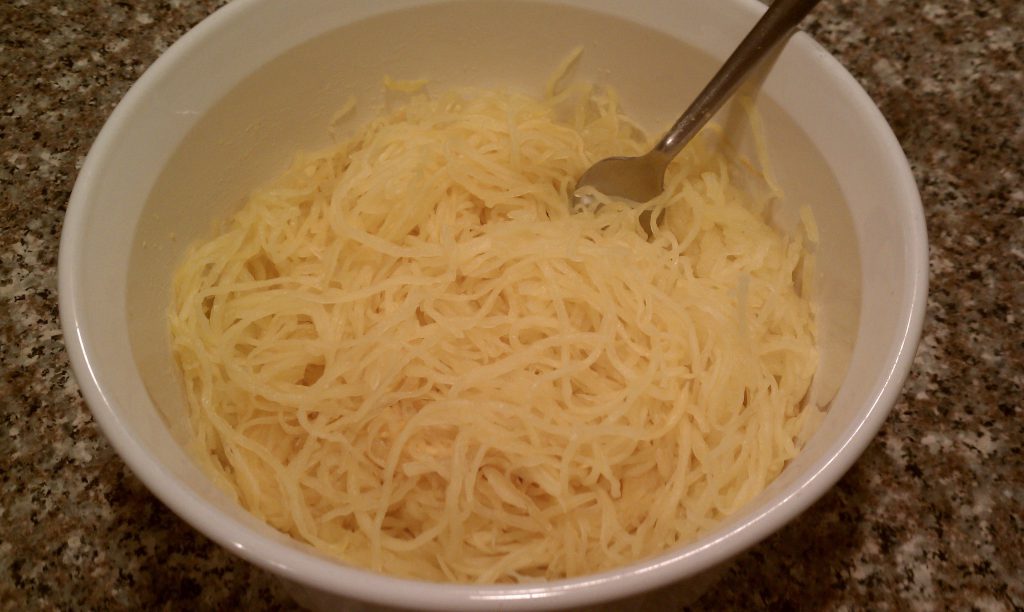 Hope you enjoy and let me know if you have any fun suggestions of how to prepare spaghetti squash in the comments below!