I've been on a recipe kick lately. All these yummy fall flavors keep calling my name. If you're a fanatic for all the things pumpkin (like me!) you are gonna love this pumpkin pie smoothie.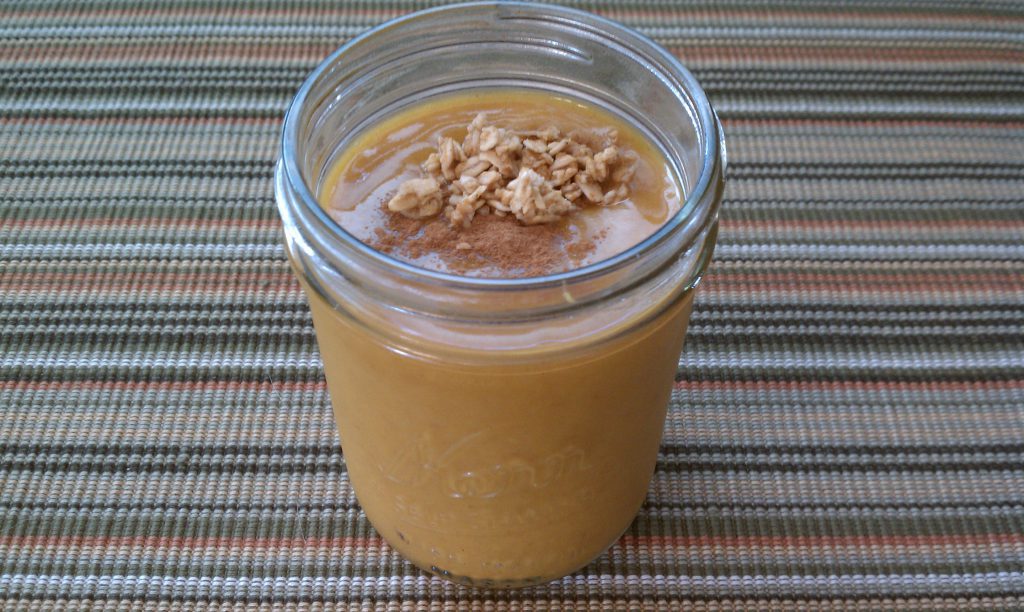 Add a little spunk to your morning with this delicious smoothie or enjoy it as a healthier alternative to satisfy your sweet tooth. It's seriously like pumpkin pie in a glass…well, okay – minus the crust. So it's like…
Sayonara carby crust and empty calories – and you, lovely antioxidants and fiber – you can stay. In fact, please do. Oh and you too complex carbs because the fiber will help you digest slowly and my body will use you for energy. Thank you very much.
Can I get a nom nom?
Pumpkin Pie Smoothie
INGREDIENTS
1 cup pumpkin puree
1 banana
1 Tbsp coconut oil
1 Tbsp maple syrup
1/2 tsp vanilla extract
1 1/4 tsp pumpkin pie spice
5 ice cubes
DIRECTIONS
Blend all ingredients together in a Nutribullet or blender until smooth and creamy. Enjoy!
You might also enjoy this apple pear ginger smoothie, another favorite full of fall flavor.
Let me know what you think of this recipe or share suggestions in the comments below!