Do you have an hour to spend at the gym everyday? If not chances are you're just as busy as most of us. Check out my Tony Horton 10 Minute Trainer review to find out if this is the fitness routine for you.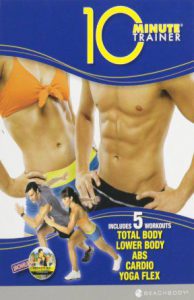 Product: Tony Horton's 10 Minute Trainer
Format: 2-Disc DVD Set
Best Price: Amazon
My Rating: 9 ♥ out  of 10 ♥
You're probably thinking: How can you possibly see any solid results from only 10 minutes of working out? And I totally get it, those were my exact thoughts when I came across this workout. I was so in the mindset of having to spend an hour on a workout to achieve results.
But with most of our busy schedules it can be hard to stick with a fitness routine when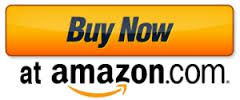 you can't find the time to fit it into your day. This is a huge reason many people quit before they even start. The time commitment is too overwhelming. They just can't fit it in.
And Then – How About That Gym?
Physical activity for me has to be something that I find engaging and interesting because the moment I find it boring I'll just stop doing it. Growing up I played sports and have always loved to dance, practice yoga, and stay active outdoors with activities such as hiking, swimming, and biking.
Trust me I also spent my fair share of time in gyms – for several years I spent six days every week there religiously. But at some point I got bored, my affinity for the gym dissipated, and I stopped going.
Years later I took a shot at another gym membership which turned out to be very short lived. One day I decided I'd had enough of the meat-market-active-wear-fashion-show-good-luck-getting-a-machine-if-you're-not-ripped-because-you-just-don't-fit-in scene.
Working out on machines in a gym just doesn't get me all that excited, and without excitement I have no motivation to stick with it.
That's the day I quite the gym for good and decided to stick with my love of the outdoors. With my new found sense of wanting to hork at the thought of stepping foot in a gym I started looking for fitness routines I would enjoy and could incorporate at home.
Don't get me wrong, gyms are great for some people, they help you stay fit, I'm not discrediting them, they're just not my thing.
The Benefits of Creating an Exercise Routine at Home
If you think about it, there are three main reasons for not exercising regularly. 1. Not enough time. 2. Need equipment (such as mats, weights, cardio machines, etc) and instruction. 3. FOWO.
Obviously there are more, but for the sake of keeping it simple I think most of us can relate to these three. The first one applies to exercise in general. The second would be reasons that a gym may appeal – for the machines and equipment, and maybe even a personal trainer. And the third is explained in this video:
For me, nothing beats the convenience of working out in the comfort and privacy of my own home. I can throw my hair up, throw on raggedy clothes that are just going to get sweaty anyway (I don't need to look pretty while I sweat), walk into my living room, pop in my Tony Horton 10 Minute Trainer workout and go! No packing a gym bag and driving to the get there.
I also kinda have a thing for my own shower afterwards.
Plus, let's face it, with so many people touching/using those machines, weights, exercise balls, etc, there's a lot of funky sweat floating around gyms and those mats are a breeding ground for germs. We've all seen people walk away without wiping things down after using them. Happens all the time.
Bonus: exercising at home decreases your risk of catching the latest virus or bacterial infection.
Let's Get in to 10 Minute Trainer
---
The 10 Minute Trainer 2-disc set
includes 5 workouts. Each workout begins with a short warm-up, followed by 10 moves each 1 minute long, and ends with a short cool-down. Only have 10 minutes to spare? Do 1 workout. Have 20 minutes to spare? Stack 2 different workouts. Able to carve out a few 10 minute blocks? Split them up into a few separate 10 minute sessions per day. Maximize your results by stacking 3 different workouts for a 30 minute total workout.
Total Body: Sculpt arms, shoulders, legs, and core
Lower Body: Slim and shape hips and thighs, and lift your butt
Abs: Tighten and tone your abs
Cardio: Burn fat with a fast sequence of cardio moves
Yoga Flex: Lengthen and tone muscles and core
Pros
---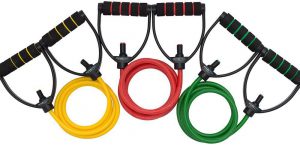 You won't need a bunch of fancy equipment. All you need are quality resistance bands
. And you can add more resistance for some of the cardio moves with a cardio belt. I use the resistance bands and do the cardio without the belt. It's really your call.
Tony stands by as the trainer, timing and prompting the exercises as someone demonstrates each move. The "Trainer Track" option is great when you're just starting out so you can hear personal training tips from Tony as you go. I found it helpful while learning the exercises, to learn the proper body mechanics and form.
Not much space is necessary to perform the exercises either, most living room spaces should work just fine (including apartments).
The exercises aren't difficult to learn or do, but they move rather quickly which can make it tricky to keep up with the switching of positions and placements of the resistance band until you get the hang of it.
If at first you find you can't do the full minute of each exercise (especially if it's been a while since you've exercised) or can't keep up with the quick pace, simply go at your own pace until you build up more stamina. And you will after doing this regularly :)
Again, you really wouldn't think you could work up such a sweat in 10 minutes, but you do and you feel great, which inspires you to shoot for 20 then 30. In 30 minutes of these workouts you burn as many calories as you do with 30 minutes of jogging.
Cons
---
All five workouts are split between two discs instead of five. Cardio and Yoga Flex are on one and Total Body, Lower Body, and Abs on another. In my opinion it would be easier to access them all from one disc rather than changing out discs in the middle of the routine if you're stacking workouts.
The other annoyance is having to skip past the Beachbody Ad to get to the actual workout, but this is easily avoided by going straight to the menu instead to make your selection.
Like many fitness DVDs the music selection is fairly cheesy. But since I have learned the routine and do it in regular mode instead of "Trainer Mode" I have switched to playing my own music in the background instead. All in all not too many cons considering the pros.
Effective Fitness Routine That Doesn't Require a Ton of Time
When I first started doing these workouts, I noticed results within the first two weeks. My clothes fit looser and I had more energy. Within just three months I lost a few inches, gained more strength, stamina, and energy. My arms and thighs were slimmer and more toned, my butt more lifted, and my core more defined. These workouts definitely keep you in shape and overall feeling happier and healthier!
As I said I love the outdoors, dancing, yoga, and the like – those things I could do all day long but when it comes to a workout routine I'm all about getting the most results for the minimum amount of time, and that's why 10 Minute Trainer fits the bill for me.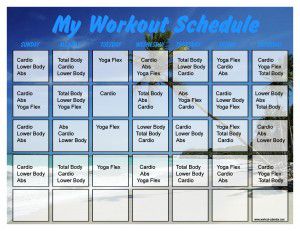 Get your copy of 10 Minute Trainer here.
Keep in mind these are the DVD's only. I ordered my resistance bands separately and downloaded a workout calendar to keep on my fridge.
If you would like the package with everything included (same five workouts plus a bonus abs workout, Tony's On-The-Go Workout Cards, Pro-Grade Resistance Band Kit, Cardio Belt, Customized Workout Calendar, Rapid Results Guidebook, Tony's 10-Minute Recipe Guide, and 2-Day Jump Start Plan) click here.
I hope you find this review helpful. Have you tried 10 Minute Trainer? Feel free to leave any questions or comments below and I will do my best to answer them!