So here's what happens when the warm, slightly spicy flavors of ginger, cardamom, cinnamon, and cloves meet coconut milk, vanilla and chia seeds – delicious, creamy vanilla chai spiced chia pudding (say that five times fast!) oh yes, it is indeed quite happening. In your stomach, that is.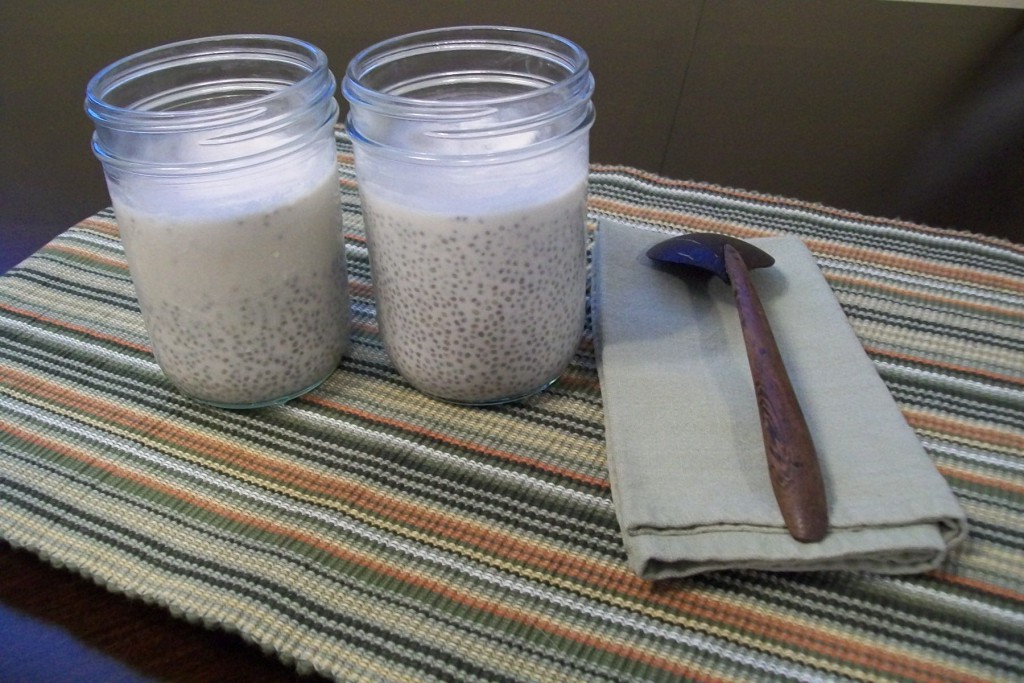 On a healthy note: chia seeds are rich in essential fatty acids particularly Omega-3s, high in fiber and quality protein, and a good source of minerals and antioxidants. This chia pudding is dairy and gluten free. What's not to love about that? And on top of being enjoyed as dessert it's great for breakfast too.
And all the chai lovers, please stand up!
Vanilla Chai Spiced Chia Pudding
serves 2
INGREDIENTS
1 (13.5 ounce can coconut milk), blended
1 cup brewed masala chai tea
2 Tbsp honey
1 tsp vanilla extract
pinch of himalayan salt or sea salt
1/2 cup chia seeds
DIRECTIONS
Pour equal servings blended coconut milk into 2 separate 16-ounce mason jars
Add 1/2 cup chai tea, and 1/4 cup chia seeds to each jar and shake well
Add 1/2 tsp vanilla extract, 1 Tbsp honey, and a pinch of salt to each jar and shake well
Refrigerate overnight allowing chia seeds to absorb liquid and soften
Serve and enjoy!
Note: It is important to blend the coconut milk before adding the other ingredients so that the pudding is smooth and creamy instead of having little lumps of coconut milk in it. You can substitute maple syrup or other sweeteners but you may have to adjust the amounts depending on how sweet they are.
If you're a chocolate lover try my chocolate cherry chia pudding.