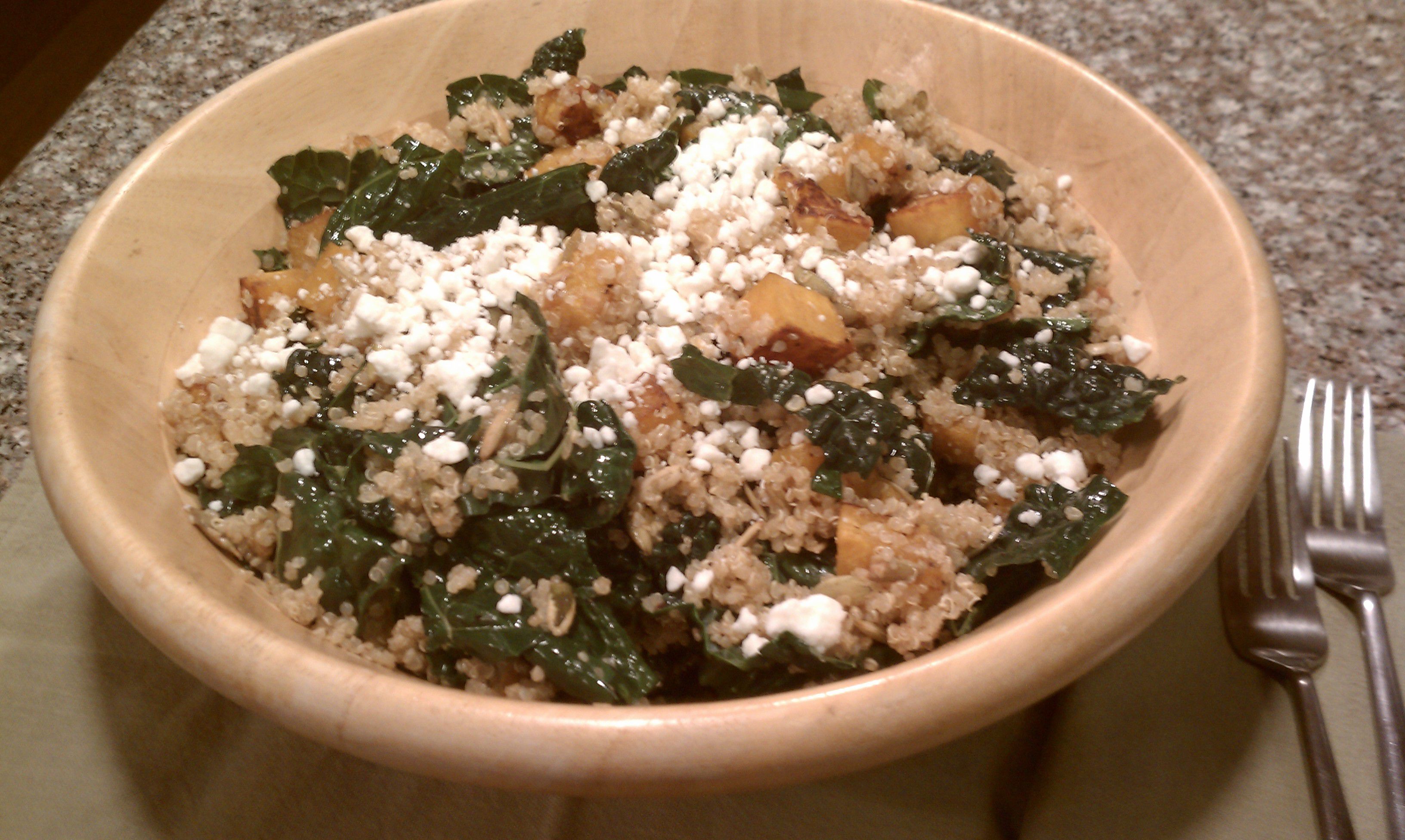 Fall is here! Yesterday was the first day it finally started to feel a bit fall-ish here in our neck of the woods on the West Coast. It's been in the eighties here lately…in October, can you believe it?! Not that I'm complaining about the beautiful weather but I do look forward to all the wonderful things fall brings including cooler weather.
Speaking of the wonderful things fall brings…can we talk food…specifically squash. I can never get enough of the many varieties of squash in all their comforting and roasted splendor. Our friends graciously gave us a beautiful butternut squash which I would normally just cut in half, season, and roast up, which is scrumptious in its own simple right, however, feeling all inspired by fall as I am I decided to go bonkers and make this wonderful salad instead! And boy am I glad I did. Simply yum.
If you're a butternut squash lover you're really going to enjoy this salad. The sweet and subtly spicy roasted butternut squash is delicious enough to eat on its own or served as a side with a roast chicken or any other main dish, but it's incredibly yummy mixed with quinoa and kale in a warm salad for a hearty and comforting fall dish.
We scarfed ours up as a meal with leftovers to enjoy tonight (I bet it'll taste even better!) but it would most certainly make a great side dish too.
Note to self: Remember to make this for your next potluck.
Warm Roasted Butternut Squash, Quinoa and Kale Salad + Crumbled Goat Cheese
recipe adapted from Simply Scratch
serves 4 as a main dish or 6-8 as a side
INGREDIENTS
1 medium butternut squash, peeled and cut into 1/2 inch pieces (you'll need 4 cups)
1 Tbsp olive oil
1 Tbsp dark brown sugar
1 tsp smoked paprika
1 tsp sea salt
3/4 tsp cumin
3/4 tsp ground coriander
1/4 freshly ground pepper
1/8 tsp nutmeg
1/8 tsp cayenne
1 cup quinoa
1 bunch lacinato kale, stripped from stems, rinsed and patted dry, and chopped into bite size pieces
1/2 cup roasted pumpkin (pepita) seeds
1/2 cup crumbled goat cheese
DRESSING
1 Tbsp whole grain dijon mustard
2 Tbsp honey
1/4 cup apple cider vinegar
juice of 1/2 a fresh lemon
1/2 cup olive oil
1/2 tsp sea salt
1/4 tsp freshly ground pepper
DIRECTIONS
Preheat oven to 400°
In a large bowl, toss butternut squash, olive oil, and all spices together until evenly coated. Spread out evenly on a baking sheet and roast for 20 minutes, rotating pan halfway through
Meanwhile, rinse quinoa until water runs clear. In medium saucepan add rinsed quinoa and 2 cups water and bring to a boil. Once boiling, reduce heat to simmer, cover and cook 15-20 minutes until all liquid is absorbed. Fluff with a fork and set aside
While squash and quinoa are cooking, prepare dressing by adding all ingredients into a small bowl or mason jar and whisk or shake until well combined
In a large bowl add chopped kale, warm quinoa, roasted butternut squash and pepitas, season with a pinch or two of sea salt and freshly ground pepper, drizzle with a 1/4 cup of dressing or more to taste and toss together. Serve warm and enjoy!
Salad assembly looks like this…add chopped kale to a large bowl.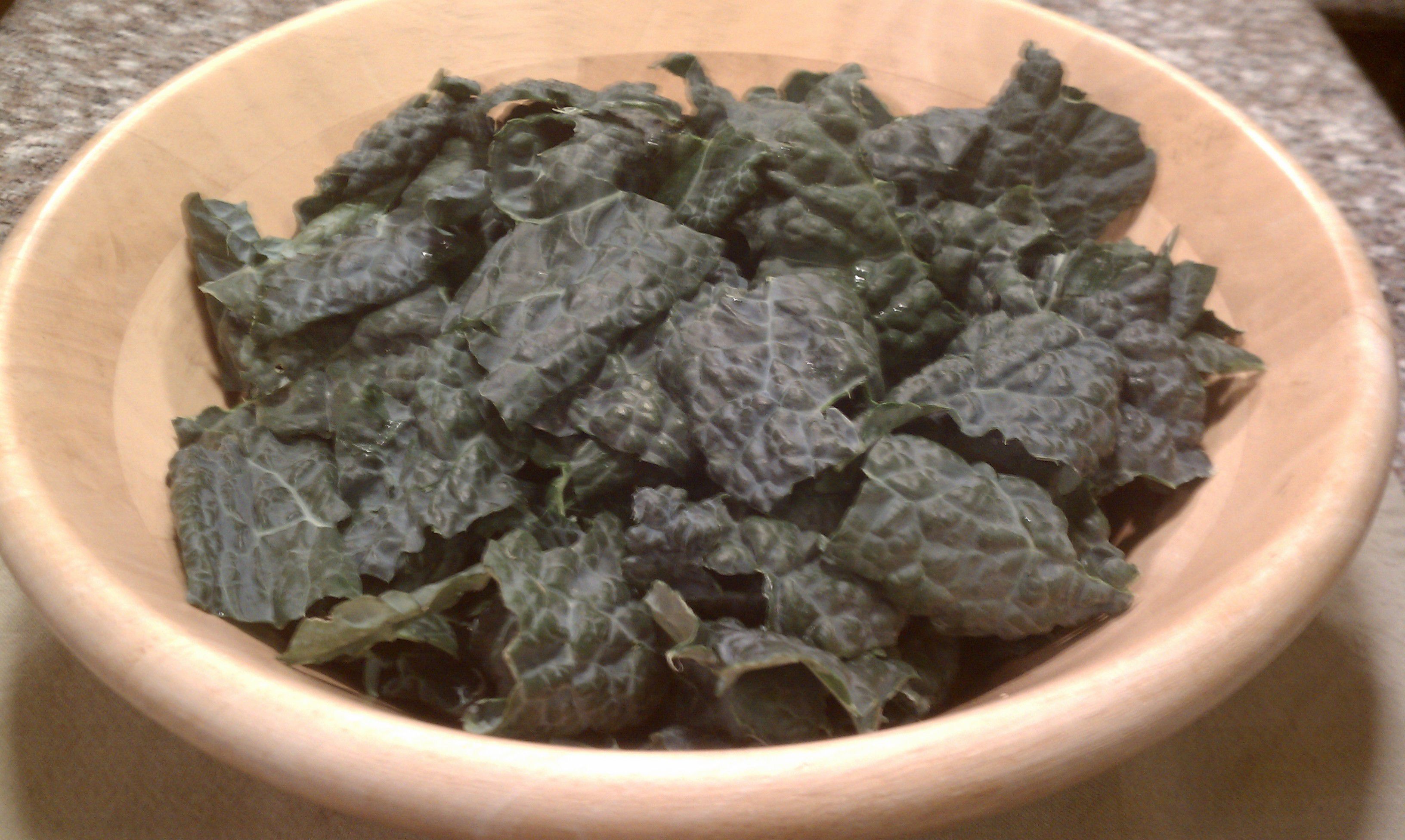 Add warm quinoa.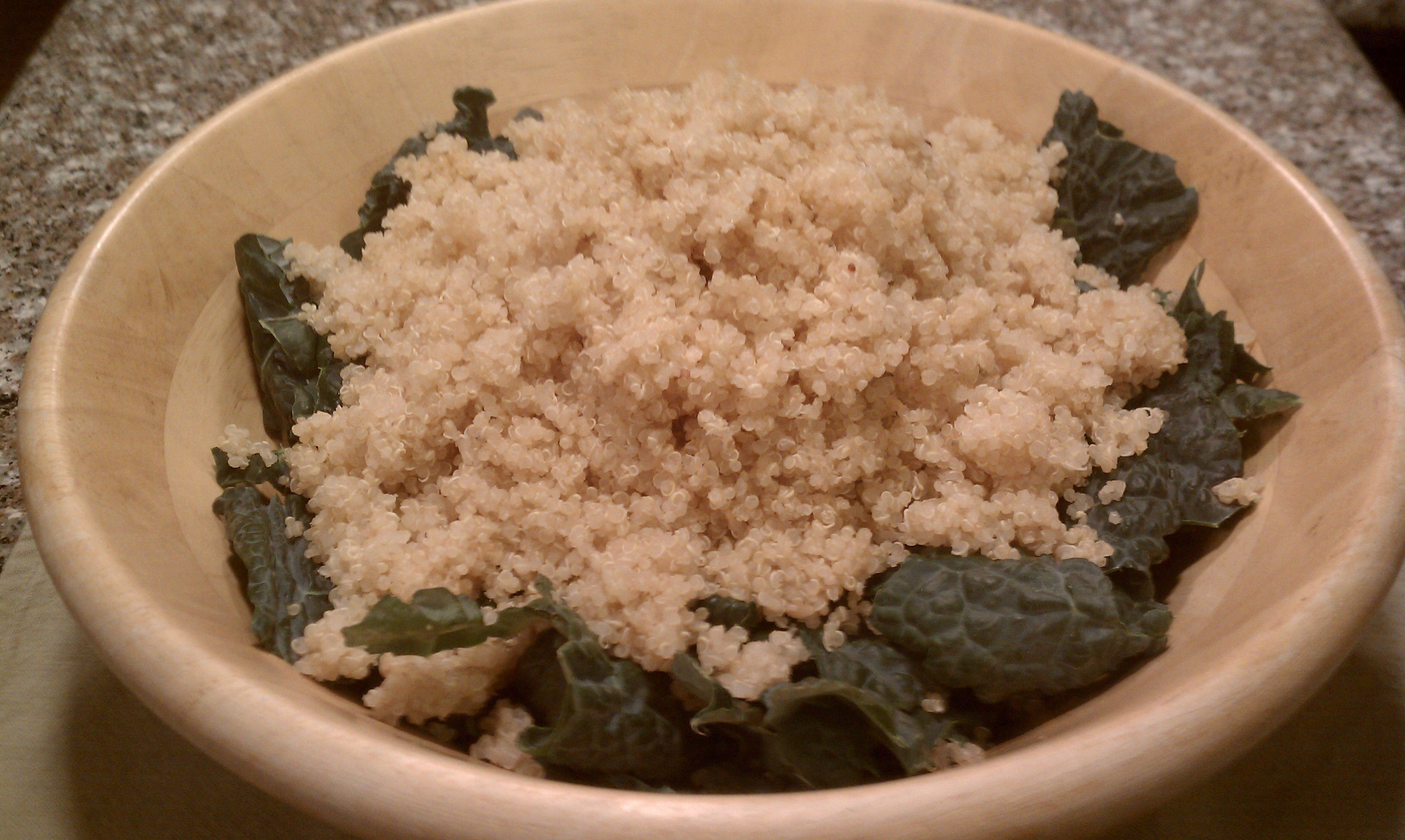 Pile on roasted butternut squash.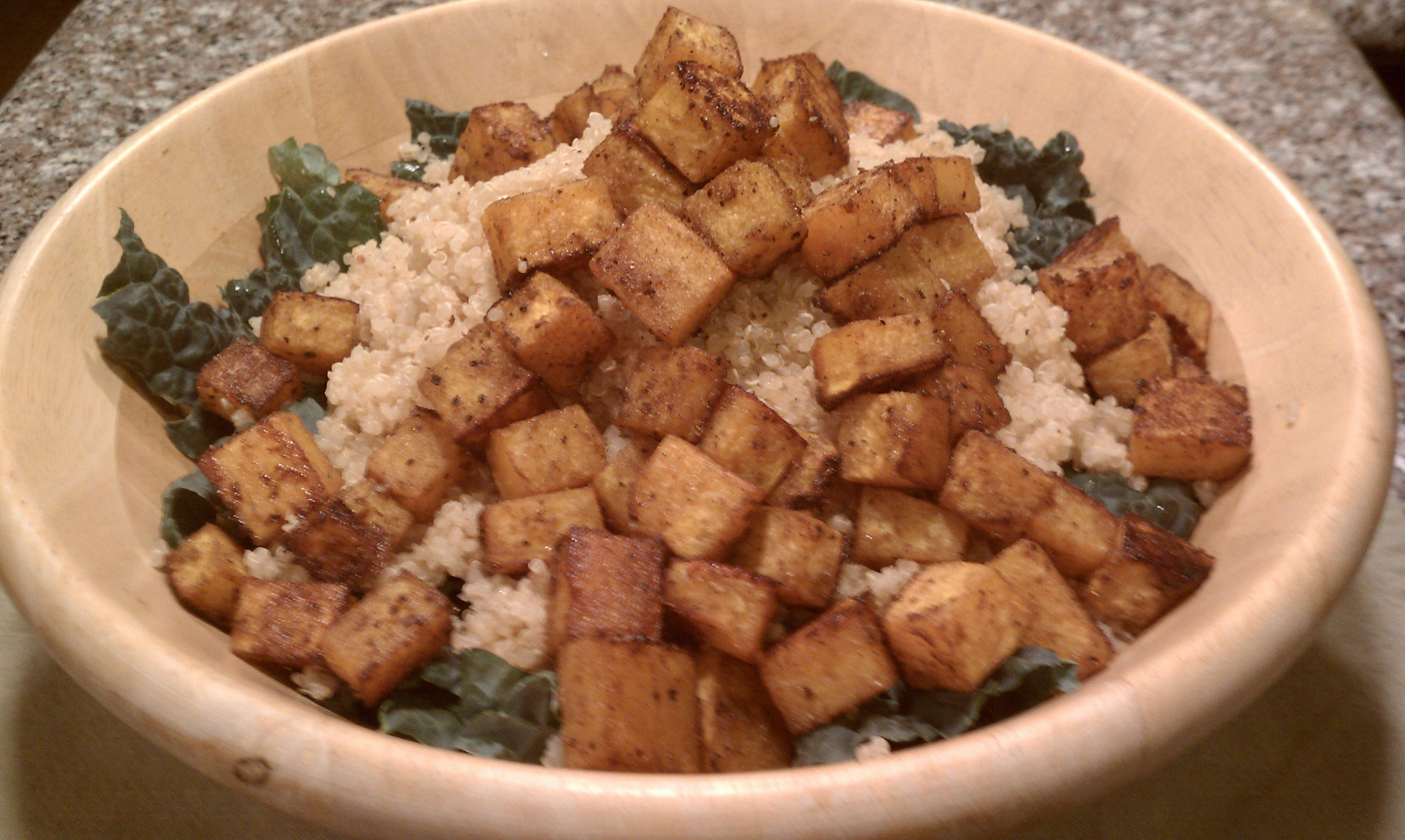 Sprinkle on roasted pepitas.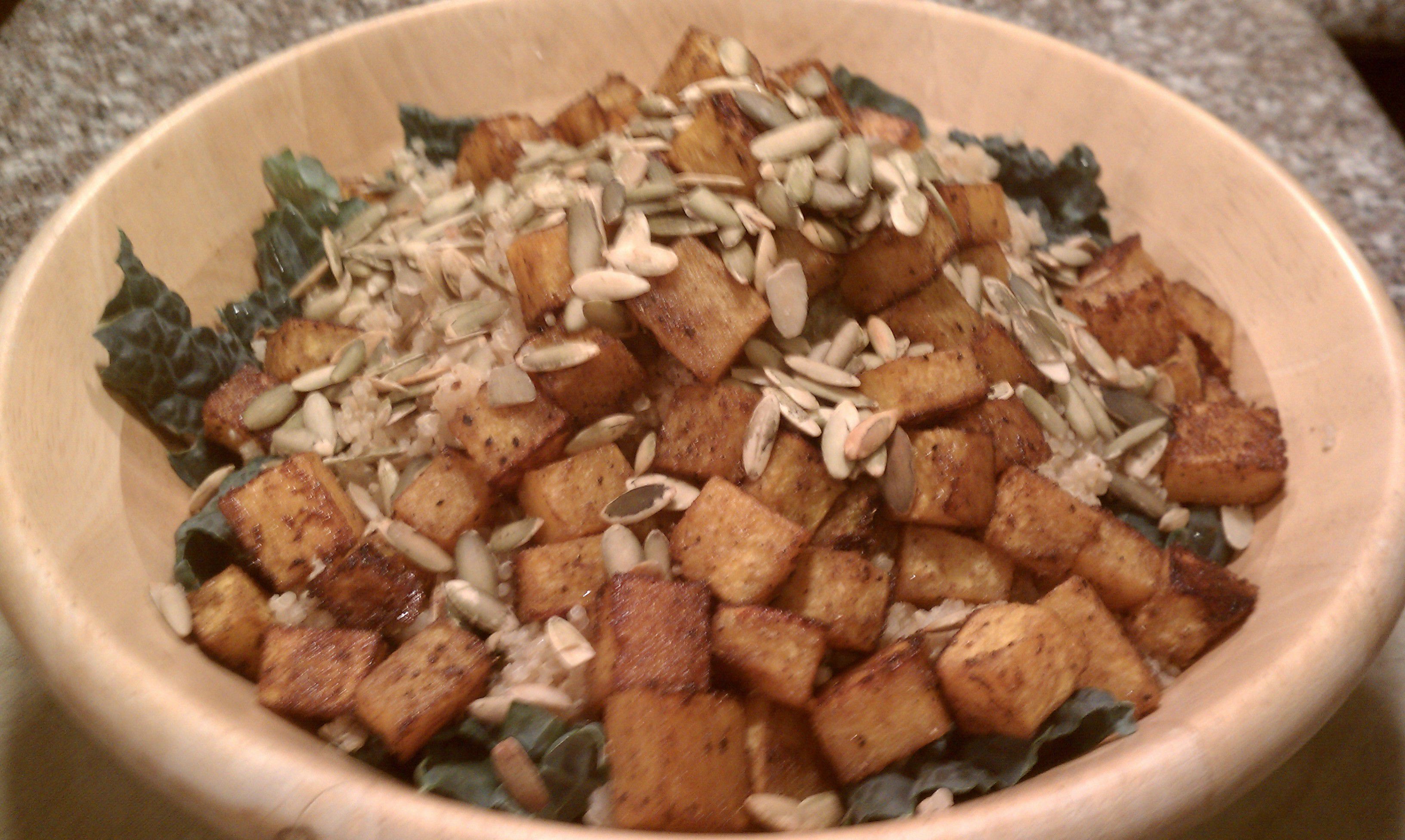 Drizzle on dressing, give a nice toss, top with crumbled goat cheese, serve and enjoy!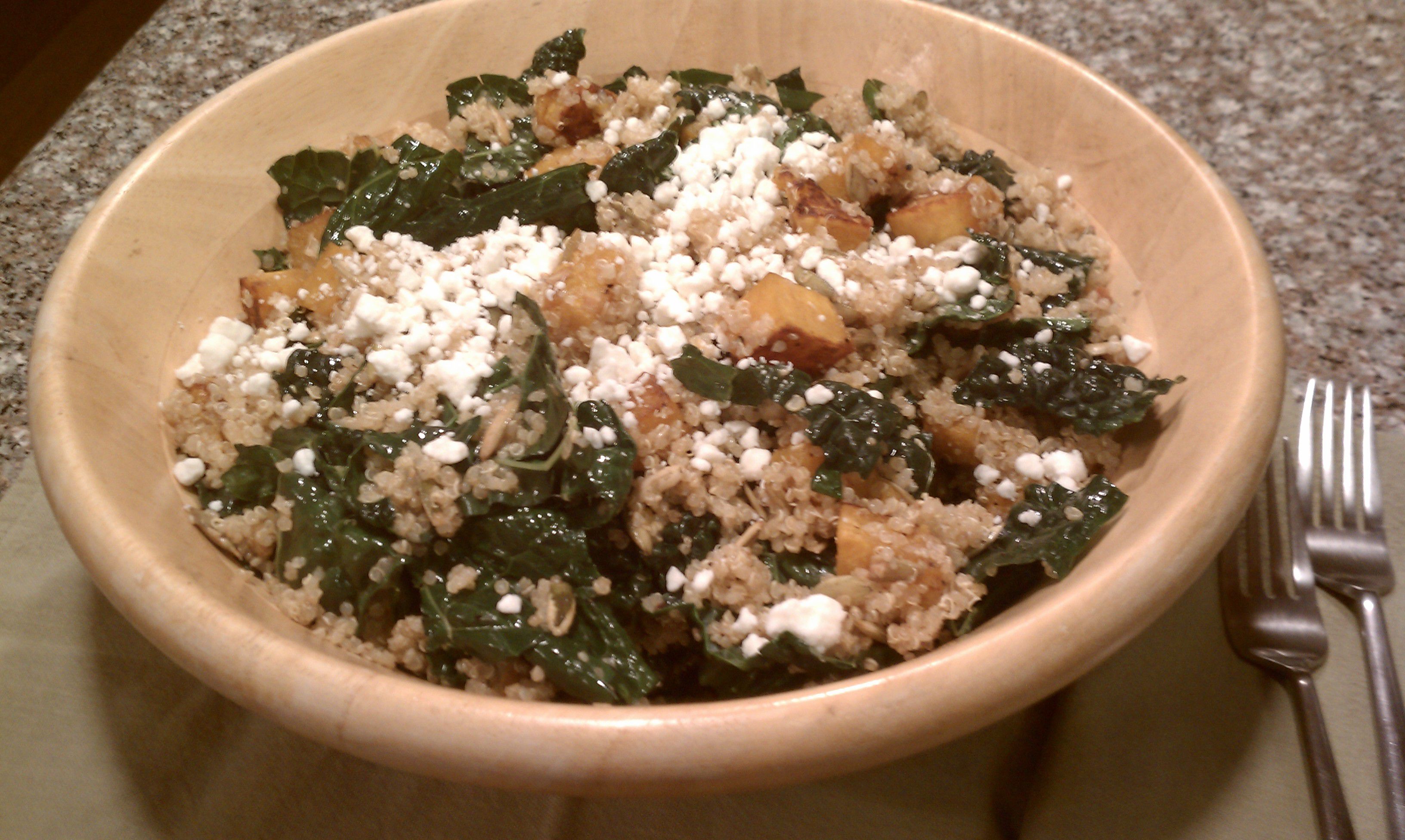 Notes: To speed things up a bit I used already crumbled goat cheese and roasted pepitas, of course you could crumble your goat cheese if you have a log on hand or roast your own pepitas if you happen to have raw ones on hand. To lessen prep even more, you could use ready cubed butternut squash, which most grocery stores carry, and even a bag of already chopped lacinato kale.
Hope you love this salad as much as we did! Any suggestions of thoughts are always appreciated, just leave them in the comment section below!