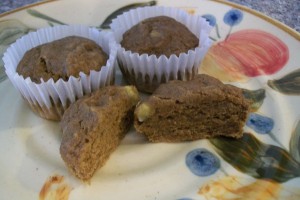 These banana buckwheat chia muffins were inspired by an awesome reader. A while ago a recipe I posted called for chia seeds. Being new to the idea of them, she inquired about what else she could use them for, and one of the things I suggested was to use them in muffins.
I love to wake up on a weekend morning and whip up a batch of these muffins to enjoy warm, topped with some coconut honey spread or almond butter.
These muffins are moist and delicious with the added benefit of essential fatty acids, fiber, and protein from chia seeds, and are made with gluten free buckwheat flour, a healthy low glycemic whole grain. Plus they make the kitchen smell lovely.
Banana Buckwheat Chia Muffins
INGREDIENTS
1 cup buckwheat flour
1 Tbsp baking powder
1 tsp cinnamon
1/4 tsp ginger
1/4 tsp sea salt
1/2 cup coconut sugar
1 Tbsp chia seeds
1 Tbsp coconut oil
1 tsp vanilla extract
1/4 cup unsweetened applesauce
2 very ripe bananas, mashed
DIRECTIONS
Preheat oven to 350°
Combine dry ingredients together in a large bowl
In separate bowl, add wet ingredients and mix well
Add wet ingredients to dry ingredients and mix until thoroughly combined, batter will be fairly thick but should be able to be stirred, if too thick add water to loosen up a bit
 Grease muffin tins and fill 3/4 full with batter
Bake for 15 minutes
Let muffins cool slightly and enjoy!