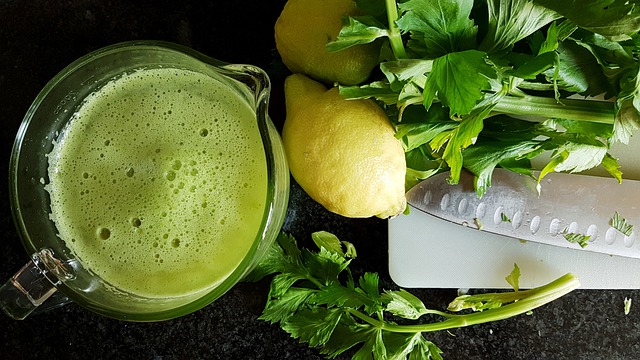 Green juice is one of the easiest ways to detoxify your body on an ongoing basis. If you want to allow your body to continue cleansing as it naturally does while you sleep, and take some of the burden off your liver, which does a lot of its dirty work in the morning, "break your fast" with a fresh vegetable juice.
Fresh juice delivers a surge of highly absorbable nutrients into the body and at the same time gives the digestive system the break that it needs. Green vegetable juice helps to alkalize the body and reduce cravings by keeping bad bacteria, yeast, and fungi in check, which is helpful to maintain overall gut health.
Through detoxification, fresh veggie juice helps re-establish balance in the digestive system, strengthen immunity, and reduce toxic burden on the body, speeding the body's own ability to heal naturally.
If you find you're pressed for time in the morning, a tip is to make your juice the night before and keep it in the refrigerator, that way it's ready to go first thing in the morning – problem solved! If you find for whatever reason that morning juice isn't your thing, no problem, anytime of day is great.
Fresh juice makes a great afternoon pick me up instead of grabbing for a cup of coffee. It's best to drink juice by itself, say a half an hour before, or an hour to hour and a half after other foods/meals. We follow our morning juice a half an hour after with a breakfast containing healthy fats and proteins.
This is a juice we regularly look forward to starting mornings with. This makes enough juice for one serving (about 8 ounces give or take) depending on the size of your produce, so we double it for the two of us. Of course, since cleansing is what we're aiming for it's important to use organic produce when possible to lessen pesticide load in the body, especially since cucumbers, celery, and kale all made the dirty dozen list this year.
Delightfully Detoxifying Green Juice
INGREDIENTS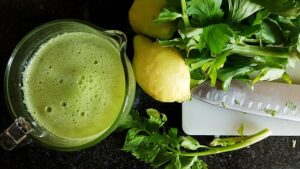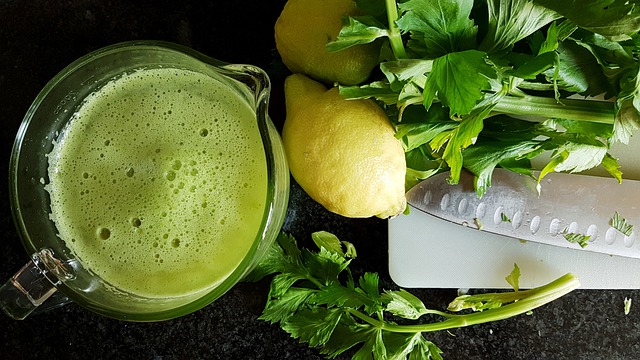 1 small cucumber
2-3 celery stalks
2 kale leaves
half a lemon
handful of parsley
1 inch piece of ginger
half a green apple
Wash all ingredients and chop them so they can go through the juicer if you have a masticating juicer like I do. Sip slowly and enjoy!
Note: If you're drinking this as part of a strict cleanse protocol or a reset like a 3 day detox it's best to omit the apple, as it is recommended to limit fruit intake if possible.
What benefits have you experienced from detoxifying green juices? Do you a favorite combination of things you like to juice? Love to hear it in the comment section below!