When I worked in natural foods markets people always wanted to know: What is the difference between a food based vitamin and vitamin isolates, and does it really make that big of a difference? For me, it's whole food all the way and I'll explain why in a minute. That said, choosing the best whole food vitamins can be overwhelming, so I'd love to help.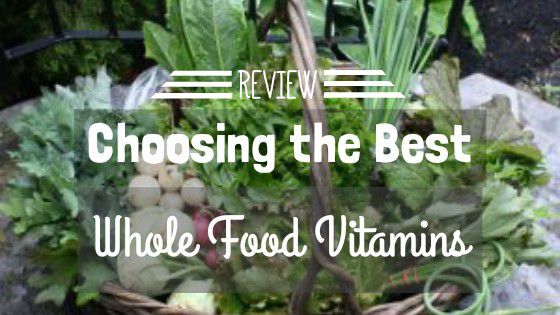 One of the reasons people ask the whole food vs. vitamin isolates question is they are trying to figure out whether the cost of whole food vitamins are really worth it as opposed to many of the cheaper isolates.
With many people on a budget these days, the cost of some food based vitamins can be off-putting, hence the question arises: Why would you spend more money on a food based vitamin when you can buy a cheaper multivitamin at your local drug store?
But there are very valid reasons not to simply purchase the cheapest vitamins you find.
Keeping budgets in mind I have narrowed it down to a handful of top best whole food vitamins and supplement brands that are not only superior quality, but also won't break the bank.
To keep it simple I am reviewing multivitamins since it's the basic essential. I do suggest taking women's and men's age specific, and kid's specific multi's. That way you will get specific nutrients that cater to individual needs such as hormone, prostate, immune health, and the proper nutrient levels for kids and teens.
If you're looking to maximize your spending and share a vitamin for family members over the age of eighteen then the general multi's are a great way to accomplish this.
Also keep in mind that these brands carry an array of other helpful food based supplements depending on your specific needs whether it be fish oils, probiotics, greens, etc. But for the sake of this post, the focus is on multivitamins in particular.
Let's start by breaking down the basic differences between food based and synthetic supplements so that you can make an informed decision as to whether or not food based supplements are right for you.
Whole Food Based vs. Synthetic Isolates

Whole Food Based Supplements:
Nutrients come from real whole foods. The nutrients are coming from real live foods like fruits, vegetables, herbs, and superfoods. Leaving them unaltered in their whole food state allows the nutrients to work synergistically within the body as all parts are necessary in order for a particular nutrient to do its job.
The foods are raw and never heated to high temperatures. This low heat method is extremely important to keep the vital nutrients intact so that they do not become destroyed by heat, and are properly assimilated in the body.
They are gentle on the stomach and easy to absorb. So gentle that they can even be taken on an empty stomach without making most people nauseous. Capsules are made from easy to digest plant cellulose without nasty fillers, and tablets are soft enough to crush since there are no unnecessary binders. The body recognizes the real food and it is readily absorbed.
Synthetic Vitamin Isolates:
Isolated nutrients are manufactured synthetically in labs. These nutrients are not natural, nor ever found by themselves in nature, and are not made for human consumption. Since they are isolated they lack the co-factors and transporters necessary to get them where they need to go to perform their job.
Chemicals and solvents are used when creating isolates. A wide range of nasty chemicals and solvents are used in the process of creating vitamin isolates making them a refined product devoid of their accessory nutrients that they naturally come with, and need, to be absorbed.
They can be harsh on the stomach and difficult to absorb. When taken on an empty stomach they tend to make people nauseous. The high potency of these vitamins is harsh on the stomach and acts more like a chemical in the body (studies have shown that the body recognizes isolates as a foreign substance). Capsules are made mostly of gelatin which can be hard to digest, and contain unnecessary fillers. Tablets contain many binders and can be glazed with a coating containing harmful food coloring/dye.

The Whole Truth
Isolated nutrients cannot always be utilized by the body, in which case the body will pull from its own stores of the missing nutrients. This can cause an imbalance, with fat soluble vitamin isolates being stored in fatty tissues of the body at toxic levels, and a deficiency of nutrients necessary for optimal body function.
Food based nutrients can be highly utilized by the body, and the body has no need to deplete any of its own nutrient stores in the process.
A greater balance in health can be achieved through providing the body with the proper nutrients necessary for optimal body function, and high quality food based vitamins can help to fill any gaps. 
Everyone agrees that raw, unprocessed honey is better for you than refined white sugar so why should it be any different when it comes to the types of supplements we put into our body? Is it not better to supplement our body with real whole food based vitamins, rather than refined synthetic vitamin isolates?
I'm confident you want to treat your body right, so let's get to it!
My Favorite Whole Food Based Supplement Brands
---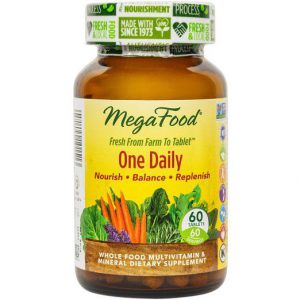 MegaFood utilizes a unique Slo-Food Process™ to make their products.
Standards:
Sourcing and using the best organic foods from sustainable farmers.
Stringent testing (the food is tested three times throughout the process for quality assurance)
Slo-Food Process™ mills, purees, and optimizes nutrient content, the ingredients are then carefully dehydrated
Non-GMO, tested free of pesticides and herbicides including glyphosate
Gluten free, vegan, vegetarian, certified kosher, dairy and soy free
Mega Food was my first introduction to the world of whole food vitamins. At the time I had been taking generic synthetic multivitamins from the cheapest place I could find them. Of course that was before I understood what I was putting into my body.
And then it dawned on me that the reason I was getting so nauseous even though I was taking my vitamins with food was because they were poor quality, and they certainly weren't food based.
The first time I tried a Mega Food multi there was no nausea and I felt more energy. I did the empty stomach experiment and still felt great.
To optimize absorption, it's best to take multivitamins with food so that the nutrients in your meal actually act as a carrier to deliver the nutrients in the vitamin to where they need to be absorbed in the body.
But it's nice to have the reassurance that if you have to take a whole food vitamin on an empty stomach, it's gentle enough to not upset it.


---
Garden of Life was founded by Jordan Rubin after discovering the role that raw and fermented foods played in his recovery from Crohn's disease.
The ingredients in these supplements are uncooked, untreated nutrients from raw living foods, live probiotics, and enzymes.
Standards:
USDA certified organic, non-GMO verified, and GMP registered with NSF
Most are vegetarian or vegan, gluten free, and dairy free
GOL Raw Organic Greens and Primal Defense Ultra Probiotic both made the Fab 5 series and the Raw Protein in Chocolate is one of the recommended plant-based proteins in my Wake Up Sunshine! Smoothie.


---
Whole Earth & Sea (made by Natural Factors, a reputable company since the 1950s, whose supplements I've had great results with) is a new addition to the list, thanks to a readers inquiry. This is a solid multivitamin, I'm happy to recommend.
Standards:
Ingredients are grown on certified organic farms in BC, Canada from non-hybrid, non-GMO seeds.
Raw plants/foods are processed using their proprietary EnviroSimplex method where the temperature always stays below 118° F to protect the potency of fruits, vegetables and herbs, and the entire plant is used
Non-GMO, vegetarian and vegan, gluten and dairy free
They have a few gender specific options: Women's and Women's 50+ and Men's and Men's 50+ formulas, and note that all are 2 tablets per day. There are no kids or teens formulas of this multivitamin.


---
New Chapter has been in business since 1982. Many of their products are certified organic and most use organic fruits, vegetables, herbs, and superfoods cultured in probiotics.
Some of their ingredients are sourced and some are grown on their biodynamic, sustainable farm in Costa Rica.
Standards:
Reduced carbon footprint
Recycled/recyclable packaging
ICS certified organic, vegetarian, gluten free, and non-GMO verified
This is a great quality multi. A couple down side's are the odd amounts of tablets/capsules, for example 72 instead of an even 60 or 90. You just have to take into account that one bottle will not last you an even month or two months, but more or less depending on how you look at it.
And the fact that they were acquired by Proctor & Gamble in 2012 raised concerns by many in the natural living world about whether or not the brand would maintain the integrity it has been so well known for. They were clear about their mission to continue with the same high quality ingredients and practices after P & G took over. So far it seems to be the case, and they have been able to expand their reach to the masses.


---
Update: I will be adding another multi to make it five, as this will now be featured in the 5 For You series of reviews and recommendations – coming soon.
Final Thoughts
Filling nutritional gaps with whole food based supplements can be a great addition to your self care routine, especially in the modern world.
I hope this article shows that whole food based supplements can be affordable especially when you realize the benefits are so much greater than cheap synthetic vitamin isolates. Remember they are cheap for a reason, and as with anything you get what you pay for.
I don't know about you but if there is one thing I'm willing to make an investment in it's my health. There are certain things I'm not willing to compromise the quality on, particularly when it's not going to benefit me, and possibly even have adverse long term effects.
Have you ever tried food based supplements or synthetic vitamin isolates, and if so what is/was your experience? Do you have a favorite whole food multivitamin? Love to hear from you in the comments below!